The following is an excerpt from Carey Clouse's Farming Cuba: Urban Agriculture from the Ground Up, which explores Cuba's impromptu agricultural development after the dissolution of the Soviet Union, and the challenges that development poses for modern day architects and urban planners.
Following the collapse of the Soviet Union in the early 1990s, Cuba found itself solely responsible for feeding a nation that had grown dependent on imports and trade subsidies. With fuel, fertilizers, and pesticides disappearing overnight, citizens began growing their own organic produce anywhere they could find space, on rooftops, balconies, vacant lots, and even school playgrounds. By 1998 there were more than 8,000 urban farms in Havana producing nearly half of the country's vegetables. What began as a grassroots initiative had, in less than a decade, grown into the largest sustainable agriculture initiative ever undertaken, making Cuba the world leader in urban farming. Featuring a wealth of rarely seen material and intimate portraits of the environment, Farming Cuba details the innovative design strategies and explores the social, political, and environmental factors that helped shape this pioneering urban farming program.
Whole Foods has teamed up with New York's local organic grower, Gotham Greens, to build the first commercial-scale greenhouse attached to a supermarket. The 20,000-square-foot greenhouse, expected to open in Brooklyn this Fall, will provide locally grown produce year-round to nine Whole Foods stores in New York City area. 
Mayor Rahm Emanuel and Growing Power, a Chicago-based urban agriculture organization, announced recently the formation of Farmers for Chicago, a program that will transform vacant south-side Chicago lots into productive urban farms. The program will make available up to five acres of city-owned vacant lots for urban farming activity and "help expand the supply chain for local neighborhood-level food production and wholesale," "improve community access to healthy food, help participants to supplement their incomes, and to foster workforce training."
Read more about Farmers for Chicago after the break.
Earlier this month, we featured a three part series that explored Urban Agriculture – how its design could change our relationship to food and potentially guide the way we plan and revitalize our cities. In the last article of the series "Towards an Urban Agri-puncture," I proposed a way that design could make a social impact on cities as well: by creating community-oriented, productive landscapes where cities need them most.
Little did I know that a young Architect was way ahead of me.
Read More about About Dylan Kwok's ingenious approach to Green Design, after the break…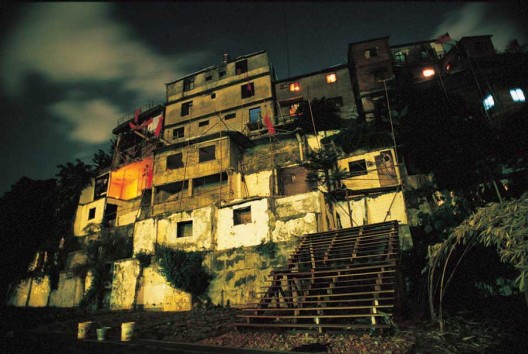 Earlier this month, The New York Times' Michael Kimmelman tackled a common narrative in the architecture and urban planning community. It goes like this: once upon a time, in the 1990s, Medellín, Colombia, was the "murder of the capital of the world." Then thoughtful architectural planning connected the slums to the city. Crime rates plummeted and, against the odds, the city was transformed.
Well, yes and no.
What happened in Medellín is often called "Urban Acupuncture," a way of planning that pinpoints vulnerable sectors of a city and re-energizes them through design intervention. But Kimmelman reports that while the city has made considerable strides in its commitment to long-term, urban renewal, it has prioritized huge, infrastructural change over smaller solutions that could truly address community needs.
Urban Acupuncture needn't be expensive, wieldy, or time-consuming. But it does require a detailed understanding of the city – its points of vulnerability, 'deserts' of services, potential connection points – and a keen sensitivity to the community it serves.
So what does this have to do with food? Our food system presents seemingly unsurmountable difficulties. In Part II, I suggested that design could, at the very least, better our alienated relationship with food. But what if we used the principles of Urban Acupuncture to bring Agriculture to the fore of urban planning? What if we used pinpointed, productive landscapes to revitalize abandoned communities and help them access healthy foods? What if we design our cities as points of Urban "Agripuncture"?
What would our cities look like with Urban Agripuncture? Read more after the break…
Missed Part I and Part II? You can find the whole series here.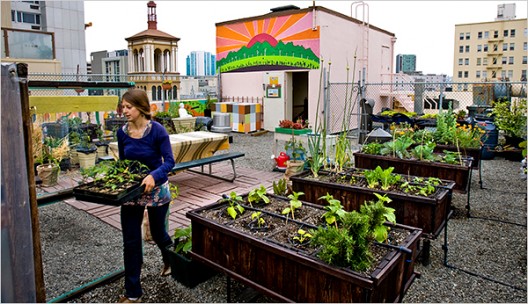 "The typical Urban Dweller today has no understanding of where or how food is produced/distributed. We have become dependent on huge, powerful, profit-minded corporations to bring huge quantities of food from industrial farms into our supermarkets – but the entire process is hidden, massively complex, and, ultimately, unsustainable." [1]
In Part I of this Series, I made the case that Urban Agriculture has incredible potential; unfortunately, however, in America, it has a long way to go. Our economy, our government, our technology, even our perception of what "food" is relies upon the Food System we currently have in place. Urban Agriculture could very well be the answer, but, frankly, not yet. 
So where does that leave us today?
All over the world, citizens are taking the Food Revolution into their own hands, becoming urban bee-keepers, guerilla planters, rooftop gardeners, foodie activists. While community engagement and political lobbying are vital to these grassroots movements, so too could be design. 
By designing our cities – our public and civic spaces, our hospitals and schools – with food in mind, we can facilitate this Revolution by making food a visible part of urban life, thus allowing us to take that crucial first step: eliminating the physical/conceptual distance between us and our food.
What does it look like to design with food in mind? More after the break…
Everyday, in the city of London, 30 million meals are served. That's millions of trucks arriving to millions of stores and restaurants in a complex, tightly scheduled orchestration of production, transportation, and distribution.
We take it for granted that this system will never fail. But what would happen if these trucks were stopped? As unrealistic as it sounds, it's happened – and not so long ago.
In 1989, over 57% of Cuba's caloric intake was imported from the Soviet Union. When it collapsed, Cuba became, virtually overnight, solely responsible for feeding its population – including the 2.2 million in the city of Havana. [1] What happened next is an incredible story of resilience and innovation.
As our world becomes increasingly urbanized, our farms increasingly endangered, and our reliance upon fossil fuels increasingly undesirable, the question of how we will feed billions of future city dwellers is no mere thought experiment – it's an urgent reality.
The story of Cuba offers us an interesting question:  What would our cities look like if we began to place food production/distribution as the primary focus of urban design? And what will it take to make this vision a reality?
More on how Food can shape our cities, after the break…