If the discussions recently held at the Battle of Ideas are any indication, it seems that we in the architecture community are living a certain crisis of confidence.
Not one new utopian vision has been presented in the past 30 years, lamented Theodore Dounas; all these pop-ups popping up are just evidence, said Pedro Bismarck and Alastair Donald, of architecture's fearful reluctance to tackle  complex problems or act as a legitimate agent for change at all; and then there's the problem, voiced by Rory Olcayto, of architects being bullied by their clients into executing questionable agendas.
These interpretations – of architects as meek, cautious, deferential, afraid of responsibility – are far from the stereotype of the architect as megalomaniac artiste. Yet two recent articles chastise architects for just that: "Why I Left the Architecture Profession" by Christine Outram and "The Fountainhead All Over Again" by Lance Hosey both criticize architects' out of control egos, absence of common sense, and lack of respect for the people who their designs are supposed to serve.
So are architects too shy to assert their expertise? Or are they Roark-inspired ego-maniacs who "don't listen to people"? 
Well, both. And that's exactly where the trouble lies.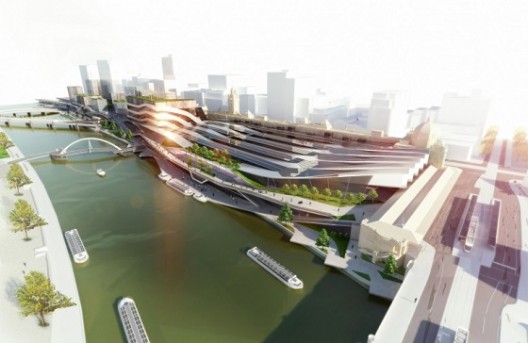 The ongoing competition for the redevelopment of the landmark Flinders Street Station in Melbourne, Australia has begun to raise some serious questions about the role of the public in architecture. The international competition, which narrowed down a total of 117 applicants to only 6 finalists, is due for completion in mid-2013. Each proposal will be put on display and the public will be invited to vote on their favorite design; what is raising eyebrows, however, is that the result of this public vote will be kept from the jury, who has the final say. The jury will not know what the public likes or dislikes when they place their own votes, and the public preference will only be revealed at the very end along with the jury's decision. 
Although there are pros and cons for keeping this information from the jury members, some Australians feel very strongly about their station - and you can certainly argue that they should have a greater say in its future.
Read more about public participation in architecture after the break…