This year's second installment of Index Design's Master Classe series will feature architect Brendan MacFarlane on March 24, 2015, from 6:00 to 8:00PM in Montreal. MacFarlane, co-founder of the internationally-acclaimed design firm Jakob + MacFarlane, will discuss his iconic and award-winning work, and his pursuit of creating architecture that "leaves nobody indifferent." To purchase tickets and for more information, visit masterclasses.index-design.ca.
Architects: Jakob + MacFarlane
Location: Paris, France
Area: 6,600 sqm
Year: 2008
Photographs: Nicolas Borel
Paris-based architect Brendan MacFarlane, of the firm Jakob + MacFarlane, spoke to us during our visit to the FRAC Centre in Orléans for the ArchiLab 2013 exhibition and conference. MacFarlane, who studied at Sci-Arc in the 80s and later received a degree from Harvard's GSD, successfully combines theory and form, placing him among the few architects that have been able to harmonize this balance.
Jakob + MacFarlane's special and precise handling of the grids generates projects that, while outwardly complex, are actually deceivingly so. Based not on strong computational muscle but actually a more simple deformation of grids, their projects can appear nearly impossible or too complex to realize. Yet they are able to make these buildings a reality.
Along with his partner Dominique Jakob, the duo's consistent methodology doesn't rely on constant innovation. MacFarlane posits that "sometimes it's about doing something simple that's kind of obvious." This has yielded a stylistic variety that evades singular typecasting.
They are not afraid to combine existing structures with their proposals–in fact, they welcome it. What they do is strategic: a kind of rational deformation of otherwise uniform and uncomplicated geometry, with the computer acting as a tool (but not a generative one).
Be sure to check out the interview, as well as Jakob + MacFarlane's projects on ArchDaily.
The 2011 Zerofootprint Re-Skinning Award Winners were highlighted last week during the U.S. Green Building Council's  Greenbuild International Conference and Expo held in Toronto.  The annual competition aims to 'jump-start the discussion on how we might retrofit entire cities to fight climate change'.  Recognized as the Best Overall Project 2011, the Palms residence in Venice, California designed by Daly Genik Architects, "is an outstanding example of an architecture project that can transform our cities to fight climate change," says Ron Dembo founder and CEO of Zerofootprint.  "The design is energy and water efficient, replicable, and beautiful. This project demonstrates that retrofitting existing buildings to reduce their environmental impact does not have to mean limiting the quality of materials, the use of smart technologies, or the aesthetics of the final product."
A complete list of the 2011 Zerofootprint Re-Skinning Awards winners and finalists following the break, including the King and King Headquarters in Syracuse, New York by King and King Architects and the Orange Cube in Lyon, France by Jakob + MacFarlane.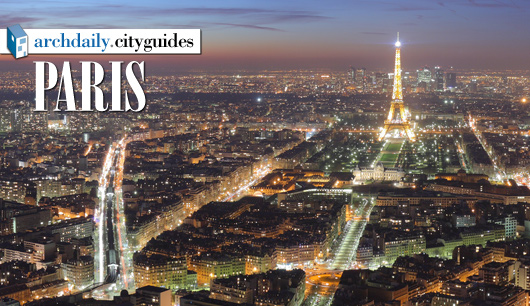 This week, with the help of our readers, our Architecture City Guide is headed to Paris. For centuries Paris has been the laboratory where innovative architects and artists have come to test their ideas. This has created a city that has bit of everything. Where the architecture of some cities seems to undergo phases of punctuated equilibrium, Paris's architectural fossil record gives an impression of gradualism; all the missing links are there. This makes it easy to trace the origins of the most contemporary ideas throughout history. Nothing seems to come out of nowhere. If you look around you kind find the design's inspiration running through the city's Roman, Medieval, Renaissance, Baroque, Classical, Rocco, Neo-Classical, Empire, Art Nouveau, Art Deco, Modern, Post-Modern, and Contemporary Architecture. Seen in another context, many of Paris's buildings might seem out of place, but the bones of this city support the newest iterations on the oldest and most profound questions. The 24 contemporary designs that comprise our list probably should not be viewed outside of this context, even though that is the stated goal of some of the designs.
As the most visited city in the world and arguably the capital of culture, it is impossible to capture the essence of Paris in 24 modern/contemporary designs. Our readers supplied us with great suggestions, and we really appreciate the help and use of their photographs. The list is far from complete and we realize that many iconic buildings are not yet on the list. We will be adding to it in the near feature, so please add more in the comments section below.
The Architecture City Guide: Paris list and corresponding map after the break.
The Docks de Paris project by Paris based architecture studio Jakob + MacFarlane is nearing completion. The building was first designed in 2004 for a competition held by the city of Paris. Jakob + MacFarlane's entry eventually won the competition and has been underway since 2007.
The project is actually a renovation of a concrete shipping depot originally built in 1907, which the architects chose to keep for the base of their new design. The architects are calling their design a 'plug-over' as the new structure is a new external skin that enveloped the existing site on the sides and on top. The river facing façade features a glass covered steel tube structure that is inspired by the flow of the river and its pedestrian promendades. The roof has also been developed using wooden decks and grassed areas. The front façade addition serves as the buildings circulation system allowing visitors to move between levels. Inside the new building will feature a variety of programming including galleries, retail shops, the french fashion institute, and cafes.
Seen at designboom. More images after the break.