OMA has unveiled its latest design project to blend the worlds of fashion and architecture: the refurbishment of a late 19th century industrial building for French high-end retail group Galeries Lafayette's Fondation d'Entreprise, in Paris.
OMA is no stranger to the world of fashion, having collaborated on bold catwalk designs for Prada over the last decade as well as the renovation of a 16th century palazzo in Venice for Benetton. For Galeries Lafayette, a five-story, U-shaped, courtyard building built in 1891 will be transformed into a space for exhibitions and production. Located in Le Marais, one of Paris' oldest neighborhoods, the architecture is protected under a heritage preservation plan. The building is to be fully preserved, cleaned and restored, and OMA's design also includes the construction of a new exhibition tower for the courtyard. The tower will contain two sets of mobile platforms that can be split into four independent platforms, adding additional space and flexibility.
See photos and read a project description from OMA after the break.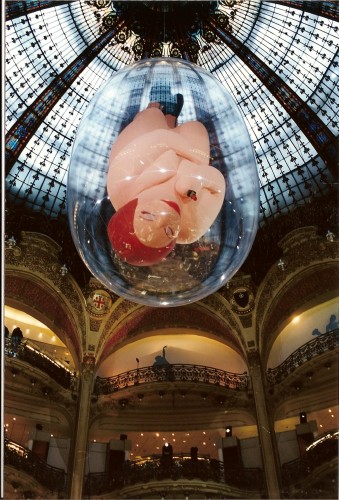 Beginning on October 16th, 2012, Galeries Lafayette in Paris, France, will be celebrating the 100 year anniversary of the Dome designed by architect Ferdinand Chanut and glass artist Jacques Gruber in 1912.  100 years under the Dome will be held at the flagship store of the boulevard Haussmann, a true Parisian symbol.  In addition, the gallery will launch an exhibition called 1912-2012. Chronicles of a Creative Itinerary by architect Rem Koolhaas and his studio OMA, along with a collaboration called Chrysalide between visual artist Yann Kersalé and Djuric Tardio – Architectes.
Join us after the break for more stunning images for the anticipated celebration.