The potential to generate energy is hidden in many places, from skyscrapers to ski-slopes. But new research is showing that a potent source of energy is hiding right beneath our noses, or feet to be more specific.
This past Monday, President Obama made climate change and sustainable energy the focal points of his Inaugural Address when he declared that choosing to ignore these key environmental issues "would betray our children and future generations." This is the first time in the last few months that the President has taken a firm stand for the future of our Earth, a direct result of Super Storm Sandy and a smart choice to reveal controversial policies only after re-election. Although Monday morning was not the time to outline a specific political strategy, President Obama made it very clear that this time around, denial of scientific judgment and Congressional opposition would not be reasons for failure to act.
Since this is a sentiment easier said than done, there is doubtlessly a long and difficult road ahead for the President and his administration. The White House has revealed that it plans to focus on what it can do to capitalize on natural gas production as an alternative to coal, on "reducing emissions from power plants, [increasing] the efficiency of home appliances and [on having] the federal government itself produce less carbon pollution" (NYTimes). According to the New York Times, they aim to adopt new energy efficiency standards for not only home appliances but for buildings as well, something that should spark the interests of architects and urban planners already committed to designing with climate change and sustainable energy in mind.
More after the break…
A new set of tools have been developed by researchers at MIT in collaboration with China's Tsinghua University that will evaluate the performance and energy consumption of large-scale projects. Led by Dennis Frenchman and Christopher Zegras from MIT's School of Architecture + Planning, these new set of guidelines and tools are a proactive response to the rapid urbanization of China and its ever-increasing development and infrastructure projects. The main goal is to introduce sustainable methods of implementation and construction, and responsible energy patterns one neighborhood at a time.
As we told you a few months ago, AMO (the think-tank inside OMA) played an important role on Roadmap 2050, an initiative by the European Climate Foundation which looks to chart a policy roadmap for the next 5-10 years based on the European leaders' commitment to an 80-95% reduction in CO2 emissions by 2050.
Based on this plan, AMO presents "Roadmap 2050: A pathway to decarbonize the United States power grid". While ranked #1 based on the GDP, the US is ranked #61 in energy performance. As we see on the above video, an inefficient energy grid undermines any efforts to improve this, and local production of energy could be the answer.
This initiative is presented at the GE Ecoimagination Challenge, a $200 million call to action for businesses, entrepreneurs, innovators, and students to share their best ideas and come together to take on one of the world's toughest challenges – building the next-generation power grid to meet the needs of the 21st century.
You can vote for this idea (and even discuss it with AMO on the comments), see others or even submit your own.
AMO is a design and research studio inside OMA, a think tank operating on the boundaries of architecture: media, politics, sociology, sustainability, technology, fashion, curating, publishing and graphic design. Some of their works include the barcode flag for the EU and a study for Wired magazine.
And while OMA covers sustainable strategies on a building or master plan scale, AMO is approaching it on en European scale as one of the five consultants conducting technical, economic and policy analyses for Roadmap 2050, an initiative by the European Climate Foundation which looks to chart a policy roadmap for the next 5-10 years based on the European leaders' commitment to an 80-95% reduction in CO2 emissions by 2050. You can download a brief of Roadmap 2050 in PDF.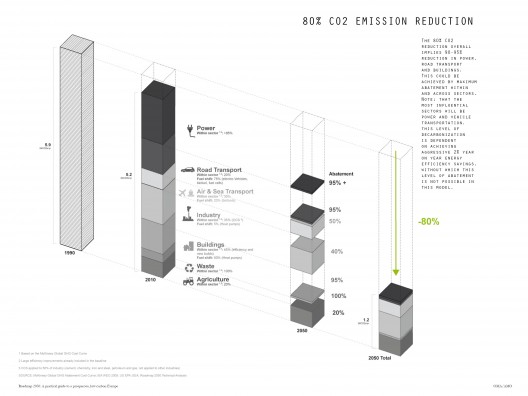 The goal is to achieve a 2% energy efficiency saving per year in order to meet this goal, with power and vehicle transportation being the most important areas.
Through the complete integration and synchronization of the EU's energy infrastructure, Europe can take maximum advantage of its geographical diversity. The report's findings show that by 2050, the simultaneous presence of various renewable energy sources within the EU can create a complementary system of energy provision ensuring energy security for future generations.
AMO's work focuses on the production of a graphic narrative which conceptualizes and visualizes the geographic, political, and cultural implications of the integrated, decarbonized European power sector.
On their study you can find an interesting approach to a diverse european energy grid, including energy trade and the use of new non-traditional sources.
The image of "Eneropa" appears as a new continent based on its energy production: Biomassburg, Geothermalia, Solaria, the Tidal States… are part of this new territory. Other branding concepts are introduced on the study, creating a tangible image of this ambitious plan, which reminds the powerful (yet simple) idea behind the barcode flag.
You can download the full study in PDF format at the Roadmap 2050 website.
More after the break:
When driving between SFO Airport and San Francisco on the edge of the Bay Area, I have always wondered what would happen when the sea level starts to rise.
Recently, the San Francisco Bay Conservation and Development Commission (BCDC) organized an ideas competition (open to any professionals, not just architects) to address the sea level rise in the Bay Area, looking for innovative and creative  solutions to bring forward a  vision of a future estuarine shoreline applicable to the San Francisco Bay and beyond. 130 entries from 18 countries were submitted.
Six teams were announced as the winners, splitting a cash prize of $25,000. Among these entries we find interesting ideas, such as Faulders Studio's laser light barrier that measures the sea level, powered by tidal energy,  Kuth Ranieri Architects's ventilated levee to balance the sea/bay water levels, or SOM's smart membrane under the golden gate bridge.
But, as usual in some competitions, the honorable mentions bring more disruptive ideas, embracing a vision on a post-flood city instead of preventing it. There's also humor among the honorable mentions, "Failure: Bring your boots" or "About Rising Tides: It´s the Delta, you stupid".
Will our future be amphibious?
All the awarded entries after the break:
The city within a building – Mario Fiorentino
In the last 50 years, we have built a massive amount of buildings, experimenting techniques and philosophies as never before. Reinforced concrete, cheap energy and cars allowed us a freedom to build that we never experienced before.