Architects: studio SYNTHESIS
Location: Tivat, Montenegro
Architect In Charge: Sonja Radovic- Jelovac
Co Architects : Nikodin Zizic, Marija Jakic
Project Team : Ivana Stamatovic, Lela Redzepagic, Bojan Stankovic, Milic Djerkovic
Area: 1345.0 sqm
Year: 2014
Photographs: Slaven Vulis
Hotel Fjord is the most visible big structure that was conceived and built during the Yugoslav period in Kotor and which is now waiting for more intense use again. Next to it there is at least four major sites and structures in a wide range of different material conditions, but all in a state of minimal use, which can be described as a programmatic void in the center of Kotor.
APSS 2014 will address the programmatic void in this area and work on it with students and mentors from different architectural schools in Europe. More then that, there will be a road from Venice biennale to APSS with academic work as well as expositions that deal with the topics elaborated at APSS and in-between. The team of offices behind the concept of GH Fjord Study and Program for APSS 2013 and APSS 2014 has been appointed for a curatorial team for Montenegin national pavilion in Venice  Biennale. This way, we are extending our research on other topics, other buildings in need of immediate attention.
New mentors and lecturers for this year include Matthias Armengaud, AWP; Bart Lootsma, University of Innsbruck; Kersten Geers, KGDVS; Joerg Stollmann, TU Berlin; Srđan Jovanović Weiss, NAO; Milica Topalović, ETH; Boštjan Vuga, SADAR+VUGA; and Simon Hartmann, HHF.
Title: Kotor Architecture Prison Summer School 2014
Website: http://kotorapss.me/
From: Wed, 09 Jul 2014
Until: Sat, 19 Jul 2014
Venue: Old Prison of Kotor
Address: Kotor, Montenegro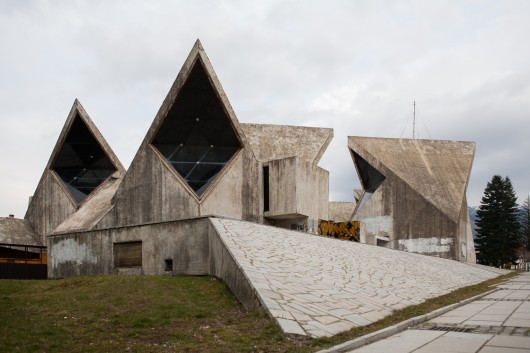 This year at the Venice Architecture Biennale, the Montenegro Pavilion will present four neglected, late-modernist buildings that were originally constructed as a testament to a radiant new society. An effort to spark discourse about urban regeneration in Montenegro and the future of the former Yugoslavia's architecture, the exhibition seeks to illuminate the uncanny beauty of each structure as they are regarded to be Treasures in Disguise.
More from the curators and a preview of the highlighted buildings, after the break…
The main goal of the Hotel in Montenegro proposal was not to create a resort type of hotel, but rather a new town square, a vibrant part of this sleepy city. This approach by Kana Arhitekti significantly upgraded the quality of urbanism both on a micro and macro scale to create a city center this small town needs. More images and architects' description after the break.
Architects: Enforma Studio
Location: Stoliv, Montenegro
Author: Marh Nikola Novaković
Associate: Marijela Pajić
Area: 424.5 sqm
Year: 2010
Photographs: Courtesy of Enforma Studio
Established by DVARP, as part of Kotor ART festival, Kotor Architectural Prison Summer School will take place this year in an Old Austrian Prison in Kotor, Montenegro from July 4-14. Set to host great mentors and lecturers, there are two main parts of Kotor APSS: the summer school workshop with final work exhibition and student presentation, and the final conference "APSS talk" and Panel discussion based on the workshop Topic and Conclusions, which is open to the wider public. More information and images of last year's event after the break.
Architects: M.I.G. Architekt
Location: Budva, Montenegro
Architect: Goran Ivo Marinovic
Structure Engineer: Veljko Kostic
Site Area: 741 sqm
Ground Area: 112 sqm
Area: 344 sqm
Year: 2012
Photographs: Ana Kostic
The first prize design by AGM for a new residential and business complex in Budva, Montenegro complements the urban tissue of the very center of the city by adding content and shape to improve the existing quality. The present surrounding is the framework for the creation of an architectural morphology which is to upgrade the input of the location. Thus the fusion of heritage and modernity is the answer to the needs of time and its value system. More images and architects' description after the break.
The aim of Enforma and AIM Studio in their design of the Salt Tower, located in Budva, Montenegro, was to carefully analyze the specific location and the possibilities that this place offers to the users. Inspired by the old town of Budva, while integrating energy efficient strategies, their transformation from rectangular form to a tall crystal grain reflective structure on the Mediterranean coast justifies the project's name. More images and architects' description after the break.
Architects: re:a.c.t (Srdjan Tadic, Grozdana Sisovic, Dejan Milanovic)
Location: Niksic, Montenegro
Client: Neckom d.o.o., Niksic
Built: 2010-2011
Built area: 2468 sqm
Photographs: Ana Gardaševic – re:a.c.t
Architects: Studio RHE
Location: Tivat, Montenegro
Project Year: 2011
Structural Engineer: Glanville Consultants
Photographs: Manuel Vazquez
Architects Ital design & Arco projekt recently won second prize with their competition entry for the Ulcinj Montenegro Hotel. Additional images and lengthy description of their project follows after the jump.
The Agency for development of Municipality of Herceg Novi in association with the European Chess Union have launched a single stage international competition for the European Chess House in Herceg Novi. ACID Group shared with us their proposal in order to find the best solution for the mixed use development. The program consisted of facilities devoted to promotion and development of chess including a library, museum and tournament halls, and of hotel facilities which include 50 guest rooms, a restaurant and lobby. The site is located on the corner between two streets, on steeply sloping terrain. More images and architects' description after the break.
IVANISIN. KABASHI. ARHITEKTI won the open international competition for their design intervention at the River Piva in Mratinje, Montenegro in 2009. The design strategy was to illuminate the natural and engineered elements of the site, located at the Piva-Mratinje Hydro-Power Plant, built in 1975 at the narrowest point of the river. As a whole, the intervention is located on the sunny end of the damn in front of the concrete reinforcement of the cliff.
Conceived in five phases, the architecture is designed in such a way that it can become occupiable at any stage of completion. The project consists of five elements: Tower-Down, Plateau, Tower-Up, Bridge, and Floating Platform. These magnifiers of natural and technological elements seek to address the humility of architecture in this sublime junction of the natural and man-made.
Read on for more on this project after the break.
In a recent competition back in September of this year, Slavko Lekic's Sports Center in the municipality of Ulcinj, Albania takes advantage of its location with its unique position to the coastland. Lekic's solution became an oasis in order to combine the spaciousness of the coastal beaches with the richness of the surrounding vegetation. More images and architect's description after the break.