Architects: Schwartz Besnosoff Architects
Location: Tirat Carmel, Israel
Architect In Charge: Gaby Schwartz
Project Team: Gilad Altman, Avi Rotal, Noa Hefetz, Roy Talmon
Year: 2013
Photographs: Amit Geron
Architects: Domb Architecture
Location: Tel Aviv, Israel
Year: 2012
Photographs: Amit Geron
Architects: Axelrod Architects + Pitsou Kedem Architects
Location: Tel Aviv, Israel
Design Team: Irit Axelrod, Pitsou Kedem, Orit tsabari-elmaliach, Raz melamed
Area: 500 sqm
Year: 2011
Photographs: Amit Geron
This AD Architecture City Guide is dedicated to the vibrant city of Tel Aviv, originally established as a garden-city on the sandy shores of the Mediterranean in 1909. Although widely known as "The White City" for boasting the world's largest collection of International Style Buildings, Tel Aviv is not merely a monochromatic Bauhaus colony: it presents a rich mosaic of locally interpreted styles, from Eclectic to Brutalist to contemporary, which are the result of foreign and locally-born architects who adapted to the local cultural and climatic conditions.
Join us for our architectural city guide through the "Non-Stop City" after the break…
Architects: Paritzki Liani Architects
Location: Savyon, Israel
Area: 466 sqm
Year: 2011
Photographs: Courtesy of Paritzki Liani Architects
Architects: GalPeleg Architects
Location: Jaffa, Tel Aviv, Israel
Architect In Charge: Orit Gariani-Rozental
Area: 740 sqm
Year: 2010
Photographs: Amit Geron, Courtesy of GalPeleg Architects
Architects: Pitsou Kedem Architects
Location: Tel Aviv, Israel
Design Team: Pitsou Kedem, Noa Groman
Area: 370 sqm
Year: 2012
Photographs: Amit Geron
Free and open to the public at the ZEZEZE Architecture Gallery in Tel Aviv, the Architactics exhibition by SAYA Design for Change summarizes the approach of SAYA's mission-based practice. Rather than diving into the details of their specific proposals, it illustrates the channels of influence this practice has defined for design in peace making. SAYA's pioneering approach termed by its founders as "Resolution Planning" was developed a decade ago to reclaim the architectural responsibility in designing peace. Its goal is to redefine the role and responsibility of architects in conflict resolution, to re-include the city, the people and their joint future space back into the picture. The exhibition will continue to be on display until August 24. More architects' description after the break.
Aiming to connect Haifa with the sea, the proposal for the New Haifa Waterfront Plan by Amir Mann-Ami Shinar Architects and Planners focuses on the making of large open public space along the water. Some new "warehouse-like" linear structures will be built, only two-story high, and all buildings, old and new, will maintain industrial character. Also, with the old cranes, the overhead grain-conveyers and other working port facilities will keep the unique port atmosphere. More images and architects' description after the break.

Architects: Ori Glazer, Nili Gal Mester
Location: Neve Tzedek, Israel
Year: 2012
Photographs: Yael Engelhart
Architects: Axelrod-Grobman Architects, NCArchitects, Geotectura
Location: Tel Aviv
Area: 3700 sqm
Year: 2013
Photographs: Courtesy of Yossef Cohen and Gilad Adin, Architect Dr. Yasha (Jacob) Grobman and Architect Irit Axelrod from Axelrod-Grobman Architects; Architect Nili Chen and Architect Nir Chen from NCArchitects; and Architect Dr. Joseph (Yossi) Cory from GEOTECTURA, Roy Kroizman, BRAUDE-MAOZ Landscape Architects, Nitzan Hafner and Gilad Adin
Today, SANAA (Sejima & Nishizawa and Associates) unveiled plans for a 400,000 square-foot building in Jerusalem that will form a new, interdisciplinary downtown campus for the Bezalel Academy of Art and Design. The competition-winning proposal, designed by the 2010 Pritzker laureates in collaboration with Israel's Nir -Kutz Architects, features an array of stacked horizontal slabs that react to the area's topography and surrounding context in order to create a series of outdoor terraced viewing platforms and multi-level interior spaces where students and teachers can meet, study and display their work.
More on the new SANAA-design downtown campus after the break…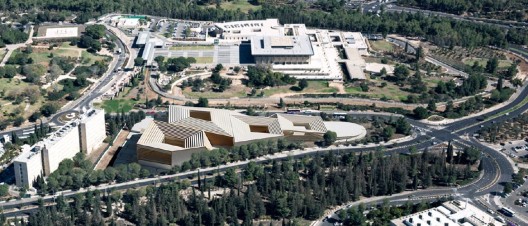 UPDATE: Israeli architect Rafi Segal appears to have abandoned his case to be reinstated as designer of the National Library of Israel. This decision comes after the client announced that it had signed a contract with Pritzker Prize-winning practice Herzog & de Meuron, who was initially chosen in April and triggered Segal's demand to be reinstated. Now that the Swiss duo has officially signed onto the project, Segal has requested a withdrawal without prejudice. Before the hearing scheduled for September 12, 2013, Segal asked the court to withdraw the case. The court overruled his objections and granted HyperBina a compensation of fees and costs.
Official statement from the National Library Construction Company:
'Rafi Segal, whose competition entry was disqualified for failure to meet the terms of the competition and who was therefore removed from being the "preferred architect", is now trying to compel his selection through the courts. Notwithstanding his failure to meet the conditions of the competition by way of establishing his full and exclusive rights in and to the plan he submitted, and having conducted himself in ways that have resulted in his loss of credibility in the eyes of the client.
'In December 2012, The Jerusalem District Court denied his request for an ex parte temporary injunction barring the selection of another architect for the project. The evening before the date of the hearing on the request for an injunction, Segal withdrew his petition – following submission of the Company's reply. Segal also filed a lawsuit asking the Court to declare him the "Winning Architect". The court denied Segal's requests to expedite the process and set a preliminary hearing for May 2013.
'In April, following a three months process, an international selection panel chaired by Prof. Luis Fernandez-Galiano, selected the 2011 Pritzker Prize winners Herzog & de Meuron to design the new Library building.
'In the preliminary hearing on 8 May, Segal asked to add Herzog & de Meuron as a respondent in what seems to be an attempt not to lose legal grounds for his claim. Herzog & de Meuron have no involvement in the saga and have no obligation to defend their award.'
Just when it seemed that Herzog & de Meuron was the final choice for the design of the new National Library of Israel in Jerusalem, the initial competition winner, Israeli architect Rafi Segal, has launched a legal challenge against the project backers' decision in hopes of being reinstated.
Architects: Dan & Hila Israelevitz Architects
Location: Talmei Elazar , Israel
Architect In Charge: Dan & Hila Israelevitz Architects
Design Team: Dan Israelevitz, Hila Israelevitz, Debby Choen
Area: 400.0 sqm
Photographs: Elad Sarig
The Solar Decathlon, also called the "Olympics of Sustainable Architecture," is a design competition that takes place biennially and challenges 20 collegiate teams to design, build, and operate solar-powered houses that are Net Zero Energy Buildings and are affordable, energy-efficient and attractive. The winner of the competition is the team that best blends cost-effectiveness, consumer appeal, and design excellence with optimal energy production and maximum efficiency.
Summer of 2013 will be the first year that a team from Israel will participate in this worldwide competition. Their hope was to develop and display a method of planning and design in which buildings could better respond to change, with the potential to be deconstructed, taken apart, modified and recycled. Values of environment, community, society and Israeli culture are all intertwined in a design that aims to raise awareness of these four elements and better incorporate them into Israeli architecture.
Read on for Team Israel's Decathlon design.