Building upon our Top 10 Apps for Architects, this collection brings together some of the best quality and most valued technical apps for designing, sketching, calculating and collaborating. Although the majority of those featured here are designed solely for the iOS platform, every time we collate lists such as these it's clear that more and more high quality apps for the Android and Windows platforms are being developed. From condensed versions of large scale software packages that architects and designers use every day, to blank canvases to scratch ideas down onto, you might just find an app that could improve the way you work.
Following our readers poll last year, here's an updated list of what we think are the best ten apps for architects. From condensed versions of large scale programmes architects and designers use every day, to blank canvases to scratch ideas down onto, you might just find an app that could improve the way you work.
UPDATE: Thank you all for sharing your favorite Apps! We took the 10 Apps that received the most votes and polled them on our Facebook page. We'll be publishing the results later on, but, for now, a big Congratulations to the 5 recipients of our Prize: Kalyan Basetty, Mica Nickson, Azra Kapic, Matt Iden, and Nick Gentile!
We'll be contacting you later today with your codes for  [steel] (iPhone), [steel HD] (iPad), and The META Calculator - brought to us by our friends at The Mobile Engineer. Congrats!
Last week, we asked our Facebook Fans to suggest the best Apps for architects so we could put together a list of the 10 Best Apps For Architects. But while a few great Apps got featured, tons of other great Apps got skipped. ArchDaily reader ArchNYC, for example, commented "how is morpholio, Paper, or i-Rhino 3D not on this list? they are incredible apps." Reader Anna responded: "Agree 100%[...] ArchDaily should consider a second list."
Well, you spoke, and we listened. We're going for Round II. But, this time around, we want to know: What Great Architecture Apps Did We Miss?
And we haven't even gotten to the best part. The folks at The Mobile Engineer, creators of our #9 App [steel], will give 5 lucky commenters a Promo Code – either for  [steel] (for iPhone) or [steel HD] (for iPad) – for FREE. Not bad, eh?
So, just register to let us know your favorite Apps (iPhone or Android) in the comments below!
UPDATE: We have updated this list to be a more complete guide. You can find the updated list here.
In the frenzy leading up to the iphone 5′s anticipated release last week, we asked our Facebook Fans the best thing about their smartphone (when it comes to their professional lives at least).
The answer was overwhelmingly in favor of one key feature: the camera. From snapping shots on-site to taking photos for inspiration (or just to remember later), the ease of having a camera in your phone has made your lives that much easier (and Apple fans rejoice, as the new iPhone 5′s stand-out new feature is its souped-up camera, now with low-light and panorama modes). Many also mentioned the handiness of having email, maps, and a compass always at hand.
But apart from these standard features, we also got tipped to some really useful Apps that are changing the way you work. We've (not very scientifically, we'll admit) compiled them into a top 10 list…check after the break to see which Apps made the cut!
Frank Lloyd Wright's Fallingwater has joined a rapidly growing list of interactive apps catered to architects and architecture fanatics. Brought to you by planet architecture, you may now explore the iconic 1930's Pennsylvania home right from your media device. Get a behind-the-scenes tour through hundreds of photographs, floor plans, archival drawings, VR panoramas and over 25 minutes of video clips from the documentary film "Frank Lloyd Wright's Fallingwater". As architecture continues to join the interactive world of apps, we cannot wait to see which architect or project will be next! Learn about the Zaha Hadid Architects app here.
Continue after the break for more screenshots and video.
On October 2nd Zaha Hadid Architects launched their much anticipated (to us architecture nerds anyways) iPhone and iPad App, made available through Apple and iTunes. This new App will allow users to browse through ZHA current portfolio of design and architecture. In a future update to the App there will be exclusive access and insight into some of the award winning buildings in the form of interactive guides (coming soon) to be used when visiting Zaha Hadid's buildings.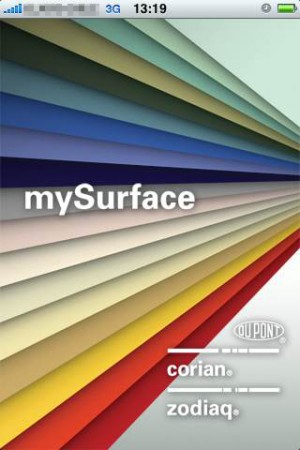 Dupont sent us an iPod Touch to try their mySurface app (available as a free download at the iTunes Store). Basically, the application is a catalog of the colors and finishes available for Corian and Zodiaq, two of their products for surfaces.
I already knew Corian, as it is one of the best surface solutions for countertops and furniture. Zodiaq is a product with more resistance, as it incorporates pure quartz crystal, making it more durable and scratch resistant.
What I like about this is that you no longer have to carry the big physical samples, and it becomes  very useful when you are on site with the client discussing the finishes.
As you can see on the screenshots below, you can easily navigate through the color/finishes palette, and save your favorites for easy access. For a more accurate comparison, you can see the texture at full screen and place the iPhone/iPod over the desired surface. It also includes some sample images of projects using these products.
What do you think?
More  screenshots and my vision on how this app could be improved after the break:
In my opinion, the iPhone has opened a complete new world of interaction in our hands and for me has been a very valuable tool in terms of productivity. Thanks to its mobile broadband capabilities, it allows you to be connected almost everywhere and download content very fast. But one of the most amazing features is the built-in GPS, that allows you to get content related to your immediate surroundings.
But it´s not just maps or directions. For example, 29GPS Architecture (developed by 29GPS) makes a very good use of this feature, featuring a daily selection of contemporary architecture and telling you exactly how far you are from it.
For example, works like the Hollywood House by XTEN or the recently opened Standard hotel in NY are presented with a set of photos (and even a video), with a radar (green,yellow or red, depending how far you are from the building) and a view that allows you to see the building pin pointed over Google Maps.
A very good app if you are traveling around and want to discover new architecture around. And the best of all, is that you can download this app for free (it contain some ads, see screenshoots ). There are two different versions of the app depending which measure system do you use, with the distance in either kilometers (download with iTunes, free) or miles (download with iTunes, free).
Screenshots and more info after the break.
The iPhone can be a very useful tool for an architect, as it allows you to check drawings and even do sketches on site. But today i found this  new application for the iPhone OS v2.0: A-Level, an electronic version of the good ol'  bubble level. I have to recognize that it's a clever use of the iPhone's accelerometer. You can get it at the iTunes App Store for 99 cents. To download follow this link (it will open iTunes).
Seen on Wired Gadget Lab.