Architects: Coop Himmelb(l)au
Location: 86 Quai Perrache, 69002 Lyon, France
Area: 46476.0 sqm
Year: 2014
Photographs: Duccio Malagamba
Duccio Malagamba shared with us his photographic work on Herzog and de Meuron's Museum der Kulturen. His photos not just provide us with more images on this exciting design, but allow us to really appreciate the stunning details and architectural elements shown such as its historic walls and beautiful rooftop of irregular folds.
After two years of reconstruction, refurbishment and expansion, it recently re-opened in early September of this year and continues to be one of Europe's great ethnographic museums. More photos by Duccio Malagamba can be viewed after the break.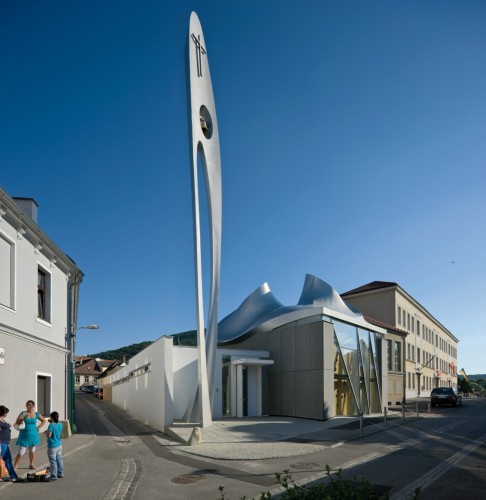 Architects: Coop Himmelb(l)au
Location: Hainburg, Austria
Design Principal: Wolf D. Prix
Project Architect: Martin Mostböck
Design Architect: Sophie-Charlotte Grell
Project Team: Steven Baites, Daniel Bolojan, Victoria Coaloa, Volker Kilian, Martin Neumann, Martin Jelinek
Site Area: 420 sqm
Project Area: 289 sqm
Project Year: 2011
Photographs: Duccio Malagamba
Architects: Eisenman Architects
Location: Santiago de Compostela, Spain
Executive Architect: Andres Perea Ortega and euroestudios
Client: Fundación cidade da cultura de Galicia
Project Year: 2011
Photographs: Duccio Malagamba
In my opinion, Herzog & de Meuron has been one of the few practices pushing new forms on architecture. They always start with something vernacular, extracting its inner essence and materializing it into something new that you will immediately understand by looking at the building (or the renders). A dialog between art and the current state of our society, embodied on industrial facilities, residential projects, mixed use complexes.
Their book "Herzog & de Meuron: Natural History"
is a must.
We now bring you a special on Herzog & de Meuron, with photos by  Barcelona-based photographer Duccio Malagamba (previously featured on our AD Photographers section).
Eleven works by the Swiss practice after the break:
Architects: b720 Arquitectos
Location: Barcelona, Spain
Architect in Charge: Fermin Vazquez
Project Chiefs: Peco Mulet, Fernando Luna, Andreas Moser
Project Team: Pablo González, Laura Marticorena, Carles Martínez-Almoyna, Eduard Miralles, Manuel Rivas, Giussy Ottonelli
On Site Team: Andreas Moser, Eduard Miralles
Client: Layetana Inmobiliaria
Developer: Layetana Inmobiliaria
General Contractor: Costruccions Baldó, S.A.
Structural Engineer: Guillem González (Base 2)
Project Area: 17,400 sqm
Construction Year: 2004-2008
Photographs: Duccio Malagamba
Architects: b720 Arquitectos
Location: Teruel, Spain
Architects in Charge: Fermin Vazquez
Project Team: Fermín Vázquez, Agustín Miranda, Pedro Baltar, Sebastián Khourian, María Barbeito, Ana Caffaro, Leyre Ciriza, Ángel Corsino (models), Pedro García, Pablo Garrido, Gustavo Gaudeoso, Guillermo Gutiérrez , Markus Jacobi, Paulo Moreira, Magdalena Ostornol, Javier Piedra, Andrea Rodríguez, Marta Sorribes, Alesandro Zanchetta (graphic design)
Client: Sociedad Municipal Urban Teruel
Developer: Diputación General de Aragón
General Contractor: Acciona
Lighting Consultant: Artec3 Lighting / Maurici Ginés, José Cardona, Jesús González, José Ma Deza
Project Area: 3,730 sqm
Budget: 6,500,000 €
Project Year: 2005-2006
Construction Year: 2006-2007
Photographs: Duccio Malagamba
Architects: ADD+ Arquitectura – Manuel Bailo Esteve, Rosa Rull Bertran
Location: Manresa, Spain
Collaborators: J. Maroto, N. Canas, N. Font, E. Grammont, M. Hita, A. Mañosa, A. Marin, M. Rull, J. Palá, M. Berasategui, M. Camallonga, A. Rovira
Structure: M. Cabestany
Budget: US $1,301,558
Project year: 2005-2006
Construction year: 2006-2007
We'd like to thank the photographer Duccio Malagamba for shearing with us this great photo set. We invite you all to visit his website to see some other projects.