Real-time rendering offers architects, designers, and visual artists an incredibly fast and realistic way to visualize and showcase their design ideas.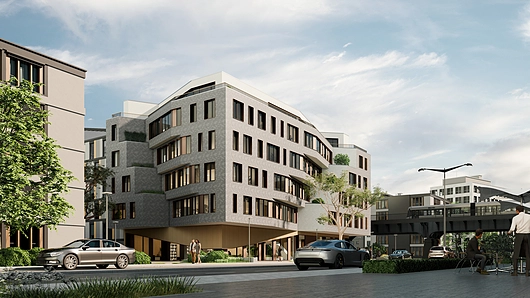 And now, with Enscape's latest update, users of this ever-evolving real-time rendering plugin can enjoy both performance and quality improvements throughout their design workflow.
In this article, we will discuss the features and product enhancements that are available with the new version of Enscape - 3.1, and how they can positively impact the way you design and visualize your projects.
Ready-Made Materials
With the new Enscape Material Library, you can quickly select from a large range of pre-made materials to use within your projects. These high-end rendering materials will save you time searching for and creating materials and will help to improve the quality and realism of your renders.
Over 200 materials have been added to the Enscape 3.1 Material Library, and more will follow with future releases. Options include different types of brick, metal, fabric, wood, and tile.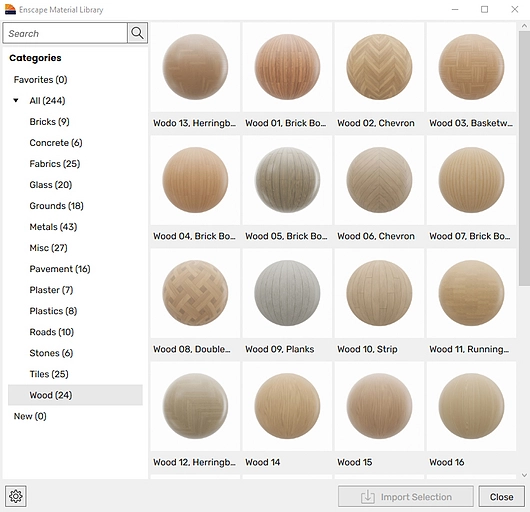 Material Editing Made Simple
The editing of materials is now simpler with Enscape, thanks to an improved Material Editor. A refreshed user interface and additional functionality make it easier to identify and alter a material to create exactly the look and feel you require.
New color and material type indicators, and a new self-illuminated material type are now visible within the editor. Multiple materials can be imported at one time, and favorite materials can be selected and saved in your dedicated Favorites folder.
Furthermore, Revit users can also enjoy a simple Material Editor. This will give users access to video textures, self-illuminating materials, and displacement maps from within Enscape for the very first time.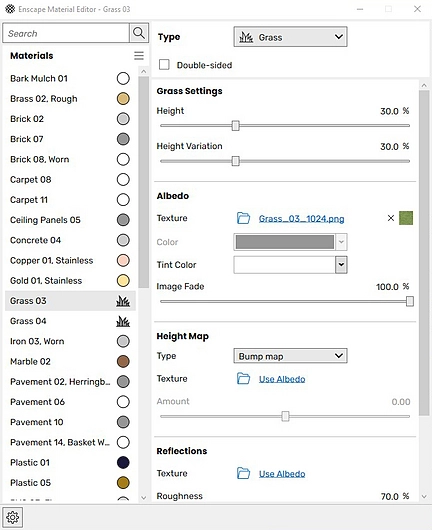 Linked Panoramas
Creating and sharing multiple panoramas from the same project is now possible with the Panorama Gallery in Enscape 3.1.
360-degree panoramas are a popular way to showcase a project, as they give clients and stakeholders the ability to explore a space from their own browser or mobile device.
Once logged into the Enscape License Center, a gallery can be created. Panoramas can be re-ordered and removed as desired to help you tailor every viewing experience.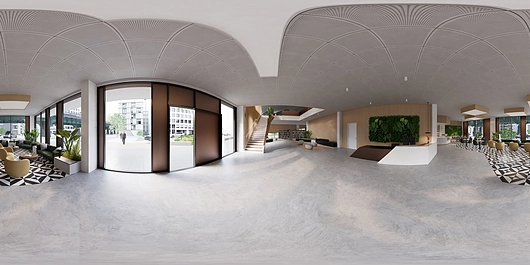 Distraction-Free Visualization
For those moments when you wish to share initial ideas with clients and colleagues but without too much detail, Enscape's new simplified assets are a welcome addition.
Perfect for use during early design and iteration, the new range of simplified assets are simple, white, low poly assets. They provide the perfect placeholder to give some context and allow consumers to concentrate on the most important aspects of your design.
The simplified assets can be found with the Enscape Asset Library and include people, buildings, vegetation, furniture, and vehicles.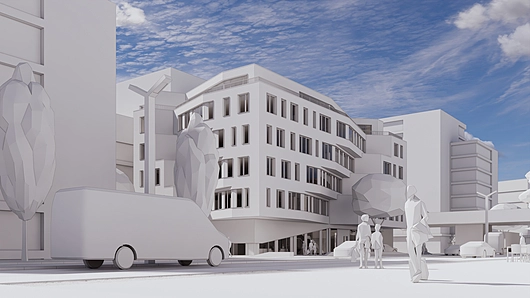 Incredibly Realistic Shadows
It is already possible to create realistic renders in Enscape, thanks to NVIDIA RTX ray-tracing technology, which accurately calculates lighting and reflections.
But now, with Enscape version 3.1, sun shadows now also benefit from ray-tracing. Sharper and more lifelike shadows can be seen in any exported image, panorama export, or when in rest mode during walkthroughs.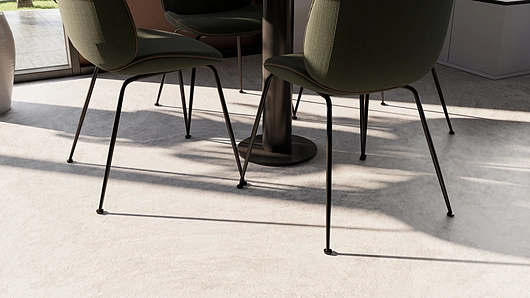 Support for NVIDIA DLSS
Last but not least, with Enscape 3.1, architects and designers can get access to the latest real-time rendering technology, thanks to the support of NVIDIA DLSS. DLSS stands for Deep Learning Super Sampling and enables users to output high-resolution images on lower resolutions.
Video rendering time will decrease when NVIDIA DLSS is enabled, and real-time walkthroughs and virtual reality experiences will benefit from higher frame rates, with much lower GPU requirements.
By incorporating NVIDIA DLSS, Enscape now provides even higher-quality videos and higher-performance walkthroughs to those using an NVIDIA RTX graphics card.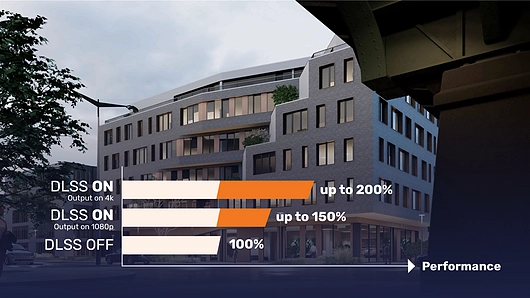 Get Started With Enscape 3.1
If you are yet to experience Enscape for yourself, you can get started today with a free 14-day trial. It's easy to download and add into your Revit, SketchUp, Rhino, Archicad, or Vectorworks modeling tool.
For more information on Enscape, please visit the Enscape website.