Graphisoft is a company that specializes in the development of BIM software for the construction industry. This guide describes how to achieve greater productivity in Archicad with the Smart Selection tool.
When working on complex BIM projects, it is essential to easily identify, select, and zoom in on elements in the floor plan or 3D views while working in section, elevation, or interior elevation views. To achieve this, the new navigation commands in Archicad 25 help you save time and reduce frustration. These enhancements increase design freedom and allow you to achieve excellent architectural results in a shorter time, boosting your BIM workflow.
With new and improved commands, Archicad 25 allows you to continue selections by switching between 2D and 3D views without needing to reselect items. Furthermore, you can also speed up your workflow by using overlapping elements and hiding the selected elements in the active view.
You can use one of Archicad's many functions and commands to easily find and select items including:
Show selection or frame in 3D
Show All in 3D
Search and Select
Filter and Cut Elements in 3D
3D Cut Plane
With the 'Select in 3D' command, you can switch between views while keeping the elements selected.
You can also control the visibility of elements and speed up your workflow with 3D overlapping elements by hiding selected elements. This will make other building elements more visible without hiding their layers or modifying layer combinations. Just right-click on the item you want to hide and choose the 'Hide Selection' command. Save this custom view for later if you want.
With the 'Select on Floor' command, the Floor Plan window instantly displays a close-up of the selected item in its environment.
You can use the 'Show All' command to show hidden items and return to the original 3D view. This functionality is also useful in Sections, Elevations, and Interior Elevations. Selected items can now be tracked in any view, including 3D or plan.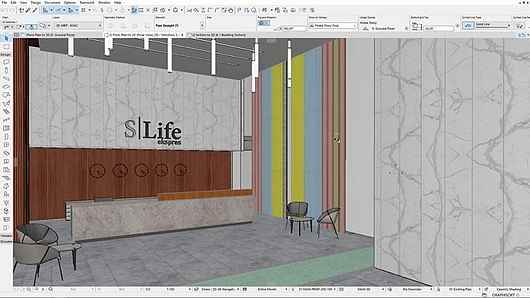 With the Smart Selection tools, you can implement design changes quickly, even in the later design phases. You can freely develop and adjust your design according to your needs.