Archicad has a powerful suite of built-in tools and a user-friendly interface. The BIM software from Graphisoft features out-of-the-box design documentation, one-click publishing, photo-realistic rendering, and best-in-class analysis.
Design
Algorithmic design tools and large model support facilitate the design process.
BIM modeling toolkit
Integrate the structural and architectural model in a shared design hub. Archicad tools now integrate the Structural Analytical Model.

Built-in MEP modeler


Built-in MEP design tools further extend the integrated design approach of

Archicad 24

. As of this version, MEP Modeler is a core part of the software. Access intelligent MEP equipment inside the architectural model. Integrate MEP systems correctly in the BIM model without the need for a federated approach.

Share and explore ideas


Model and submit ideas for review by your team. When accepted, they'll immediately become part of the project.

Easy object creation


Create objects in the node-based visual PARAM-O tool without the need for GDL programming knowledge. Model anything from interior details to urban landscapes with parametric capabilities.

Reduce eye-strain


Switch to Dark Mode on macOS, Archicad will adapt its appearance with carefully re-designed icons and interface colors to be easier on the eyes in low-light conditions.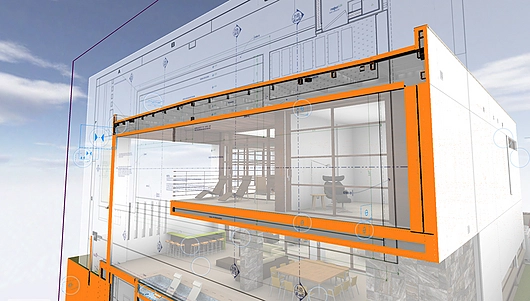 Analyze
By connecting Graphisoft Archicad to analysis tools, you can identify and solve issues in the earliest stages of the design.
Integrated models
Architects and structural engineers are put on the same page with an integrated structural analytical model in the BIM model for a collision-free, one-model strategy and a seamless bi-directional structural analysis workflow.

Built-in physical and analytical model checking


Increase the reliability and accuracy of the model with the help of built-in physical and analytical model checking.
Collaborate
Work with teams anywhere in the world on projects of any size or complexity. Clash detection and resolution are fast and easy regardless of what other software team members may be using.
Stay in the loop
Detect and visualize the changes between models and revisions in a more intuitive way thanks to smart change monitoring and real-time notifications.
Change management made easy
For change management: Compare two 3D models or versions, and visualize and filter the differences between them. Keep track of design changes accurately and even evaluate design variants.

Track and change


Resolve issues faster and reduce the risk of unsolved issues with clear organization and real-time notifications of BIM model changes. Integrate issues from third parties based on compatibility with industry-standard issue management solutions.
Always in sync
Upload and refresh content in the model regardless of each team member's location thanks to the fast and simple publishing workflow and BIMcloud.
Direct information exchange with Revit
Exchange information with Revit directly "out-of-the-box." Import and export elements with their precise geometry and parameters (as non-editable content) from Revit (RVT) files for coordination and model referencing purposes. Access RVT files locally or via BIMcloud, using Hotlink or Publish functions.
Simple project submission
Publish projects from Archicad to shared online locations with ease thanks to a streamlined submission process.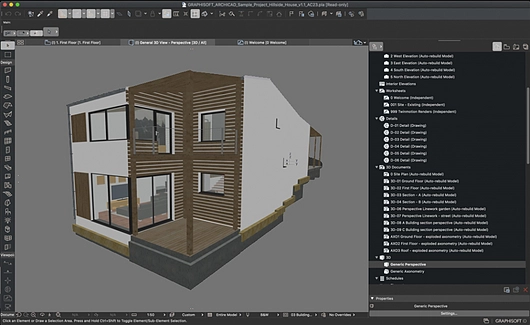 Document
Complete 'out of the box' documentation sets, combined with a powerful publishing workflow that complies with local BIM requirements.
Automate workflows


Using higher-level programming languages like Python, create automation scripts in Archicad, and complete command chains from outside. Access general element, property information, and element listing information, and modify these and other Archicad element classifications as necessary.

Smarter information exchange


Exchange data with consultants outside of the model environment in a smart, efficient way: option set properties are now exported to Excel, guaranteeing accurate and high-quality information input into the BIM model.
Visualize
Archicad has a built-in palette of architectural visualization software. Graphisoft's VR and rendering tools were designed to help anyone understand and navigate the BIM model.
New and updated surface materials
Create high-end visualizations quickly and easily with new and updated surfaces in the Additional Surface Catalog.
New interior objects
Furnish scenes with brand-new objects from the updated library quickly and easily, to bring your interiors to life.
No project is too big
Present projects of any size right on your mobile device or with the renewed BIMx desktop thanks to the brand-new BIMx 3D engine.
Real-time renderings
Create high-end visualizations with the Archicad-Twinmotion Direct Link while working on your BIM project, for informed design decisions and compelling client presentations. Twinmotion 2020 is free for Archicad 24 users.