OTTOSTUMM supplies components for steel fenestration systems. The FerroFinestra W20 series has its origins in the "Universal Range", first introduced in 1912; it consisted of three ranges of hot-rolled profiles, identical in geometry and types, but different in depth, classified into large, medium and small. Depending on the dimensions of the window, the most appropriate series was selected to match the static requirements. The system could cover any type of window and opening. In combination with special T-profiles, used as mullions and transoms, it was possible to realize curtain walls of any size.
The currently available range from OTTOSTUMM was revised in 1964 and re-named "W20". The three separate ranges were condensed into one medium-range, which consisted of 20 hot rolled profiles able to cover the functions of modern windows and grant the original design and proportions for those to be replaced in historic buildings. Today, after more than 100 years, this timeless series is still chosen for a great number of restoration projects worldwide.

Features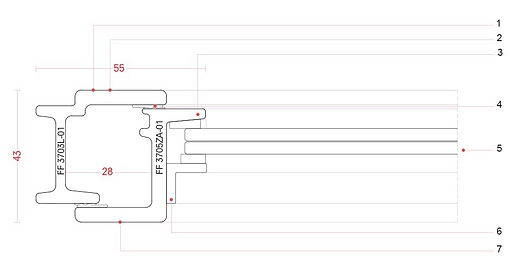 Solid hot rolled steel profiles
Classic "stepped leg" design
Material thickness up to 5 mm
Self-adhesive non-shrinking gaskets
Accommodates low emissivity double-glazing up to 21 mm
Choice of different glazing beads
Fixed glazing, single-sash and double-sash, side-hung and bottom-hung windows opening inwards and outwards, top-hung, vertical and horizontal pivoting windows, window and doors opening inwards and outwards
Sustainability
The steel bil­lets, rods and strips, from which OTTOSTUMM steel window profiles are formed, are smelted from almost 100% recycled steel scrap. At the end of their life, steel windows can be systematically dis­mantled and the frames, fittings, and glass recycled.