More than 64 million European school children and 4.5 million teachers spend around 200 days in school per year. Of this time, children typically spend 70% of their time indoors. Many studies are now showing that a well-designed indoor school environment will promote improved knowledge and learning as well as children's health and wellbeing.
In Europe, there is currently a boom in the construction of educational facilities that have not been seen since the 1970s. This provides a tremendous opportunity for both architects and educators to rethink what an educational facility should be and how the physical environment can be designed to have a positive impact on learning.
There are three main areas where the physical environment has been found to be particularly influential to learning:
Naturalness: Light, temperature and air quality. These elements together account for half the learning impact of a school design. The acoustic qualities of a space can also contribute to naturalness.
Classroom design: Ownership and flexibility, account for a quarter of the learning impact
Stimulation: Complexity and colour, also accounting for a quarter of the learning impact
New Research
Recent research conducted by Professor Peter Barrett and his team of school design experts at the University of Salford, UK, showed clear evidence that well-designed primary schools can substantially boost children's academic performance in reading, writing and maths. Their ground-breaking study, the HEAD Project (Holistic Evidence and Design) concluded that differences in the physical characteristics of classrooms explained 16% of the variation in learning progress over a year for the 3766 students included in the study. Put simply, the better designed the classroom, the better children do academically.
The vital design elements
The findings outlined in the HEAD study reveal that certain design elements are intrinsic to improving learning in the classroom. These are:
Daylight
Indoor air quality
Acoustic environment
Temperature
Classroom design
Stimulation
More information can be found on the full range of design elements including case-studies and detailed research at Velux's Building Better Schools E-Book.
Here we take a closer look at how daylight can improve school design and improve learning. Studies have shown that students with abundant daylight in their classrooms progressed 20% faster on maths tests and 26% faster on reading tests. Students that had a well-designed skylight In their room improved 19-20% faster than those without a skylight and students with operable windows progressed 7-8% faster than those with fixed windows.
4 ways to improve the daylight condition in classrooms
Ensure that daylight is the superior light source for most of the daylit hours during the year
Select solar shading systems that can ensure a high level of daylight quality and maintain a view to the outside.
Concentrate on the schools most utilized spaces – invest in daylight solutions where the students are – and allow slightly darker areas within the room, if needed.
Integrate successful architectural daylight solutions in the overall school design, that combines the advantages of windows both in the façade and in the roof
How to design with daylight
While daylight does occasionally need to be supplemented by ample, high-quality artificial lighting, where possible, we should aim to make daylight the main source of lighting in schools
When windows or skylights face North (in the northern hemisphere or South in the southern hemisphere), the daylight entering a space tends to be softer and more diffused, with subtle changes in light levels and colour texture throughout the day. With other orientations, sunlight enhances the overall brightness of interiors, with specific areas of concentrated light.
The challenge of designing with daylight is particularly evident in deep classrooms, where there is a considerable distance between windows and the back of the room. Here there is often a disparity in light levels – bright near the windows and darker further back. In situations where the shape or size of classrooms does not allow for adequate light levels throughout, and/or where the possibility of window space is limited, skylights are often the optimum solution. Where there is no direct access to the sky due to constructed floors above, light shafts can be an effective alternative.
One of the collateral benefits of creating openings for daylight is that they also provide us with a connection to the outdoors, allowing us to follow changes in the weather, the time of the day and the year. There are many factors to take into account when considering how much daylight will be gained from windows or skylights. These include glazing transmittance, wall thickness, external obstructions, extensions above (e.g. overhangs, balconies) and to the sides (e.g. extension of the building itself), depth of the room, etc. When taking all these factors into account, a skylight typically provides more than twice the amount of daylight than a facade window of equal size.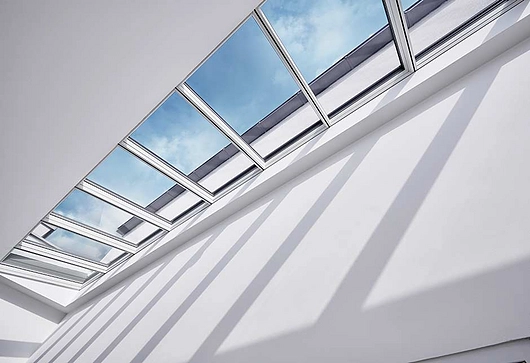 Windows vs. skylights
Good daylight distribution across a room is often best achieved by using several different sources of daylight, such as a combination of skylights and windows, and this can also ensure reduced levels of glare and contrast. For spaces where even large areas of window glazing will not allow enough daylight to penetrate, or where their installation is simply not possible – such as very large classrooms, lecture theatres or indoor common areas in the centre of a building – skylights are a great option to consider. Operable skylights strategically located in the overall building design allow plenty of daylight to penetrate in the dark winter months, while also providing fresh air throughout the year, improving indoor air quality and helping regulate temperature.
VELUX offers 2 e-books related to the topic, which can be downloaded on the following links:
Building a better school: Six ways to help our children learn
Designing great schools: 8 examples of how skylights improve learning