Noted architectural historian and preservationist Robert Rubin has purchased the largest of Buckmister Fuller's "Fly's Eye" domes and plans to reopen it to the public this summer for the first time in 30 years.
More on Fuller's dome and its new owner after the break…
Architects: Laurens & Loustau Architects
Location: impasse de la glacière, Toulouse, France
Collaborator: Laurent Didier
Client: APEAJ
Area: 883 sqm
Year: 2012
Photographs: Stephane Chalmeau
Architects: Atelier d'architecture King Kong
Location: Toulouse, France
Architect In Charge: Frédéric Neau
Project Manager: Julie Dehaut
Graphist Designer: Julie Soistier
Project Year: 2012
Photographs: Arthur Péquin
Designed by Complex City in an area of Toulouse, France, the Mediatheque is built through network connections and brick concepts. As a place of network connections, the media library becomes a space which preserves and gives access to audio-visual contents, sound documents and video recordings, material considered as cultural testimony with the same value than written documents. This building also has the purpose of exalting the brick, an architectural material considered as a cultural patrimony of this region. More images and architects' description after the break.
Architects: Art&Build Architects
Location: Toulouse, France
Project Year: 2011
Project Area: 13,000 sqm
Photographs: Vincent Boutin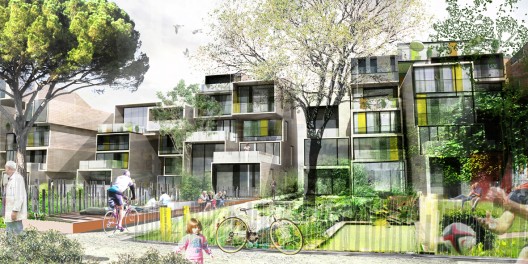 Loïc Brenterc'h (A.B.A agency) + Ewan Marin (COT agency) shared with us their Europan 11 Proposal in Toulouse, France which won the second prize. Titled 'META – Block: A Toulouse Urban Model', the purpose of their design is to extend and redefine the historical city way of life. The inhabitant's habits and living visions have changed but they still need to feel the Toulouse cultural vibes. More images and architects' description after the break.
Architects: PPA
Location: Toulouse, France
Client /developer: Habitat Toulouse
Collaborators: Isabelle Fabre, Guillaume Calsou
Landscaping: Quinconces
Structure engineer: Bernadberoy
Fluids engineer: Ceercé
Hqe engineer: Franck Boutté
Economist: Alayrac
Project Area: 5 300 sqm
Project Year: 2011
Photographs: Philippe Ruault
Between the canal and the railway, the site of the prize winning project proposal by RNDM Architecture is currently enclosed. Therefore, their project strives to reconnect it with the city, which is why they rely on strong structural elements to both organize the territory and make it attractive. The design is set up as a new urban landscape that draws on elements of identity that constitute the urban tissue of old Toulouse. More images and architects' description after the break.
Providing the winning design for the Parc des Expositions (PEX) in the innovation zone of Toulouse, in southern France, OMA conceived PEX to be a new gateway to the city hosting exhibitions, conferences, and concerts. The 338,000 sqm project is designed to be a compact mini-city – an antidote to the sprawl of a standard exposition park, and a means to preserve the surrounding French countryside.
Surpassing three submissions by internationally-renowned competitors, the project, led by OMA's director of French projects Clément Blanchet, will be completed by 2016. Blanchet commented: "This project is not only about architecture, but rather infrastructure. It's a condenser for diversity, a machine that can promote an infinite amount of possibilities."
Architects: OMA
Location: Toulouse, France
Designers: Rem Koolhaas and Clément Blanchet
Client: Société Publique Locale d'Améngement (SPLA)
Project Area: 338,000 sqm
Project Year: 2016
Renderings: Courtesy of OMA
The national cultural event, Imaginez Maintenant, features work of young multidisciplinary designers (all under the age of 30) in nine French cities.   Finding inspiration in Gilles Clément's description of "wandering plants phenomenon," Nicolas Dorval-Bory and Raphaël Bétillon's selected project creates an experimental journey, inviting visitors to explore an unlikely landscape. Open from July 1st through the 4th, the project consists of an artificial cloud, a long greenhouse and thousand of seedlings which will rest on the banks of the Garonne, next to the Hospital of La Grave.
More about the installation after the break.
The work of two young French landscape designers, Sylvain Morin and Aurélien Zoia, has been selected for Imaginez Maintenant, a summer national event where young landscapers experiment and share their ideas.  The designers have been chosen to work on two French heritage sites, one in Toulouse and the other in Amiens.  Today, we share their design for Toulouse, and next week, we'll share their strategy for Amiens.
More images and more about the landscape after the break.