Architects: CHT Architects
Location: Richmond VIC, Australia
Design Director: Ivan Turcinov
Project Director: David Carabott
Project Architect: Chivonne Hollis
Project Leader: Nathan Byron
Area: 4,356 sqm
Year: 2012
Photographs: Christine Francis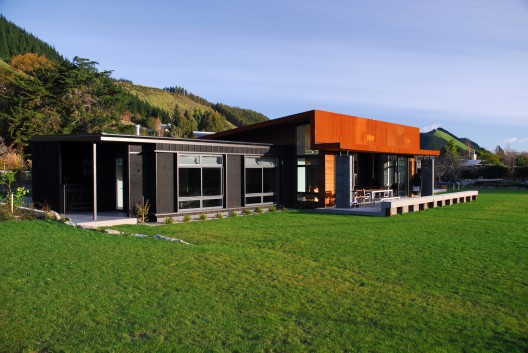 Architects: Guy Herschell Architects
Location: Richmond, New Zealand
Project Team: Guy Herschell
Area: 290 sqm
Year: 2012
Photographs: Guy Herschell
Architects: Andrew Maynard Architects
Location: Richmond, VIC, Australia
Architect In Charge: Andrew Maynard, Mark Austin
Building Surveyor: Anthony Middling & Associates
Engineer: Coulthard Shim P/L
Builder: Sargant Constructions
Year: 2012
Photographs: Peter Bennetts, Michael Ong
Architects: AM Architecture
Location: Fitzroy, Melbourne, Australia
Architect In Charge: Andrew Mellios
Graduate Architect: Antry Lau
Area: 205.0 sqm
Year: 2012
Photographs: Dianna Snape
Architects: Jackson Clements Burrows Architects
Location: Richmond, VIC, Australia
Design Team: Graham Burrows, Tim Jackson, Jon Clements, Anthony Chan, Michael Stelluto, Veryan Curnow, Nick James, Huan Trinh
Area: 884 sqm
Year: 2008
Photographs: John Gollings
Architects: Marcy Wong Donn Logan Architects
Location: Richmond, CA, United States
Design Team: Marcy Wong, Donn Logan, Ketki Shah
Project Year: 2011
Project Area: 12,400 sq ft
Photographs: Courtesy of Marcy Wong Donn Logan Architects, Sharon Risedorph, Billy Hustace
Steven Holl Architects have just unveiled Virginia Commonwealth University's new Institute for Contemporary Art. With an inviting sense of openness, the building will form a gateway into the University, linking the city of Richmond to the campus. A dynamic architectural promenade will connect the building's most important spaces, engaging visitors in a variety of changing perspectives. Flexible spaces throughout the building will be capable of accommodating a vast assortment of exhibitions and performances.
Continue after the break for more images and the architect's project description.
Architect: Clive Wilkinson Architects
Location: 103 S. Jefferson Street, Richmond, Virginia, USA
Client: Virginia Commonwealth University
Project Area: 32,000 sqf
Project Year: 2008
Photographs: VCU Creative Services, Allen T. Jones
For those of you that enjoyed our post on the 
Covington Farmers Market
you might enjoy visiting an exhibition that features Jeff Goldberg's images and the students' bass wood models of the project at The 
Virginia
 Center for Architecture in
Richmond
,
Virginia
. The exhibition, "Design 2011: A Retrospective of Winning Work", will be held from October 20, 2011 – January 8, 2012.
Additionally, design/buildLAB  has been invited to give a lecture to coincide with the exhibit. The lecture, "Teaching Practice",  will be held at the Richmond Convention Center on Thursday November 3rd from 10:45-12:15. For more information visit:  
http://www.virginiaarchitecture.org/ae_index.html
More images of the project after the break.
Architects: Suters Architects
Location: Richmond, VIC, Australia
Project Team: Stephen Cheney, Mark van den Enden, Mike McGrath, Joshua McAlister, Kellie Adler, Kris McIsaac, Michael Hubbard, Neil Zimmerman, Rebecca Brewer, Vicky Tsang, Stuart Stark, Shea O'Donoghue
Project Year: 2011
Project Area: 4,600 sqm
Photographs: Emma Cross
Architects: Rick Mather Architects, SMBW
Location: Richmond, Virginia, USA
Project Area: 9,300 sqm
Project Year: 2010
Photographs: Bilyana Dimitrova Photography, Virginia Museum of Fine Arts, Tippy Tippens, Rick Mather Architects 
Steven Holl Architects were approved last week by the board of visitors' finance committee to design a $19.3 million gallery at Virginia Commonwealth University (VCU) in Richmond, Virginia.
An existing surface parking lot on the east side of VCU's campus will be transformed into the 32,000 sqf arts institute.  This will provide an opportunity to create a distinctive entrance into the campus from Broad and Belvidere streets.  The program for the  new gallery includes space for traveling exhibits and student exhibits, archival study area, offices, and an auditorium.
This 525,000 sqf multi-million waterfront project rejuvenated the formerly abandoned and dilapidated Ford Assembly Building originally designed by Albert Kahn for Henry Ford.  A 2011 AIA Honor Award winner, the historical factory was transformed into a vibrant center of 21st Century building uses, including entertainment, dining, office, and a visitor center. Today it has a lively mix of public/private uses and accommodates a range of commercial tenants with offices, Research & Development facilities, light industrial, retail functions, and the NPS Visitor Center celebrating WWII's "Rosie the Riveter". The project also incorporates significant sustainability features.
Architects: Marcy Wong Donn Logan Architects
Location: Richmond, California, USA
Project Team: Marcy Wong (partner), Donn Logan (partner), Kent Royle (project manager)
Preservation Architect: Preservation Architecture
General Contractor: Dalzell Corporation
Interiors: Marcy Wong Donn Logan Architects
Landscape: SWA Group
Structural: The Crosby Group
Mechanical: Mechanical Design Studio, Inc.
Plumbing: Mechanical Design Studio, Inc.
Lighting: Architecture + Light
Acoustics: Charles M. Salter Associates
Project Area: 525,000 sqf
Project Year: 2009
Photographs: Billy Hustace Photography, Alex Vertikoff Photography, Charles C. Benton, Steve Proehl Aerial Photography, Anna Finke
The design strategy for this office headquarters project for a solar power company in an historic Ford auto factory grew out of the multiple objectives of the client and architect: aesthetics, function, and sustainability.  Since the company is a leading developer and manufacturer of solar power technology all aspects of the project needed to reflect the company's culture and commitment to sustainability.  More photographs and drawings following the break.
Architects: Marcy Wong Donn Logan Architects
Location: Richmond, California, USA
Project Team: Marcy Wong (partner), Donn Logan (partner), Cari Rosner Jelen (project manager)
Renderings and Model Construction: Justin Tang
Developer: Eddie Orton
Landscape: SWA Group
Structural: The Crosby Group, Gregory P. Luth & Associates Mechanical: Mechanical Design Studio, Inc.
Custom Tables: Swerve
Plumbing: Mechanical Design Studio, Inc.
Lighting: Architecture + Light
Acoustics: Charles M. Salter Associates
Preservation Architects: Preservation Architecture
General Contractor: Dalzell Corporation
Project/Construction Manager: Cressa Partners
Client: Tom Dinwoodie
Project Area: 200,000 sqf
Project Year: 2003-2009
Photographs: Billy Hustace Photography