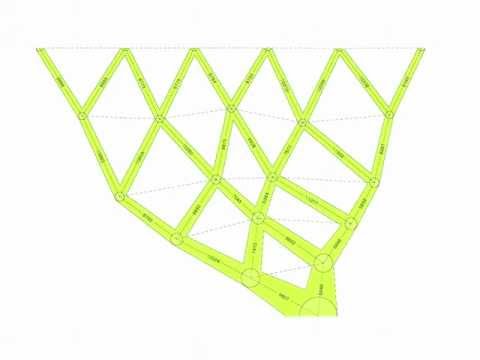 Subarquitectura transforms a roundabout into a public space with the Parametric Romantic Garden that creates a system of paths leading to a tram station in Alicante, Spain. The parametric design accommodates for existing trees while establishing 32 unique ways in which the platforms may be reached. Each platform is capped with a hollow luminary, serving as an identifier for the station while breaking down the scale for the travelers. Follow this link for more information on the project.
It began on December 17th, 2010, when 26-year-old street vendor named Mohamed Bouazizi drenched himself in paint thinner and lit a match in front of the provincial-capital building in Tunisia. Mannoubia Bouazizi stated, "My son set himself on fire for dignity." Her 16-year-old daughter added, "In Tunisia, dignity is more important than bread."
All over the world, the protestors of 2011 have stood-up for fairness and freedom. "Do-it-yourself democratic politics became globalized, and a real live protest went massively viral." Authoritarian acts of violence and forceful evictions from "public" squares further exposed what the protestors were fighting for. In effort to honor the individuals who have made the greatest impact on our world during these past twelve months, TIME has named the 2011 person of the year as "The Protester".
Architects: Consortium Daoust Lestage + Williams Asselin Ackaoui + Option aménagement
Location: Quebec, Canada
Project Team: Réal Lestage, urban planner, principal in the project team, Renée Daoust, architect, urban planner, principal / Caroline Beaulieu, architect / Lucie Bibeau, landscape architect / Martin Adam, b. arch. / Maria Benech, b. arch. / André Nadeau, landscape architect / Simon Magnan, landscape architect / Rachel Philippe-Auguste, architect / Catherine St-Marseille, m. arch. / Hubert Pelletier, m. arch. / Nelson Couture, architect / Jacques Michaud, tech. arch.
Project Year: 2008
Engineering: GENIVAR and SNC-LAVALIN
Contractor: POMERLEAU
Client: Commission de la Capitale Nationale du Québec
Lighting Consultant: ÉCLAIRAGE PUBLIC
Constructed Area: 2,5 km long
Photographs: Marc Cramer
These projects are part of the National Tourist Routes, unique drives through the most spectacular countryside Norway has to offer. The National Tourist Routes are being developed and operated by the Norwegian Public Roads Administration as a nationwide project. Its goal is to provide a network of such routes throughout Norway by 2015.
Architects: 70ºN Arkitektur
Location: Vestvågøy, Lofoten Islands, Norway
Client: Norwegian Public Roads Administration
Project year: 2005
Photographs: Vegar Moen, Steinar Skaar, Hege Lysholm, Werner Harstad, Gösta Reiland, Helge Stikbakke, 70°N arkitektur
Architects: SUBARQUITECTURA, Andrés Silanes, Fernando Valderrama, Carlos Bañon
Location: Rotonda de Sergio Cardell, Alicante, Spain (38.364°N, 0.432°W)
Structure: SUBARQUITECTURA
Client: FGV – Ferrocarrils de la Generalitat Valenciana
Contractor: UTE ECISA + COMSA
Site Area: 5.090 sqm
Budget: 654.638 EURO (US $1.01 million)
Project starts: September 2005
Project ending: October 2006
Inauguration date: Early 2007