Architects: Matharoo Associates
Location: Pavapuri, Rajasthan, India
Principal in Charge: Gurjit Singh Matharoo
Project Team: Ramesh Patel (Architect), Janmay Mehta (Trainee)
Clients: K.P Sangvi charitable trust, Shri pavapuri tirth dham jeev maitri dham
Structural Engineer: Matharoo associates – R.S Matharoo, Ritesh Chauhan
Mechanical Engineer: Jhaveri Associates
Interior Designer: Matharoo Associates
Landscape Architect: Vagish Naganur
Project Year: 2009
Project Area: 3100 sqm
Photographs: Courtesy of Matharoo Associates

The THiNK 2011 festival recently held in Goa, India brought together some of the most innovative minds from around the world ranging from technology, arts, literature, medicine, economics, human rights, politics and more from the US, UK, India, Afghanistan, Israel, China and Pakistan. The emphasis of the festival is to share ideas and provide inspiration. Thomas Pritzker had a chance to talk in depth with Frank Gehry about everything ranging from his design philosophy, past and current works, his opinion on the current status of the architectural environment with respect to students and architects, and project delivery and implementation.
Architect: Sanjay Puri Architects
Location: Lonavala, India
Photographs: Courtesy of Sanjay Puri Architects
Architect: Sanjay Puri Architects
Location: Kolkatta, India
Photographs: Courtesy of Sanjay Puri Architects
Along with the Mumbai and Toronto offices, the Los Angeles based Yazdani Studio of Cannon Design announces their conceptual design for the new world-class Bollywood Museum located at Film City in Mumbai, India. The design is the physical manifestation of an emotional response to Hindi cinema.
Location: Film City, Mumbai, India
Client: Maharashtra Film, Stage and cultural Development Corporation Ltd.
Architect: Yazdani Studio of Cannon Design in collaboration with Cannon Design International
Continue reading for more images and the project description.
The new Indore School design by STL Architects aims to radically rethink both the traditional classroom learning environment as well as the physical arrangement of those spaces. With a prototype designed for mid, mass and premium markets, the Indore School educational experience will never differ, only the materials used to build each school. More images and architects' description after the break.
The project proposal for the first CTBUH international student design competition by Ajmona Hoxha, Elis Vathi, Klodiana Millona aims to redefine the gap created between the two extreme social classes of India as the widening income gap between the rich and the poor over the years has raised fears of a social backlash. Since it is highly noticed that the difference between the rich and the poor is displayed not only in the social life but at a major grade on the physical environment, there is a need for redirecting social organization by creating a new environment. Displacement of the concentrated power of the narrow rich circles to wider masses would be achieved by strong physical means. More images and project description after the break.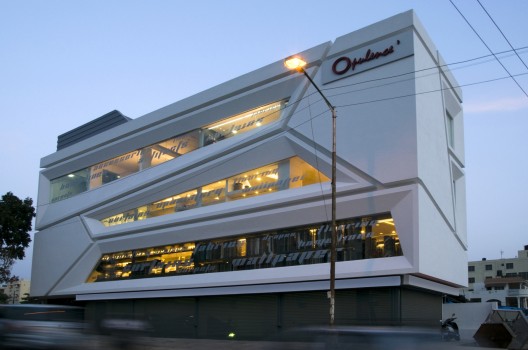 Architects: Cadence
Location: Bangalore, India
Project Team: Smaran Mallesh, Narendra Pirgal, Vikram Rajashekar, Rejin Karthik
Project Year: 2010
Photographs: Claire Arni
Architects: Mr. Rajiv Saini
Location: Rishikesh, India
Project Year: 2010
Project Area: 640 sqm
Photographs: Sebastian Zachariah
Phoenix-based Orcutt|Winslow (O|W) has been hired to design a verdant, green residential tower that will soar into the sky above Mumbai, India. The project, currently in a conceptual phase, addresses India's burgeoning housing demand by creating an alternative to Mumbai's densely-packed extensive horizontal communities, which have erased the once-lush tropical landscape. Embracing a trend toward vertical development, the design provides opportunities to re- introduce nature at the ground plane and improve the quality of life for Mumbai residents. Offering breathtaking views of the Bandra-Worli Sea Link to one side, as well as panoramic views of the city, Sahana Pride at Sion encompasses a challenging and compact footprint. O|W focused the building design on allowing residents to reconnect with nature, despite being located in the center of a bustling city such as Mumbai. Rising from a strong base, surrounded with vegetation, the proposed building expands to provide a wide range of activity spaces.
Architect: DCOOP (Design Cooperative)
Location: Cuddapah, Andhra Pradesh, India
Project Team: Quaid Doongerwala with Tapasya Katta, Tapasi Mittal
Structure Engineer: Sanjay Chikermane
Plumbing & Electrical Engineer: Synergy Consultants
Contractor: SVEC Hyderabad
Project Management: University Engineering Dept.
Site Engineer: Mohammed Nawaz
Project Area: 2050 sqm
Project Year: 2007
Photographs: Rajesh Vora
With its varied courtyards, terraces, columned halls, entries and playful movements, the School of Sciences is a journey of discovery. While the solemn front of the structure conveys the image of serious academic pursuit that the university stands for, the building itself is centered around its users–faculty and students.
Architect: DCOOP (Design Cooperative)
Location: Cuddapah, Andhra Pradesh, India
Project Team: Shilpa Ranade and Quaid Doongerwala with Abhijit Doshi, Shweta Ketkar
Structure: Sanjay Chikermane
Plumbing & Electrical: Synergy Consultants
Contractors: SVEC Hyderabad
Project Management: University Engineering Dept.
Site Engineer: Mohammed Nawaz
Project Area: 18000 sqm
Project Year: 2008
Photography: Rajesh vora