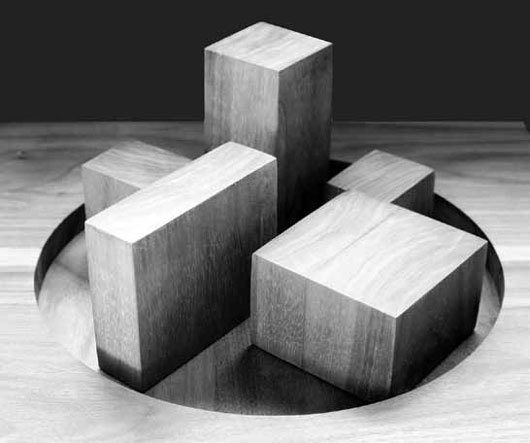 The architectural firm PRODUCTORA, based in Mexico City, is presenting 9 unbuilt projects that have a clear relation to geometry and mathematical composition. Large-scale models, made in collaboration with students at Woodbury University are presented together with black and white CAD drawing that clarify the main conceptual aspect of the building. 
The simple positioning of the framed drawings, renderings and wooden models on the exhibition floor, avoids all museographic rhetoric and presents the work as autonomous objects in space. The title 'In Between Projects' relates to the ongoing development of a common formal vocabulary that underlies the circumstantial aspects of each individual project. This exploration is presented through an image loop of preliminary study models of the projects presented. Ultimately, the exhibition underscores the studio's belief that strong geometric compositions and clearly legible buildings allow architecture to maintain its value through unpredictable shifts in context and program over time.
Title: Exhibition: In Between Projects / PRODUCTORA
Website: http://architecture.woodbury.edu/in-between-projects-opening/
Organizers: Woodbury School of Architecture
From: Tue, 08 Apr 2014 
Until: Fri, 25 Apr 2014
Venue: WEDGE Gallery
Address: 7500 North Glenoaks Boulevard, Woodbury University, Burbank, CA 91504, USA
Taking place October 6, Woodbury University in Burbank, CA is hosting the Advancing Sustainability 2012 Business + Design Symposium that focuses on the "cardiovascular system" of a city—its infrastructure. The discussion will investigate how various infrastructures—providers of core operational supply (transportation systems, energy and water supply, communications, built environment)—perform, exchange, and are incorporated into the natural environment. The discussion will address the extent of their influence on lifestyle and the overall dynamics of the city, as well as their management and opportunities for advancement. The event will curate a conversation amongst the most innovative minds within the fields of architecture, urban planning, landscape architecture, engineering, and design to investigate the potential of sustainability within lifestyles and soft infrastructures. For more information, please visit here.
Business and interior architecture students of Woodbury University present: 2011 ADVANCING SUSTAINABILITY – BUSINESS + DESIGN SYMPOSIUM Saturday, October 29, 2011, 10:30-5:30. This year's symposium will focus on sustainability within the scope of business and design.
The metropolitan area of Los Angeles is facing many environmental, infrastructural and socio-economical challenges in the 21st century. In order to address these, different sustainable concepts and technologies are being developed and successfully implemented. Despite the existence of such solutions, the process of rethinking the world requires time and persistence. More information on the event after the break.