Designing an architectural homage to someone like Ludwig Van Beethoven is no easy feat. Yet that's exactly what architecture firm Jahn has attempted to do. Their design is a submission for a privately-funded competition being held for Bonn, Germany's new "Beethoven Festspielhaus." Chosen from a group of over 50 candidates, Jahn's project was among ten advanced to the second round of consideration. The proposal, a glass exterior encapsulating a concrete interior, exhibits "Beethoven's own dual character which is described as both extroverted and introverted," as described by the firm. Learn more about this inventive design, and the competition, after the break.
In 2020, the world will celebrate the 250th birthday of Beethoven, and soon after the anniversary of his death. In light of this, a new "world-class" concert hall, a "Festspielhaus", is being planned for the banks of Beethoven's beloved Rhine River in his hometown of Bonn, Germany. More than 50 practices were considered in the pulmonary selection process, following a shortlist of ten, and now three final proposals by David Chipperfield Architects, kadawittfeldarchitektur and Valentiny hvp architects have been selected to move on to the competition's final round.
"The new Festspielhaus will not only bring Beethoven's music to life, it will serve as an international "house of music" that brings together diverse genres – from classical to crossover to pop – and attracts music lover of all ages," stated the competition organizer.
The privately-funded "Beethovenhalle" is planned for completion in 2019. You can review the top three final designs after the break, alongside the seven other shortlisted proposals – by Zaha Hadid, UNStudio, Snøhetta, and more – they were selected over.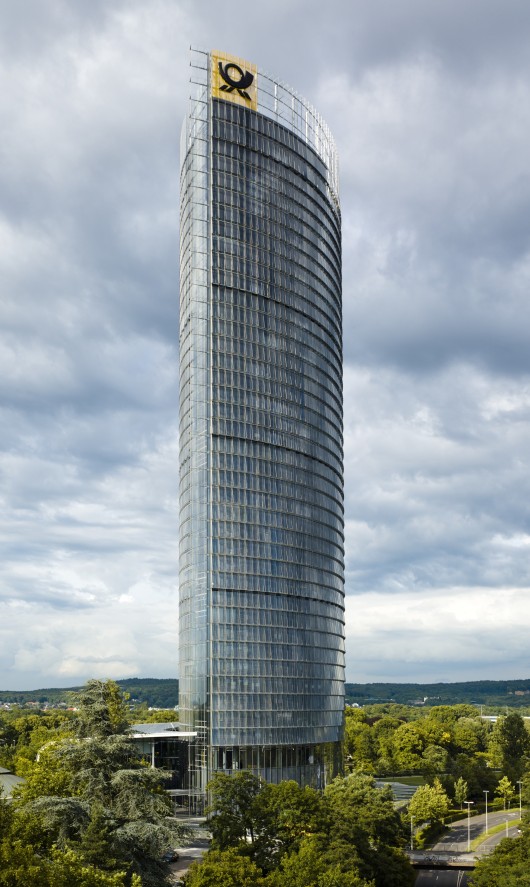 Deutsche Post Towers in Bonn Germany has received the 10 Year Award from the Council on Tall Buildings and Urban Habitat (CTBUH). Completed in 2002 and designed by Murphy/Jahn, Post Tower was a leader in introducing high performance design elements to create a more efficient and pleasant office environment, and has now been recognized by this unique award which rewards proven value and performance in a tall building over a period of 10 years since its completion, and offers a valuable look at the life of buildings long after the initial designs are realized. Read on after the break to learn more about the winning building.
Interior Designers: Masquespacio
Location: Bonner Talweg 88, 53113 Bonn, Germany
Creative Director: Ana Milena Hernández Palacios
Architect Junior: Virgínia Hinarejos
Area: 40.0 sqm
Year: 2014
Photographs: David Rodríguez
The Federal Republic of Germany recently chose the Laboratory for Visionary Architecture (LAVA) as the designers for their bid to host the Secretariat of the Green Climate Fund [GCF] in Bonn, Germany. With a design inspired by the beautiful setting in the Rhine valley, and with curvilinear forms, nature light wells, roof top gardens and a large sunken terrace for the restaurant, the three level structure will comply with the latest energy and building ecology standards, meeting the highest demands in terms of sustainability (German gold certificate), ecology and energy efficiency (net zero energy). More images and architects' description after the break.
Architects: Murphy/Jahn
Location: Bonn, Germany
Height: 162.40
Area: 73,501 sqm
Photographs: Courtesy of Murphy/Jahn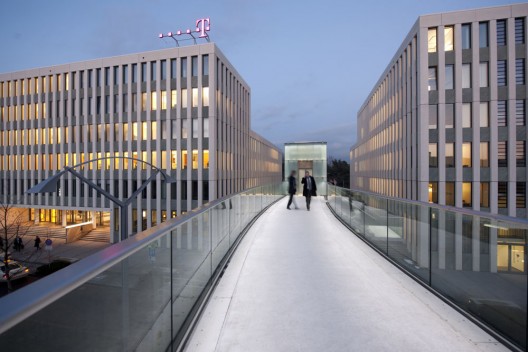 Architects: Schlaich Bergermann Und Partner
Location: Bonn, Germany
Client: Deutsche Telekom AG
Project area: 72 sqm
Project year: 2010
Photographs: Thomas Mayer