In Bangladesh, where rising sea levels are having profound effects on the landscape, one nonprofit organization called Shidhulai Swanirvar Sangstha run by architect Mohammed Rezwan is fighting back by adapting, a true quality of resilience.  Rising water levels and the tumultuous climate is displacing people by the thousands; a projected 20% of Bangladesh is expected to be covered in water within twenty years.  For a country that is one of the densest populated state on the planet, this figure has disastrous consequences for a population that has limited access to fresh water, food, and medicine.  In response to these conditions, Shidhulai has focused on providing education, training and care against the odds of climate change by adapting to the altered landscape:  moving schools and community centers onto the water – on boats.
Architects: Shatotto
Location: Baridhara, Dhaka, Bangladesh
Project Year: 2009
Project Area: 17,124 sq ft
Photographs: Courtesy of Shatotto
Architects: Shatotto
Location: Dhaka, Bangladesh
Project Year: 2011
Project Area: 20,667 sq ft
Photographs: Daniele Domenicali
The proposal for the international competition for a cyclone shelter in Bangladesh by Lindsay Bremner and Jeremy Voorhees is conceptualized as a boat-building, referencing two local typologies – the boat and the landing ghat. Located in Ranggabali, a small village in the Patuakhali Province, the building is half submerged in water in times of cyclone flooding while beached against a concrete ghat in dry seasons. Sheltering its occupants in the liminal zone between land and water, it makes place by transitioning from depth and section to surface and plan. More images and architects' descriptions after the break.
JET Architecture was invited by JCI Architects along with Terraplan Landscape Architects, to joint venture in the design of the Green Leaf project. After winning the commission earlier in 2011, in December, the final negotiations were completed to enable the project to move forward quickly. The team will be working together, helping Bangladesh to design a sustainable community with an innovative green concept. Green Leaf is green landscape architecture and built form which takes full advantages of the local natural resources to create a hybrid habitable space combining architecture and nature. The concept is inspired by adopting current and green innovative technology to make the design construction economic and feasible. More images and architects' description after the break.
Architects: Project-BD Architects
Location: Dhaka-1000, Bangladesh
Project area: 3,800 sq. ft.
Project year: 2010
Photographs: Azrin Alom, Bashirul Mughni
Architect: Vitti Sthapati Brindo Ltd, Ehsan Khan
Location: Teknaf, Bangladesh
Client: Md. Ishtiaque Ahmed, Ministry of Environment & Forests Bon Bhaban
Area: 288 sqm
Project Year: 2008
Photographs: Aga Khan Award for Architecture / BKS Inan
Architect: Kashef Mahboob Chowdhury
Location: Chittagong, Bangladesh
Client: Faisal M. Khan
Project Area: 1,048 sqm
Project Year: 2007
Photographs: Aga Khan Award for Architecture / BKS Inan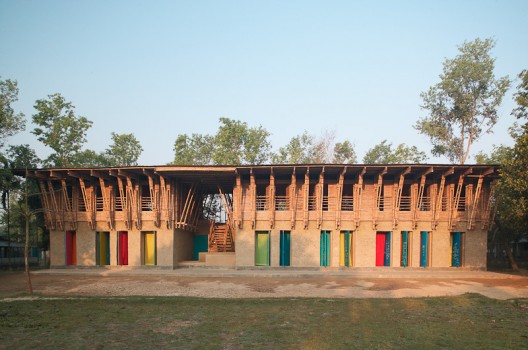 Architects: Anna Heringer & Eike Roswag
Location: Rudrapur, Dinajpur district, Bangladesh
Structural Engineering: Ziegert
 Roswag
 Seiler
 Architekten 
Ingenieure
 Bürogemeinschaft
Construction: Dipshikha / METI
 (Modern 
Education
 and
 Trainig
 Institute)
 with
 local 
labourers
 and
 own
 training 
workshop
Footprint Area: 275 sqm
Floor Area: 325 sqm
Project Year: 2007
Photographs: Kurt Hoerbst