ACME has won an international competition for the design of the new headquarters of the Sächsische AufbauBank in Leipzig, Germany. Chosen from submissions by 20 architectural practices (including Zaha Hadid and Sauerbruch Hutton), ACME's design was referred to by the jury as "an innovative and [...] a visionary solution, which is manifested in a striking, distinctive appearance. Especially noteworthy is the symbiotic unity of building and open space design."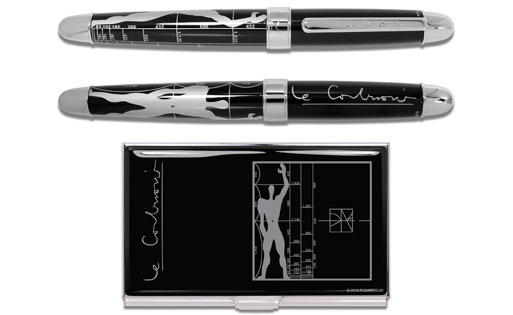 Thanks to the courtesy of ACME Studio, we are giving you the possibility to win a pen and card case based on Le Corbusier's 1947 Modulor theory. Le Modulor, accentuates Le Corbusier's theory on a black background with silver imagery and Ronchamp, an architect's pencil features his signature drawing of a hand, a sign of "peace and reconciliation".
All you have to do to participate is become a registered user (if you're not one already) and answer the following question in our comments:
Le Corbusier used his Modulor in many buildings. Name three.
You have until Tuesday 30 to submit your answer. Winners will be announced and contacted next Wednesday 31. Good luck!
Last week we told you about ACME Studio's newest collection of roller balls and card cases with designs by Charles and Ray Eames and Hariri & Hariri. We asked you which architect and project would you like to see in future collections, and among all the comments by registered users we now have two lucky winners!
Grace Whang will receive Charles and Ray Eames "Dots-Etched" collection, and Tim Grantham won Hariri & Hariri "Site Plan". Congratulations to you both! We will contact you directly with the details.
Remember you can also become a registered user of ArchDaily to have access to all our special features and so you can participate in future giveaways! More information on ACME Studio's collection after the break.
Architects: ACME (Friedrich Ludewig, Stefano Dal Piva) with Karoline Markus, Nerea Calvillo, Chris Yoo
Location: Hunsett Mill, Chapel Field Road, Stalham, Norfolk, England
Contractor: Willow Builders
Structural Engineering: Adams Kara Taylor
Sustainability: Hoare Lea
Client: Catriona and John Dodsworth, Joanna and Jon Emery
Project Area: 213 sqm
Project Year: 2010
Photographs: Cristobal Palma
The city council of Weilburg, Germany, a dense medieval city, organized a design competition upon the demolition of an existing parking structure.  ACME's terrace design is a contemporary spin on the Baroque terraced-landscape building typology found nearby in the Weilburg Castle Gardens.  The form becomes an integrated part of the landscape, allowing the project to blend into the surrounding context while inviting inhabitation and managing to create "specific urban character towards some if its city context".
This project won the first prize from the voting public and the second prize from the professional jury.
More images and more about the project after the break.
London-based architecture firm ACME was awarded third prize in a recent competition to design a United Nations memorial.  Initiated by the city of Chungju in South Korea, the selected memorial will rest in the city's UN Peace Park.  ACME's proposal is comprised of a 1,500 seating assembly, two conference halls, a theater and exhibition spaces.  The organization of the memorial is metaphorically modeled similarly to the United Nations, where many parts make up the whole.
More about the memorial after the break.