The San Francisco Museum of Modern Art (SFMOMA) has announced further details of its 235,000-square-foot building expansion that will support the museum's increasing role in city life and the international art community. Designed by Norway-based practice Snøhetta, in collaboration with local firm EHDD, the 10-story concrete structure will compliment SFMOMA's original, Mario Botta-designed, red-brick museum by offering more free-to-the-public space, expanded education programs and an abundance of flexible performance-based gallery space.
Construction will commence this Summer and is expected to reopen in early 2016.
More after the break…
SFMOMA's new building will include seven levels dedicated to diverse art experiences and programming spaces, along with three housing enhanced support space for the museum's operations. It will also offer approximately 130,000 square feet of indoor and outdoor gallery space, as well as nearly 15,000 square feet of art-filled free-access public space, more than doubling SFMOMA's current capacity for the presentation of art while maintaining a sense of intimacy and connection to the museum's urban surroundings. Other notable features include:
A large-scale vertical garden located in a new outdoor sculpture terrace on the third floor, which will be the biggest public living wall of native plants in San Francisco.
A versatile, double-height "white box" space on the fourth floor equipped with cutting-edge lighting and sound systems that, in tandem with the museum's upgraded Phyllis
Wattis Theater, will open new doors for SFMOMA's program of live art, and also improve services for school-group tours, film screenings, and special events.
State-of-the-art conservation studios on the seventh and eighth floors that will further SFMOMA's progressive work in the care and interpretation of its growing collections.
An environmentally sensitive approach on track to achieve LEED Gold certification, with 15% energy-cost reduction, 30% water-use reduction, and 20% reduction in wastewater generation.
A new outdoor terrace on the seventh floor with incredible city views, further integrating the urban indoor/outdoor experience that SFMOMA began in 2009 with the opening of its current rooftop sculpture garden on the fifth floor.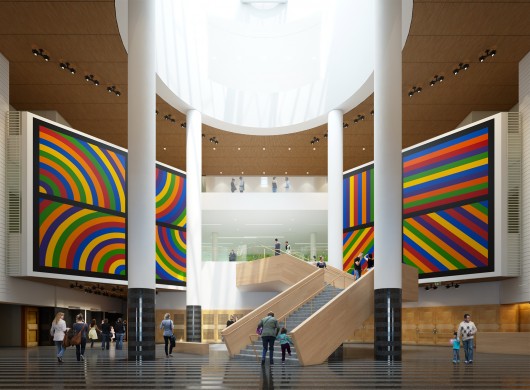 At the same time, as previously announced, new public spaces and additional public entrances to the building (on Howard and Minna Streets) are designed to increase access and weave the museum more deeply into the neighborhood. A mid-block, street-level pedestrian promenade will open a new route of circulation in the area, enlivening the side streets and offering a pathway between SFMOMA and the Transbay Transit Center currently under construction two blocks east of the museum. Building on the popularity of the museum's artist commissions in its admission-free atrium, an expansive free-to-access gallery on the ground floor with 25-foot-high glass walls facing Howard Street will now place art—such as Richard Serra's enormous walk-in spiral sculpture Sequence (2006)—on view to passersby for the first time. This gallery will also feature stepped seating, offering a resting and gathering point for museum tour groups and neighborhood denizens alike.
"SFMOMA has had a tremendous impact on the economic and cultural vitality of the South of Market neighborhood and the city," says San Francisco's District 6 Supervisor Jane Kim. "Even though this area is one of the city's oldest, in many ways it's still the freshest, where much of the most dramatic change is happening. The museum's expanded home in this cultural center will provide even greater public access and support to emerging and established artists as a hub of creativity and international art destination. I look forward to seeing the district grow and evolve even further as SFMOMA's future takes shape."
News via SFMOMA