Designed by architects Ellenberg Fraser, the Lighthouse Tower is designed to look like a 'three-dimensional kaleidoscope'. The tower appears to be moving, turning on an axis with color reflective angular façade panels that change appearance with the movement of the sun. The design was conceived as a vibrant mosaic adding movement and light to Melbourne's urban skyline. The design maximizes natural light and ventilation to the apartments, whilst also providing privacy and exclusive panoramic views of the city for the residents.
The Vortex High-Performance Framing System
At 218 meters tall, wind-related noise was a major concern for the developer, Multiplex. Wind-related noise can commonly cause loud creaking noises throughout the internal wall structures in high rise buildings. Studco engineers collaborated with partners Multiplex, PKA Acoustics and Deakin University's Engineering Research Team to research, critique and find a solution to the problem. This led to the creation of the new Studco Vortex Framing System, which eliminates stress and tension within the wall system that causes noise problems.
Ensuring that all elements of the design criteria were met, Studco Vortex Wall Systems went through various stages of design to adequately address all causes of the noise annoyance, including tension and metal-to-metal friction. In addition to removing tension, the Studco Vortex Wall System is so structurally sound it can support the weight of the 25mm thick stone panels that have been fixed directly to the framing system.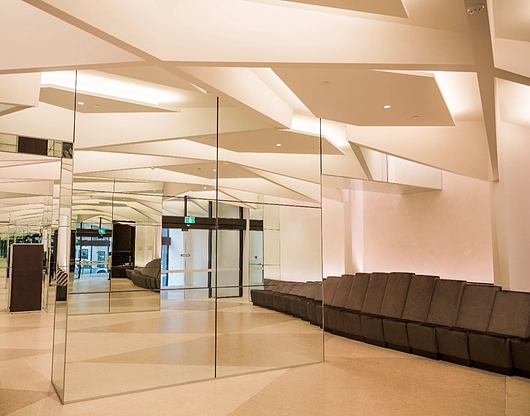 EzyJamb Flush Finish Door Jamb System
Lighthouse Tower required great attention to detail to create the building's crisp contemporary interior. To achieve this look, EzyJamb flush finish door jambs were selected to create concealed door frames and square set interiors.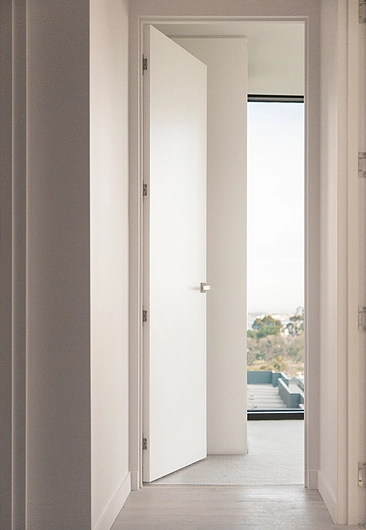 Resilmount Sound Isolation Systems
A high priority for Multiplex was to eliminate vibration and noise throughout the building. A challenging aspect of this was how to eradicate the vibration and sound caused by the automated car stacker that operates on the lower eight floors of the building. To create high acoustic rated rooms, Studco worked closely with PKA Acoustic Engineers to develop a bespoke solution that would perform as the ideal barrier, resulting in custom Resilmount Sound Isolation Systems being implemented across these floors.