Located in the heart of Fortitude Valley, in Queensland, Australia, 900 Anne Street is a commanding office tower designed by John Wardle Architects with interiors by Hassell Architects. The building form is characterized by sharply crafted piercing lines and rebellious geometric shapes. An ambitious and striking profile has been created for the building's wide footprint.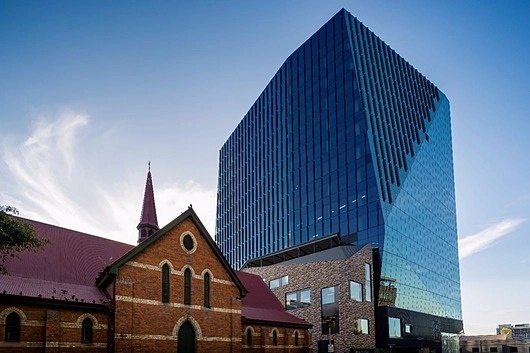 This complex and delicate design concept extends into the internal spaces where Hutchinson Builders along with Scooter Commercial executed Hassel Architecture's design vision with exemplary workmanship and attention to detail.
Studco Queensland worked closely with Scooter Commercial to supply a range of high-quality products including Concealed Ceiling Systems, Steel Stud Systems, STRONGARM, HEDA Tough Wall Systems and an array of EZ Concept Architectural Finishing Systems for that created a clean, modern finish to the building.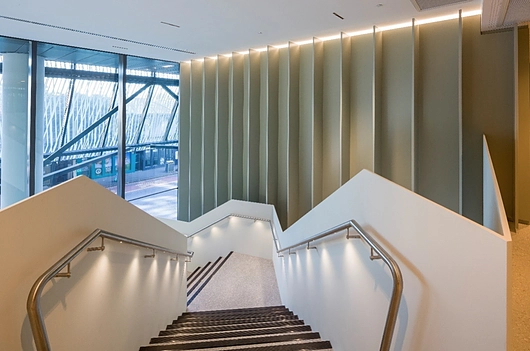 Working in close collaboration with Scooter Commercial & Hutchinson Builders, Studco's technical team was able to provide several innovative and economical engineered design solutions. With an ambitious project schedule, same-day engineering details were provided to the client and followed up with material requirements meticulously packed and delivered for next-day construction.
External Elements
Studco's 150mm Stud System design to support brick feature façade wall system in various areas
A number of external window opening designs to accommodate the intricate window shapes & positions
Ground-level soffit design accommodating a 3m drop whilst wrapping around the majority of the building
Internal Elements
Various feature walls, including 8m high aluminum blade support walls designed as a single Studco stud system
Atrium glazing supports and associated framing to accommodate the ambitious glazing requirements and respective continuous junctions
Bench seat framing in various communal areas
Various door opening supports for auto-slider units within a number of corridors and office areas