Monash University's new 30,000sqm Learning and Teaching Building (LTB) was designed by John Wardle Architects for the university's Clayton Campus. The building's exuberant internal and internal forms are designed to be a dynamic reflection of the courses offered within. The 5-star (Green Building Council of Australia) rated building sought to exemplify sustainable design throughout.
The builders, Multiplex, in partnership with ARC Plastering sought out Studco Building Systems for the wall and ceiling systems. Throughout the construction process, the builders and contractors worked collaboratively with Studco Building Systems to provide innovative engineering solutions and dedicated technical advice for the challenging technical aspects of the project.
The Curved Wall Feature
The main atrium features a sinuous curved brick veneer wall that spans over four floors and is suspended over a sunken lounge. The lyrical curved wall draws attention to the beautiful light-catching, timber ceilings above. Due to the complexity of the design, Studco engineers analyzed and determined a suitable structural framing system that would be able to support the lateral load of the brick veneer. Accounting for the additional pressure of the brick wall, and the tapered design 1.50 BMT Studs were implemented to provide cost savings in material but also increased efficiencies in labor.
Studco's dedicated technical team visited the site constantly throughout the project, to ensure that all elements of the wall would be structurally sound and address any concerns and queries that were had through the installation. This included providing support behind Studco'sEZY Track and HEDA JAMB system that was installed in a non-traditional manner.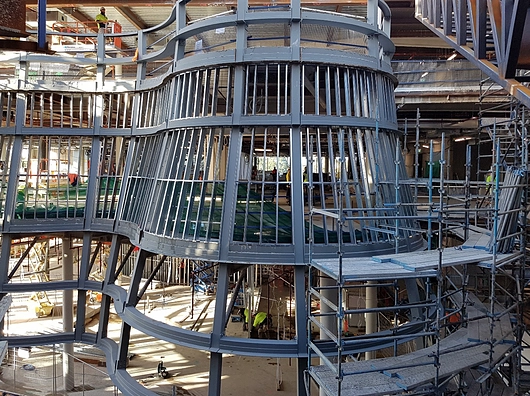 The Sunken Lounge
Under the curved wall in the main atrium is a cozy sunken lounge where students occupy the heart of the building. Supporting the five-tonne ceiling fixture, the concealed ceiling framing was designed to support the 20mm plywood substrate and acoustic baffles while complying with stringent fire requirements. The Studco technical team worked to redesign the concealed ceiling to meet the requirements of the demanding load collaborating with baffle installers Jacaranda, to ensure all aspects of the ceiling worked harmoniously.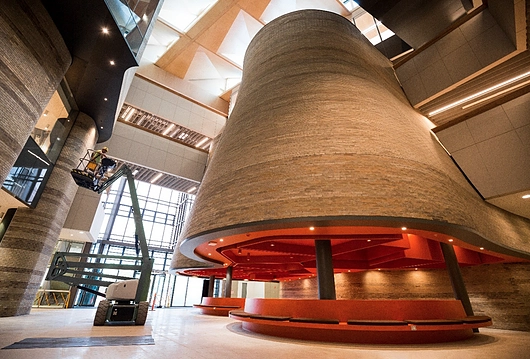 The Geometric Skylight
Encompassed by the warm timber ceiling, a geometric skylight in the upper north-east corner of the building lets in abundant natural light and creates an architectural focus in the space.
Studco's technical team visited the site and met with ARC Plastering on numerous occasions to ensure the most viable design solution for the detailed polyhedral skylight would be achieved.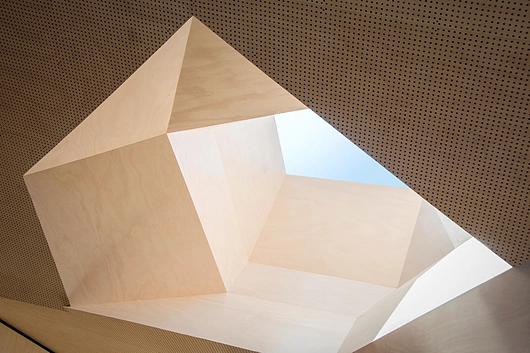 The Main Atrium
The staircases and balconies of the main atrium are supported by Studco steel framing systems. These areas offer flexible study areas for students and have been designed to complement the 18-tonne free-spaning timber pods on the ceiling. This required structural rigidity to ensure the weight of the timber could be held by the Studco Steel Stud and Concealed Ceiling Systems.