Porte de Vanves student residence accommodates 67 units in a bow-shaped building located on a small, triangular plot. The street-facing facade consists of several superimposed flat walls, which gives the apartments a variety of viewpoints.
The wide range of dimensions provided by Ductal®'s cladding solution was ideal to address the building's complex pattern layout. Large panels were used, some of which include a vertical or horizontal setback to close the complex's thickness on the edges of the flat walls.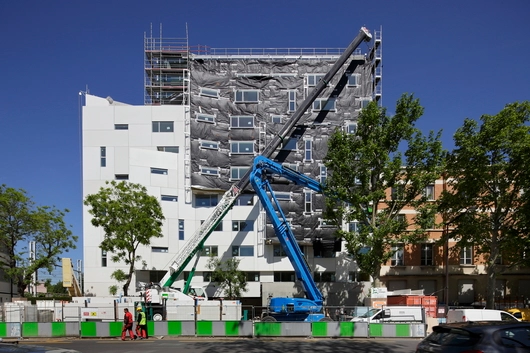 This 1,000-odd meter facade is dressed with over 100 white, smooth-textured Ductal® UHPC cladding panels, manufactured to an architectural formulation. The panels have been given a water repellent coating that guarantees the facade's aesthetic durability in a city setting subject to heavy traffic.
Benefits of Ductal® cladding panels
Mechanical durability - promised over the project's entire life cycle
Wide range of customization options for the façade - larger panels of smaller thickness
Dramatic reduction in the number of thermal bridges in a building's structure
Increased resistance and protection through the exterior, finished facade
Optimal thermal comfort in winter and summer
Insulation and aesthetics in one package
The use of a High Environmental Quality approach has ensured the award of the "Low Energy Building" Qualitel label. The wall's thermal performance is provided by an External Thermal Insulation solution; the protective layer of Ductal® cladding contributes to the overall durability and sustainability.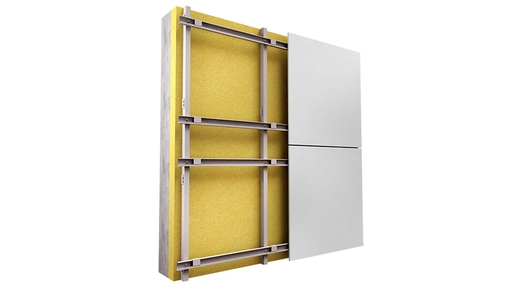 Ductal® Rainscreen Cladding Panel Solution provides energy efficiency and responds to increasingly rigorous thermal building standards and norms worldwide. By adopting a sealed exterior layer of insulation, ETI systems allow for less expensive retrofits and renovations of older buildings while also offering a cost-effective insulation solution for new buildings.