The facade of the new office building housing Platform Basket S.R.L in Poviglio, Italy is now decked out in Ductal®. The installation of 380 m2 of 15 mm thick sand-colored panels lasted 15 days. Aiming to combine both style and efficiency, the contractor and the architect both opted for an External Thermal Insulation system with ventilated cladding. In the design, the architect decided to pair two different materials: Corten steel and Ductal® as well as a 10 cm layer of mineral wool to insulate the building.
Benefits of Ductal® cladding panels
Originally designed in (GFRC) glass fiber reinforced concrete, the architect decided to shift to Ductal® cladding panels due to:
Mechanical durability - promised over the project's entire life cycle
Wide range of customization options for the façade - larger panels of smaller thickness
Also, at a cost comparable to GFRC, Ductal® panels delivered much more freedom in terms of design by offering larger panels of smaller thickness. The aesthetic and mechanical durability promised over the project's entire life cycle, are what convinced the contracting client. Other benefits include:
Dramatic reduction in the number of thermal bridges in a building's structure
Increased resistance and protection through the exterior, finished facade
Optimal thermal comfort in winter and summer
Insulation and aesthetics in one package
Ductal® Rainscreen Cladding panel solution provides energy efficiency and responds to increasingly rigorous thermal building standards and norms worldwide. UHPC rainscreen cladding solutions fit into ETI systems to provide an elegant, durable solution to protect and green buildings.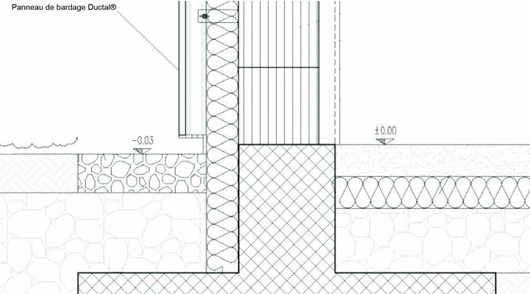 Once linked with our rainscreen cladding solution, your ETI system will gain all the benefits of Ductal® ultra-high performance concrete (UHPC): durable, cost-effective panels that can be customized to fit with your design. Functional, resistant and aesthetically unique: ETI systems completed with the rainscreen cladding solution ensure long-lasting environmental efficiency.