Architects: Joaquín Velasco Rubio
Location: Valparaíso, Valparaíso, Valparaíso Region, Chile
Area: 985.0 sqm
Year: 2014
Photographs: Aryeh Kornfeld
Architects: Molo Arquitectos
Location: Valparaíso, Valparaíso, Valparaíso Region, Chile
Architect In Charge: Daniel Morales Escudero
Area: 101.0 m2
Year Project: 2013
Photography: Cortesia de Molo Arquitectos
Architects: Fantuzzi + Rodillo Arquitectos
Location: Paseo Dimalow, Valparaíso, Valparaíso Region, Chile
Architect In Charge: Roberto Fantuzzi, Jaime Rodillo
Area: 710 sqm
Year: 2012
Photographs: Pablo Blanco
For those unfamiliar with Valparaíso, allow me to inform you: this city is a treasure. The UNESCO World Heritage site and cultural capital of Chile is defined by its winding paths, happily graffitied streets, antiquated funiculars, and – above all – its colorful, tightly-packed hills. And because of its precarious density, the city was brought to its knees by vicious forest fires this past weekend, fires which quickly spread and consumed 2,500 acres, displacing over 12,500 people whose homes were destroyed.
The hills where the fires hit hardest are similar to Brazilian favelas – inhabited by informal residents who have little to no access to infrastructure and who constructed their homes themselves, illegally, and – as the fires have proven – rather perilously.
The response of the Chilean government so far has been to suggest bulldozing and building again in "a more orderly manner." To do so, the government has intimated that it will expropriate land and relocate citizens to safer sites.
However, residents have already begun resisting this potential outcome. As ArchDaily correspondent Nicolás Valencia reported from Cerro Ramaditas (one of the hillside communities most devastated by the fire), many have refused to leave for fear that their land be taken from them; those that have gone, have left markers "cordoning off what they consider theirs with pieces of wood or metal cans."
It's a troubling dilemma: evict victims from the only home they've ever known or relegate them to lives at risk of future catastrophe. But could there be another way?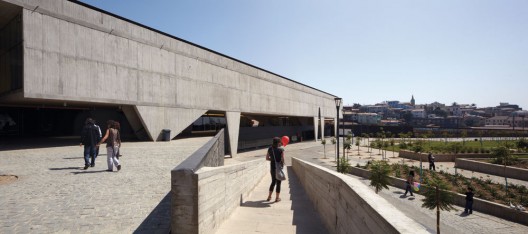 Architects: HLPS
Location: Valparaiso, Chile
Architecture: Jonathan Holmes, Martin Labbé, Carolina Portugueis, Osvaldo Spichiger
Collaborators: Nicolás Frienkel, Jorge Síviero, Carolina Moore
Area: 8,711 sqm
Year: 2011
Photographs: Cristobal Palma
Architects: Altamirano Armanet Arquitectos, Carlos Bisbal
Location: Valparaiso, Chile
Project Year: 2008
Photographs: Francisca Domínguez
Architects: LAND Arquitectos
Location: Nogales, Valparaíso, Chile
Structure: Manuel Ruiz
Construction: Juan Vicencio
Project area: 277 sqm
Project year: 2008 – 2009
Photographs: Cristóbal Palma
Architects: Rearquitectura / Antonio Menéndez Ferrer – Cristian Barrientos Vera
Location: Cerro Yungay, Valparaiso, Chile
Client: Inmobiliaria Rearquitectura Ltda.
Contractor: JMC Constructora Limitada
Structure Engineer: Jorge Dadhal Casas-Cordero.
MEP: H.A.O. Ingeniería.
Site Area: 400 sqm
Project Area: 1,350 sqm
Project Year: 2008–2009
Photographs: Marcos Mendizabal
The winners of the Valparaiso Cultural Center competition in Chile were just announced. The competition came after a proposal from brazilian architect Oscar Niemeyer was rejected. The Cultural Center will be built where the former prison stood for the last 150 years.
The winning projects are:
1st Prize – Jonathan Holmes, Martín Labbé, Carolina Portugueis, Osvaldo Spichiger
2nd Prize – Patricio Mardones, Juan Francisco Garcés, Felipe Ortiz, Pablo Ropert, Rocío Costa
3rd Prize – oficina de arquitectura + Paisajes Emergentes (featured today on AD Futures)
For more information on the winning projects, click here (in spanish).
Images of the winning projects, after the break.