Four projects have been selected by the American Institute of Architects' (AIA) for honorably expanding the role of the architect beyond the building and into the realms of urban design, regional and city planning, and community development. These projects will be honored with the AIA's Institute Honor Awards for Regional and Urban Design at the 2015 National Convention and Design Exposition in Atlanta. See the winners, after the break.
New York City have released images of fourteen tower proposals as part of a controversial scheme to bring affordable housing to the 85 acre Brooklyn Bridge Park, originally designed by Michael van Valkenburgh and realised in 2004. The schemes, designed to be located on "two coveted development sites" on Pier 6, have been actively met with strong opposition from local community members. The park and surrounding area has seen a number of interesting recent regeneration proposals, from an 11,000ft² beach beneath the Brooklyn Bridge to a triangular pier proposed by BIG. Read on to see the proposals in detail, including those by Asymptote, Pelli Clarke Pelli, Davis Brody Bond, and Bjarke Ingels Group (BIG).
Hoffman‐Madison Waterfront, the master developer of the 3.2 million square foot Southwest Waterfront project - "The Wharf" - that stretches across 27 acres of land along the historic Washington Channel, has announced the approval of its Phase1 Planned Unit Development (PUD) by the District of Columbia Zoning Commission. The Zoning Commission's action approves all of the architectural designs and specific plans for each parcel of the project's first phase encompassing 1.5 million square feet of residential, hotel, office and retail uses along with three piers, numerous open spaces, gathering places and a 3‐acre waterfront park. 
"The unanimous approval last night by the commissioners participating in the hearings is exhilarating. It creates momentum for ground breaking later this year," said Monty Hoffman, Managing Member of Hoffman‐Madison Waterfront. "After more than six years of planning and substantial investment, we are preparing to launch one of the highest profile redevelopments in the country. We are ready to put shovels in the ground for this $2 billion redevelopment of the Southwest Waterfront."
More on Washington D.C.'s Southwest Waterfront project after the break.
Architects: Perkins Eastman
Location: New York, USA
Photographs: David Revette
The New York office of top international architecture and design firm Perkins Eastman shared with us their design for the Lekhwiya Sports Complex—a mixed-use sports venue that will be the home stadium for Qatar's premier football team, Lekhwiya Club. The 19,529 sm (210,210 sf) complex also will be used as a training site and home base for a guest team participating in the 2022 World Cup. More architects' description after the break.
The Executive Committee of top international design and architecture firm Perkins Eastman is pleased to announce that the firm is expanding its presence on the West Coast by opening an office in downtown San Francisco, which is rapidly becoming a thriving city for architecture making it an ideal location for an additional office. Located at 23 Geary Street in the One Kearny building, the 8,100 sf office will accommodate a growing staff of 45. Managing Principal Leslie Moldow FAIA is joined by Principals Dan Akol AIA and Rick Drake AIA and Associate Principal John Amanat AIA in leading the office. The office is expected to be complete and ready to occupy on November 1, 2011. More information on the firm's expansion after the break.
This SoHo boutique hotel was designed by ODA Architecture in collaboration with Perkins Eastman Architects. Custom interiors by ODA Architecture with Amanda Sullivan, blend artistic essentials and luxurious functionality. The hotel design strategy was to bring community together with hospitality. Each detail of the hotel was meticulously fashioned to inspire the senses with a blend of traditional as well as contemporary.
Architects: ODA – Architecture, P.C. and Perkins Eastman Architects, P.C.
Location: New York City, New York, USA
Interior Design: ODA – Architecture, P.C. and Amanda Sullivan
Project Area: 67,000 sqf
Photographs: Frank Oudeman, Robert Granoff
This structure overlooking Union Square Park was originally designed for Tiffany & Company in the late 19th century. With careful consideration for upholding its historical place within the city, 15 Union Square West is gracefully translated into a 21st century residential masterwork. Creating harmony between the bygone and the present, the design for luxury living wraps the 12-story condominium residence in a translucent, layered glass skin, preserving the prominent cast iron arches of the original 5-story construction and dramatic 16'ceiling height.
Architectural Designer: ODA – Architecture P.C.
Architect of Record: Perkins Eastman Architects P.C.
Location: New York City, New York, USA
Project Area: 62,000 sqf
Photographs: Robert Granoff, Alberto Guglielmo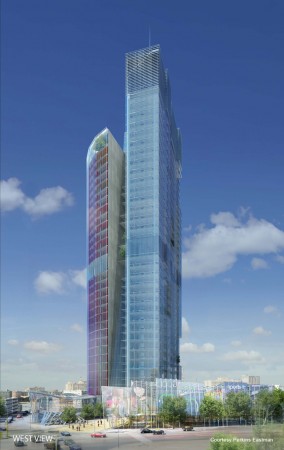 As one of five international architecture firms invited by Kohinoor CTNL Infrastructure Co. Ltd. to participate in a design competition to create a mixed-use urban development in Mumbai, India, Perkins Eastman submitted two bold approaches-one, a singular 33-story, 1.16M sf (108,000 sm) high-rise tower and two-story retail base; the other, a low- and mid-rise, 750,000 sf (69,700 sm) two building scheme. Each is a visionary catalyst for smart, green urban development that establishes an iconic sense of place amid juxtapositions of traditional and modern India.
Both schemes incorporate sustainable elements to create an indoor environment that is healthy to occupy and cost-effective to operate: intelligent facade design, harnessing alternative energies, harvesting and recycling rainwater, and incorporating smart technologies such as solar chimneys and abundant facade plantings to filter and improve air quality.
In each, colored glass and richly colored terra cotta contrast with cool sleek aluminum elements amid verdant landscaping. Both schemes utilize a bright and energizing palette of materials that integrate the colorful aspects of Indian culture with an unwavering commitment to a more sustainable environment.
More images after the break.
Our friends from Perkins Eastman sent us their design for Al Maktoum Accident and Emergency (A&E) Hospital-the newest and most sophisticated Accident and Emergency Hospital of its kind in the UAE.
Chosen by the Dubai Health Authority and the Department of Health and Medical Services (DOHMS) to create an advanced A/E hospital, Perkins Eastman designed a facility capable of providing immediate care for minor- to high-level trauma. An ambulance receiving area is directly linked to a surgical trauma operating suite and a diagnostic imaging unit with MRI, CT, and X-ray capabilities. The 300-bed, 85,000 facility includes a large, five-floor nursing unit providing specialized treatment and care for patients recovering from surgery.
More images after the break.
New York-based architects Perkins Eastman sent us their new project, 303 East 33rd Street, the first green development in the Murray Hill neighborhood of Manhattan. It's a 12-story, 165,00 sf building. They worked on the exterior while Studio V Architecture worked on the interior design. They also worked with Archipelago on the landscape of the roof garden.
More images and the architect's proposal, after the break.