New York's Park Avenue Armory, originally built in 1861 for the Seventh Regiment of the National Guard and restored by Herzog & de Meuron in 2007, is about to be temporarily taken over by Rafael Viñoly. On April 30th 2014 Artvest Partners will launch Spring Masters New York, "a fair for art produced between antiquity and the 20th century, which corresponds with Christie's and Sotheby's signature Impressionism and modern art auctions". Viñoly's hexagonal grid of exhibition rooms will fill the 55,000 square foot Drill Hall in an attempt to break with the monotony of the rectangular grid format.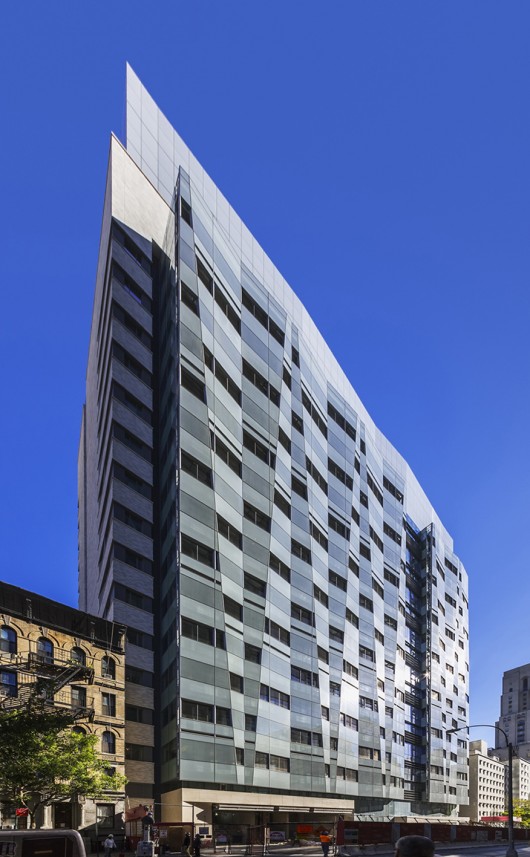 Architects: Todd Schliemann | Ennead Architects
Location: 413 East 69th Street, New York, NY 10021, USA
Design Partner : Todd Schliemann
Management Partner : Duncan Hazard
Project Manager: Lois Mate
Project Architect: Craig McIlhenny
Project Team: Elizabeth Arnaiz, John Barrett, Matt Bissen, Barrett Brown, Colin Davis, Margaret Gorman, Frank Guittard, Katherine Huber, John Jordan, Zubair Kazi, Paul Keene, Stephen Kim, Whasook Lee, Apichat Leungchaikul, Christopher Lewis, James Macho, Nathan MaRae, Dona Orozova, Charmian Place, Graeme Reed, Allison Reeves, Patricia Salas, Adam Sheraden, Paul Stanbridge, Margaret Tyrpa, Marcela Villarroel, Ted Wagner
Area: 480000.0 ft2
Year: 2014
Photographs: Jeff Goldberg/Esto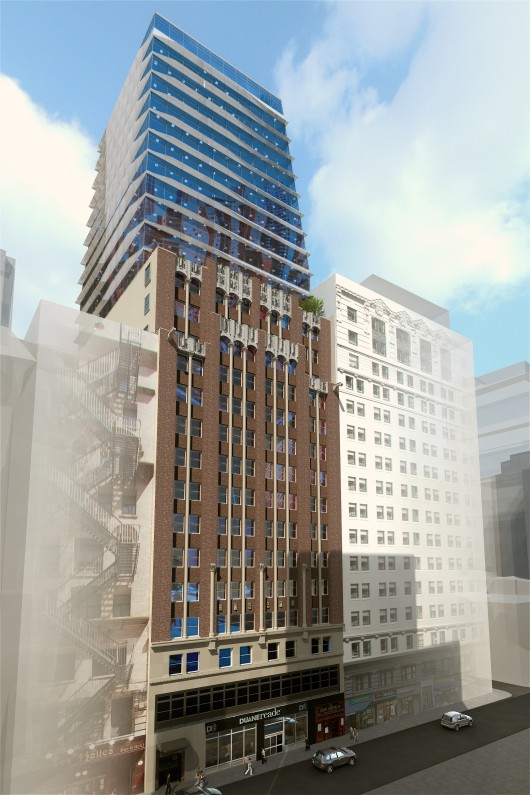 Building off of the success of their crowdfunded BD Bacatá building in Colombia, the real estate group Prodigy Network has announced a plan to bring this same funding method to New York, with an apartment hotel in Manhattan named 17 John.
The project, a glassy rooftop extension to the existing art deco building at 17 John Street, has much in common with Prodigy Network's past projects: the same funding method as their skyscraper in Bogotá as well as the same designer, Winka Dubbeldam, head of the New York practice Archi-Techtonics. Dubbeldam also previously helped them to crowdsource ideas for the future development of Bogotá in the "My Ideal City" project.
However, when applied to the USA, this funding paradigm – which is so promising in Colombia – becomes twisted beyond recognition. Upon close inspection, 17 John more resembles the standard developer's model than anything else – and the claims of ethical superiority begin to melt away.
Liz Diller, one of the three partners of Diller Scofidio + Renfro, discusses the history of the High Line and the active design decisions which led to its success.
The elevated railroad, which was designed to penetrate city blocks rather than parallel an avenue, saw its last delivery (of frozen turkeys) in 1980. By 1999, a "very strange landscape had formed, with a whole eco system around it," says Diller. Advocacy for the site's preservation began with two local residents, and culminated in its reclamation with the multidisciplinary collaboration of city officials and impassioned designers (namely James Corner Field Operations, Diller Scofidio + Renfro, and planting designer Piet Oudolf). "The High Line project couldn't have happened without the right people, the right time and the right administration."
Today, thirty-feet above the hardscape in the canopy of the New York City jungle, the High Line pauses for a meditative mile. "The high line, if it's about anything, it's about nothing, about doing nothing. You can walk and sit, but you can't be productive," comments Diller.
As New York begins to thaw after record breaking winter conditions, city dwellers are forced to be on high alert for falling ice. Streets surrounding the 1,776-foot One World Trade Center have been closed following reports of ice shearing from its surface. Some blame the more energy efficient buildings for the deadly occurrence, believing that because the newer structures are able to hold in more heat their exteriors remain colder which aids the formation of ice. Materials and building form can help prevent this phenomena. You can learn more here.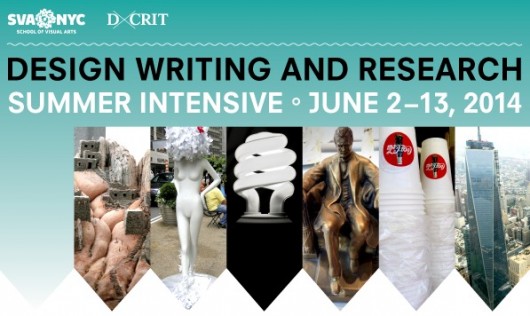 The School of Visual Arts MFA Design Criticism invites you to join them for a two-week intensive to research and write about design. Participants will be introduced to a range of techniques for constructing compelling narratives about images, objects,and spaces. You will experiment with different research methods, writing formats, and complete several projects across media, including a collaboratively produced publication.
Along with working closely with leading writers, editors, curators, and researchers, each participant will have their own workstation in D-Crit studio at Chelsea district in NY. A series of seminars, lectures, workshops, one-on-one consultations, along with visit to design collections, archives, libraries, design and architecture studios, will be part of the daily activities.
Application are due April 1, through the event's official website.
Title: Design Writing and Research Summer Intensive
Website: http://dcrit.sva.edu/intensive/
From: Mon, 02 Jun 2014
Until: Fri, 13 Jun 2014
Venue: School of Visual Arts, NY
Address: 209 East 23rd Street, New York, NY 10010, USA
What unites contemporary design? What is the through line that connects designers between continents and across decades? This spring, The MA program in Design Studies at Parsons The New School for Design presents a two-day symposium that will bring together a rare interdisciplinary group of professionals and academics to explore narratives surrounding the field of design, and attempt to answer these questions. The conference, Narratives and Design Studies: A Task of Translation, will be held March 7 – 8.
This is the conference's second year. In 2013, it was one of the first events held by the then-new MA in Design Studies. It brought together an international roster of scholars, practitioners, and entrepreneurs who considered how design shapes specific experiences and embodies fundamental assumptions about our relationship to the world and each other.
For more information, please click here.
Beyond the Supersquare brings together a select group of contemporary artists whose insightful work addresses the remnants of the Modern Movement in Latin America and the Caribbean. While the exhibition will address how Modernism defined a number of decisive aspects related to contemporary architecture, urbanism, and art in Latin America, this exhibition will also examine the larger political and social underpinnings of these cultural and environmental developments.
Through drawings, photography, sculpture, installation, and video, Beyond the Supersquare presents a series of responses to the aggressive rise of Latin America's urban centers and the ways in which they have evolved since the mid-twentieth century.
For more information on this exhibition, please click here.
Title: Exhibition: Beyond the Supersquare
Website: http://www.bronxmuseum.org/exhibitions/beyond-the-supersquare
Organizers: The Bronx Museum of the Arts
From: Thu, 01 May 2014 
Until: Sun, 11 Jan 2015 
Venue: The Bronx Museum of the Arts
Address: 1040 Grand Concourse, Bronx, NY 10456, USA
This article, published by Metropolis Magazine as "Behind the Living's "100% Organic" Pavilion for MoMA PS1", goes behind the plans for this year's MoMA PS1 Young Architects Program's winning design, "Hy-Fi" – looking at the compostable eco-bricks which make the design possible.
"It all starts on local farms with waste corn stalks," says Sam Harrington of Ecovative, who will help build this year's winning entry for the MoMA PS1 Young Architect's Program. Hy-Fi, designed by the New York-based firm The Living, will be made of bricks that are entirely organic and ultimately, compostable. A good chunk of that material is corn stalks, stained clay-red with an organic dye from Shabd Simon-Alexander and Audrey Louisere . The rest is mycelium—mushroom roots to you and me—that will hold the corn stalks together as they cohere into a molded shape. The technology, developed by Ecovative in 2007, has so far been used as a packaging material. "But we love the chance to try something bold, and that's what PS1 is all about," Harrington says.
Read more about the bricks behind Hy-Fi after the break
Architects: Selldorf Architects
Location: 537 West 20th Street, New York, NY, USA
Area: 30,000 sqft
Year: 2013
Photographs: Jason Schmidt
The recent hire of temporary artistic director David Lan has indicated that plans for Ground Zero's "world center for the performing arts" is moving forward in New York. The famed London director will work alongside Charcoalblue managing partner Andy Hayles to revise the original Frank Gehry-designed scheme which, according to the center's president, was prematurely designed. This leaves Gehry's involvement unclear, as the initial 1000-seat center will be abandoned for a scaled down, three-theater house that ranges from 150 to 550 seats. Competition for funding also remains an obstacle, in light of venues such as Diller Scofidio + Renfro's 2017 Culture Shed. You can learn more about the center's update here. 
The Emerging New York Architects (ENYA) committee of the AIA New York Chapter has announced the winners of its 2014 biennial design ideas competition, QueensWay Connection: Elevating the Public Realm. In an effort to imagine the ways in which The Trust for Public Land and Friends of the Queensway could transform an abandoned railway in Central Queens into a vibrant urban greenway, entrants were challenged to design a vertical gateway for the elevated viaduct portion of a 3.5 mile stretch along the rail. 
Of the 120 submitted proposals from 28 countries, the jury selected the following winners to represent the diverse array of ideas generated:
Though it has been confirmed that Diller Scofidio + Renfro's Museum of Modern Art expansion will result in the demise of Tod Williams and Billie Tsien Architects' American Folk Art Museum, the New York Times has confirmed that the beloved copper-bronze facade will be preserved.
"We will take the facade down, piece by piece, and we will store it," Glenn D. Lowry, the director of the Museum of Modern Art, said in an interview. "We have made no decision about what happens subsequently, other than the fact that we'll have it and it will be preserved."
Young Projects will be spending the week playing "Match-Maker" in New York City, as the Brooklyn-based studio has debuted their interactive Valentine's Day installation in the heart of Times Square. Made in collaboration with fabricator Kammetal, as part of Times Square Alliance's sixth annual heart design competition, the interactive heart-shaped sculpture is designed to cosmically connect people based on their zodiac signs by arranging curious passerby's at twelve points surrounding the installation.  
As Young Projects describes, "Peering through colorful, interwoven periscopes provides glimpses of each viewer's four most ideal astrological mates, offering potentially novel connections between lonely souls or settled lovers."
Joshua Prince-Ramus of REX, together with Brookfield Properties unveiled today the $200 Million redevelopment of 450 West 33rd Street in New York. The 1.8 million-square-foot building will be integrated into the Manhattan West Development.
The architectural firm REX designed the redevelopment of Five Manhattan West, including a new pleated glass façade which will create floor‐to‐ceiling windows on every floor, maximizing daylight penetration while reducing solar gain through geometric 'self‐shading.' The interior program includes a redesigned lobby, upgraded and expanded elevators, and enhanced HVAC and other mechanical systems. New retail storefronts will provide a welcoming streetscape. The renovation is expected to be completed in 2016.
More details on the project after the break.