During a time of crippling political turmoil, local leaders are stepping up to fulfill their role as pragmatic problem-solvers and combating the tough challenges – such as economic growth, environmental protection, public safety and poverty – facing our cities today. This empowering phenomenon is highlighted by Bloomberg Philanthropies' Mayors Challenge, a competition designed to further inspire America's mayors and local leaders to generate innovative ideas that solve major challenges and improve city life.
Over 300 cities across the nation took the challenge and 20 finalists were selected in November. Now, it is your turn to vote on the idea you believe to have the greatest potential for impact. Five bold ideas will be selected in the coming weeks, each receiving national and local recognition. In addition, the winning city will receive a $5,000,000 grand prize and four other cities will receive $1,000,000 to help implement their ideas.
The proposals after the break…
New York City Mayor Michael Bloomberg has announced the winner of adAPT NYC - a city-sponsored competition that challenged developer-led teams to design an innovative micro-apartment that responds to 21st century housing problems. With an all time high of 8.4 million people, and an expected million more by 2030, New York City's shortfall of affordable one and two person apartments is continuing to grow at a staggering rate. In an effort to solve this imbalance, the winner of adAPT NYC will build an experimental project on a piece of city-owned land in Kips Bay, Manhattan, that has been alleviated from the 1987 density restriction that requires all new apartments to be greater than 400 square feet.
"The growth rate for one- and two-person households greatly exceeds that of households with three or more people, and addressing that housing challenge requires us to think creatively and beyond our current regulations," said Bloomberg.
So, who won adAPT NYC? Find out after the break!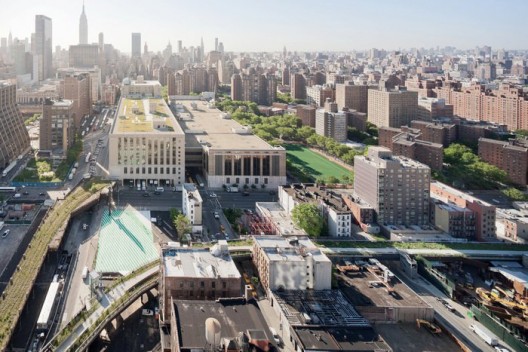 Urban planning is delicately intertwined with government.  As much as architects and designers try to avoid the overwrought laws and codes and prescriptive government policies that guide the construction and development of the urban landscape, they are very much a shaping force in cities such as New York.  Ask any architect working in a such as NYC and they will likely describe the bureaucratic hassles of working with outdated zoning regulations and restrictive building codes.  In this NPR segment Leonard Lopate interviews New York Magazine's architecture critic Justin Davidson to discusses the impact of Mayor Michael Bloomberg's planning policies on New York City's urban development.
Join us after the break for the link.