The Berlage Center for Advanced Studies in Architecture and Urban Design have announced their public events for Spring 2014. The public events are part of The Good Life series, "a multi-format program exploring the relationship of the built environment to collective pursuits, personal aspirations, and the contemporary world. It aims to reveal how—on different scales and in various cultural contexts—architecture and urban design can contribute and enrich societal livelihood."
The lectures start this Friday, February 21 with Deane Simpson. March speakers include Hilde Heynen, Georges Teyssot, Sébastien Marot (who will also be giving a Master Class), Nicholas De Monchaux and Zeuler Lima. The Good Life series will continue on April and May with lectures by Jesse Lecavalier, Nicola Twilley, Daan Roosegaarde, Mirko Zardini, and Adriaan Geuze. Spring lectures will finish June 12 with Kengo Kuma.
For more information regarding each event, you can go to The Berlage's official website.
Title: The Berlage Public Events Spring 2014
Website: http://www.theberlage.nl/events/calendar
Organizers: The Berlage
From: Fri, 14 Feb 2014
Until: Thu, 12 Jun 2014
Venue: The Berlage
Address: Julianalaan 134, Technische Universiteit Delft, 2628 BL Delft, The Netherlands
The Berlage Institute closed in 2012. But the Berlage Center for Advanced Studies in Architecture and Urban Design is open for business. And it is accepting students. Located at the Delft University of Technology, though they are independent entities, the new, re-visioned Berlage is not simply a continuation of the original Berlage. Instead, it has been reinvisioned to train students who already have either an M.Arch or a five-year degree.
The Berlage challenges students to understand the issues and principles surrounding the economy, the environment, and society as the route towards good architecture. History and cultural issues are therefore central to this Master's of Science degree, as they should be. Because in today's economy, the formula for success demands more than just an agility with computer programs. Students need to be able to exercise critical thinking skills. Unfortunately, many school studios fetishize style over substance but when their students graduate, they are ill-trained.
Organized by Polis, platform for Urbanism, the third edition of Urbanism Week will take place October 8-11 at TU Delft; University of Technology, the Netherlands. A yearly conference, the event aims to understand the perspectives, practices and trends in the field. This year's Urbanism Week explores the influence of big companies on the city and the design of urban lifestyles. Hoping to link students with the professional field, the four- day program will find new ways of approaching different infrastructure aspects and new practices dealing with the globalized world. This also includes new urban structures and new urban players are going to be designated. For more information, please visit here.
Coming to Delft, The Netherlands this September 27-28, the Revit Technology Conference (RTC) is an independent training conference covering Building Information Modelling in all its aspects, with a core focus on workflows centred on the Autodesk Revit Technology. This is a unique 'for users, by users' event, where experts and leaders in the field of BIM share their knowledge and exchange their insights. With speakers and delegates from all aspects of the industry – from designers to owners, from surveyors to facility managers ‐ RTC provides many opportunities and benefits together in a single location. To register, and for more information, please visit here.
Celebrating its 50th anniversary, the biannual workshop series, Indesem (International Design Seminar) '13 is a week long workshop for students and recent graduates, accompanied by a publicly accessible lecture series featuring renowned architects and theorists reflecting on the current theme. Taking place April 19-26 at the Faculty of Architecture in Delft, the Netherlands, the fundamental idea of the seminar, with the theme of 'Scale Matters', is to create an environment where students and professionals can debate about the position of an architect. The outcome can contribute to the current architectural discussion. Competition to participate in the workshop is open for applicants until February 27. For more information, please visit here.
Architects: VMX Architects + i29 l interior architects
Location: Delft, The Netherlands
Photographs: Ronald Tilleman, Courtesy of i29 l interior architects
Architecture Firm: Dok Architekten
Architect: Liesbeth van der Pol
Location:  centrum-Delft-Vesteplein 100-2611 WG Delft, The Netherlands
Design Team: P. Cannon, M. Hardonk, R. Bos, A. Koch, A. Derksen
Client: Gemeente Delft 
Photographer: Arjen Schmitz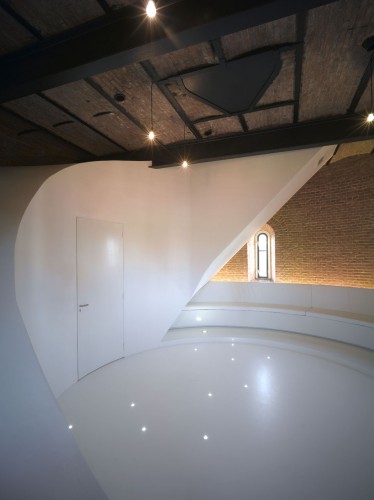 Architects: Rocha Tombal Architects
Location: Delft, The Netherlands
Project Architects: Ana Rocha, Michel Tombal, Paul Ketelaars
Project team: Tjerk Boom; Volker Goldstein; Iwona Wozniakowska; Enrique Otero Neira ; Enrique Abad Monllor
Client: Anne-Marie Wegh en Werner Bremer
Gross floor area sqm: Ca 400 sqm
Photographs: Courtesy of Rocha Tombal Architects
Studioninedots + HVDN shared with us their winning proposal for the student housing competition for TU Delft Campus. The project parameters were to design a volume of 67 meters long and 5 storeys high, with its own strong identity and a collective space on the roof including a rain water harvesting element. More images and architects' description after the break.
Indesem (International Design Seminar) is an architectural event that takes place every two years at the faculty of architecture in Delft, The Netherlands. It is a week long workshop for students and recent graduates, accompanied by a publicly accessible lecture series featuring renowned architects and theorists reflecting on the current theme.
The 2011 edition of Indesem will focus on the theme 'Losing ground'; the changing position of architect and architecture with respect to the digitalized network society and the necessary shifts in practice and thinking when designing in this changing paradigm. For more information on the theme, lectures and workshop you can go to the event's official website.
Mecanoo Architects, a Dutch firm, recently designed a city hall and train station for the city of Delft.  The new station design intends to weave the past of the city with its future in the expanding urban environment.
Further information about the project after the break.