A couple of days ago we featured Zaha Hadid's Serpentine Sackler Gallery, her recent conversion of a classical 19th century brick structure. Today, photographer Danica Kus shared with us some more photos on this project. Enjoy them all after the break.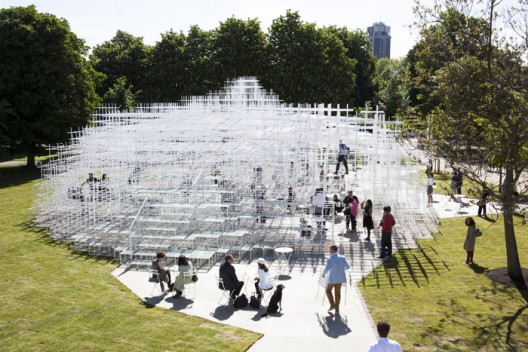 Featured here are photos of Sou Fujimoto's 2013 Serpentine Gallery Pavilion taken by Danica Kus. Capturing the semi-transparent, multi-purpose social space situated in London, this delicate, three-dimensional structure is enjoyed by its visitors, creating an inviting social setting.
Fujimoto, the youngest architect to accept the Serpentine Gallery's invitation at 41, describes his work as, "…a transparent terrain that encourages people to interact with and explore the site in diverse ways. Within the pastoral context of Kensington Gardens, I envisage the vivid greenery of the surrounding plant life woven together with a constructed geometry. A new form of environment will be created, where the natural and the man-made merge; not solely architectural nor solely natural, but a unique meeting of the two." More images by Danica Kus after the break.
Few cities have embraced contemporary Architecture more – or better – than Copenhagen. Since the early 2000s, international architects, from Norman Foster to Daniel Liebskind to Zaha have all left their mark, yes, but Danish architects themselves can take much of the credit for Copenhagen's forward-thinking design. Firms with short, hip names, like BIG and 3XN, are not just transforming Denmark – they're on the cutting-edge of architecture itself.
Architecture photographer, Danica Kus, who recently shared with us her shots of the Serpentine Gallery Pavilion, has also shared another series, "Copenhagen Inspires," which captures Copenhagen's many architectural gems – from The Crystal to the Green Lighthouse  to Bella Sky Hotel.
See them, and more of her stunning images, after the break.