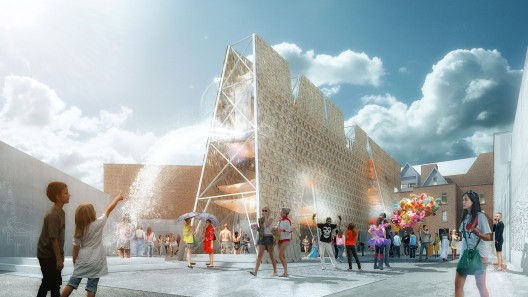 The Museum of Modern Art and MoMA PS1 has selected CODA's (Caroline O'Donnell, Ithaca, NY) large-scale, self-supporting Party Wall, made from leftover shreds of skateboard material, as winner of the 2013 Young Architects Program (YAP). Drawn from five finalists, the porous skin of CODA's temporary urban landscape will shade visitors of the Warm Up Summer Music series with its reclaimed woven screen, while providing water in refreshing cooling stations and seating with its detachable wooden skin on the lower half of the linear structure.
"CODA's proposal was selected because of its clever identification and use of locally available resources – the waste products of skateboard-making – to make an impactful and poetic architectural statement within MoMA PS1′s courtyard," said Pedro Gadanho, Curator in MoMA's Department of Architecture and Design. "Party Wall arches over the various available spaces, activating them for different purposes, while making evident that even the most unexpected materials can always be reinvented to originate architectural form and its ability to communicate with the public."
Continue after the break for the complete project description.
MoMA P.S.1 has announced five finalists to compete in the 2013 Young Architects Program (YAP). Now in it's 13th edition, the competition will challenge a group of emerging architects to design a temporary installation within the walls of the P.S.1 courtyard for MoMA's annual summer "Warm-Up" series.
This year's finalists are CODA from Ithaca, New York; Leong Leong Architects and Moorhead & Moorhead both from New York City; TempAgency from Charlottesville, Virginia and Brooklyn; and French 2D, based in Boston and Syracuse, New York.
Over the years, the YAP competition has inspired a vast amount of innovative proposals. Just check out last year's winner, Wendy! This blue nylon beauty, designed by New York-based HWKN, graced the P.S.1 courtyard with her smog-eating, titania nanoparticle coated spikes. Learn more about the 2012 YAP award winner here.
Best of luck to the 2013 finalists!
In typography, the 'Counter' is the space contained by letters (this is where monkish Irish Illuminators famously had space to play). For the monks, the space between the letters was as meaningful as the letters themselves. In 'Counterspace', the winning proposal by CODA for the Europan 2011 competition in Dublin, the linear forms of the traditional rows are transformed and interwoven to create a range of counterspaces: from enclosed collective space for safe children's play, to urban plaza for adults' lattés. Just like on the 19th century street of industrial terraced Dublin, the life of the community happens in the space between the rows of housing, in the counterspace. More images and architects' description after the break.