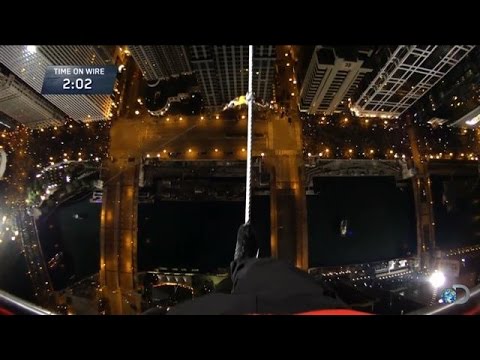 Last night, thousands in Chicago turned out to cheer on tightrope walker Nik Wallenda, as he performed two tightrope walks involving some of the Windy City's most famous buildings: Bertrand Goldberg's Marina City Apartments and Kevin Roche John Dinkeloo and Associates' Leo Burnett Building. Wallenda set two Guinness World records, the first for the steepest ever tightrope walk as he climbed from the 588-foot Marina City to the 671-foot Leo Burnett Building, and then for the highest blindfolded tightrope walk as he crossed between the two Marina City towers. The stunt was covered live by Discovery, whose footage comes replete with dramatic sweeping shots of a mid-walk Wallenda, made miniscule against the backdrop of Chicago's famous Skyscraper Canyon.
This article, by Michael R. Allen, was originally published on Next City as "Prentice Hospital Could Become Modernism's 'Penn Station Moment'"
When the concrete cloverleaf of Prentice Hospital sprouted from the Chicago ground in 1975, its award-winning design met the praise of critics and the admiration of many Chicagoans. Architect Bertrand Goldberg drew from Brutalism, but with a symmetry and grace that distinguished Prentice from more angular works in that style.
This week, as Goldberg's famous work is pulled apart by wreckers, nothing about its loss seems symmetrical or graceful. Within 40 years, the building transitioned from a proud symbol of civic renewal and design innovation to the victim of old-fashioned Chicago politics. The controversy surrounding the demolition of Prentice, however, injected the preservation movement into an urban design discussion with a presence not seen in a long time.
Shortly after confirming the demise of Bertrand Goldberg's beloved Prentice Women's Hospital in Chicago, Northwestern has released a shortlist of three firms competing to design the school's new biomedical research facility. This comes with the support of Chicago Mayor Rahm Emanuel and despite strong backlash from architects and preservationists worldwide.
The finalists are:
In response to the Commission on Chicago Landmarks' decision to reject landmark status to Prentice Woman's Hospital for the second time in three months, the two preservationist groups challenging the City of Chicago have withdrawn their lawsuits. This eliminates the last barrier standing in Northwestern University's way to demolish the historic, Bertrand Goldberg structure for a new biomedical research facility.
"We felt that we had done as much as we possibly could to demonstrate the significance of the building and ways to reuse," stated Christina Morris, a senior field officer for the National Trust for Historic Preservation. "We just couldn't see that we'd have any other outcome."
For many, this news is disheartening as architects and preservationists from around the globe have fought in solidarity for much of the past year in an attempt to illustrate the importance of this one-of-a-kind structure.
More after the break…
The new year is off to a rough start for the preservation of modern architecture, as Bertrand Goldberg's Prentice Woman's Hospital appears to be joining Richard Neutra's Cyclorama Center on the demolition list for 2013. Northwestern University senior vice president for business and finance, Eugene S. Sunshine has confirmed that, despite strong opposition from architects and preservationists worldwide, the university will be replacing the historic, Chicago icon with a new biomedical research facility.
"The new building on the Prentice site will be connected on a floor-by-floor basis with the existing University research building just to the west of the site," announced Sunshine in a press release. "Doing so will bring researchers together and thereby enhance the chances of finding breakthroughs in cardiovascular disease, cancer, diabetes and neurodegenerative disorders, among others. The site is the linchpin for what will be a major new medical research hub."
More on this controversial decision after the break…
Amidst the longstanding, heated battled to save Bertrand Goldberg's iconic Prentice Woman's Hospital, the results of the 2012 Chicago Prize Competition: Future Prentice have been announced! Presented by the Chicago Architecture Foundation, in collaboration with Chicago Architectural Club and the Chicago Chapter of the American Institute of Architects, the international competition intended to act as a platform for public debate about the future of the controversial Chicago landmark.
More information and the winning proposals after the break…
Despite strong opposition from preservationists and architects world-wide, Chicago Mayor Rahm Emanuel has announced his decision to support the demolition of Bertrand Goldberg's Prentice Women's Hospital. In a op-ed piece released by the Chicago Tribune, Emanuel supported his stance by arguing that Northwestern's new biomedical research facility would "bring 2,000 jobs and hundreds of millions of dollars in investment" to Chicago. Emanuel believes Goldberg's "vision is alive in Chicago beyond one building" and allowing Northwestern to build the new medical center is crucial in keeping Chicago at the forefront of scientific innovation.
Emanuel stated, "Chicago's architectural legacy is part of a larger story of a city that has been a trailblazer from the beginning and remains on the forefront of design and dance, medicine and manufacturing. To honor that legacy and build on it for the next generation of Chicagoans, we cannot simply preserve the past: we must promote opportunity for the future."
In return, Northwestern has committed to "include a Chicago architect in its design process, adhere to the city's minority hiring requirements, preserve other historic buildings and ensure public safety around the new building."
Opening tonight in Los Angeles at the WUHO Gallery: Inside Marina City: A Project by Iker Gil and Andreas E.G. Larsson.
For more than two years, Iker Gil and Andreas E.G. Larsson documented the lives of residents in the non-Euclidean geometries of architect Bertrand Goldberg's iconic Marina City (1959-67) in Chicago. Celebrating Goldberg's original vision for affordable apartments in a central, high-density location, this revealing series of photographs provides a rare, behind-the-scenes tour of the diverse array of people and living spaces within these popular cylindrical residential towers.
Over 60 prominent architects, including Frank Gehry and Jeanne Gang, signed a letter asking Chicago Mayor Rahm Emanuel to grant Bertrand Goldberg's Prentice Women's Hospital landmark status and make it a permanent part of Chicago's built environment.  "A building this significant", the letter read, it "should be preserved and reused."  Goldberg's architectural work has been iconic to Chicago's city-scape.  Building such as Marina City, River City, Wright College and Astor Tower have all made a tremendous impact on the personality of the city.
More on the state of the building after the break.
The Art Institute of Chicago is hosting a retrospective for Bertrand Goldberg, famed architect of Marina City (1959–1967), two cylindrical corncob-shaped commercial/residential towers.  The exhibition contains a range of Goldberg's work; it begins with his work at the Bauhaus and the 1933 Century of Progress Exposition and follows his career into his visionary plans of a postwar America.  The exhibition will feature architectural drawings, models, photographs, along with graphic and furniture design.
Follow us after the break for images of Goldberg's work.
This concrete, clover leaf-shaped structure, which was built in 1975, will likely suffer a fate common to many vacant and disused buildings. After approximately four years of vacancy, this Bertrand Goldberg-designed building will likely be demolished when ownership will revert to Northwestern University this year. Although Goldberg's organic architectural designs – such as this one – were widely influential, none of his major Chicago works are protected by local landmark designation. Prentice Women's Hospital was considered groundbreaking for its cutting-edge architecture, advanced engineering, and its progressive design approach to organizing medical departments and services. It received international press coverage and an award from Engineering News Record for its innovative tower and open floor-plate layout that eliminated the need for structural support columns. "You will not find the structural solution to Prentice, which is an exterior shell cantilevered off a core, anywhere else in the world" notes Geoffrey Goldberg, an architect and Bertrand Goldberg's son. "Prentice was the only one in which this was achieved."