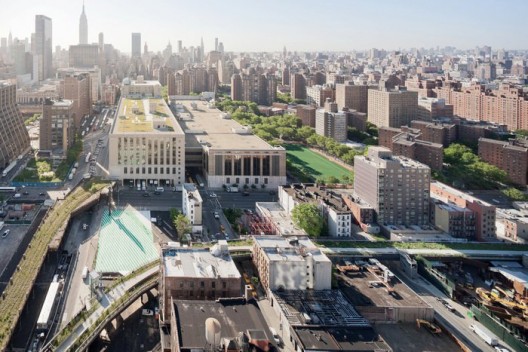 Urban planning is delicately intertwined with government.  As much as architects and designers try to avoid the overwrought laws and codes and prescriptive government policies that guide the construction and development of the urban landscape, they are very much a shaping force in cities such as New York.  Ask any architect working in a such as NYC and they will likely describe the bureaucratic hassles of working with outdated zoning regulations and restrictive building codes.  In this NPR segment Leonard Lopate interviews New York Magazine's architecture critic Justin Davidson to discusses the impact of Mayor Michael Bloomberg's planning policies on New York City's urban development.
Join us after the break for the link.
We have been keeping close watch on the progress of Barclays Center, SHoP's 650,000+ stadium for Brooklyn at Atlantic Yards.  The project has an interesting history as the client, Bruce Ratner, originally looked to Gehry to design an urban solution and iconic image for the 22 acre site, prior to teaming with  Ellerbe Becket and SHoP.   As we've reported earlier, SHoP's response has developed to become a sweeping pre-fabricated volume, with a perforated latticework steel skin and a transparent ground level.   Photographer Roger Edwards has shared some recent photos with us of the construction process as the building is quickly beginning to take shape.
Check out more photos after the break.
Bruce Ratner originally looked to Frank Gehry to design the Atlantic Yards' basketball arena, a 22 acre development project in Brooklyn.  Gehry's scheme looked promising as the arena and surrounding buildings were carefully categorized in different zones and then reassembled to create "startling urban moments."  When Gehry was fired early in the summer and replaced by Kansas-based firm Ellerbe Becket, many were worried that the project would not be realized with the care Gehry had given it.  When Becket's original design seemed below par, Ratner quickly hired SHoP Architects to get the design back on track.
More about SHoP's addition to the Atlantic Yards after the break.