Building upon our Top 10 Apps for Architects, this collection brings together some of the best quality and most valued technical apps for designing, sketching, calculating and collaborating. Although the majority of those featured here are designed solely for the iOS platform, every time we collate lists such as these it's clear that more and more high quality apps for the Android and Windows platforms are being developed. From condensed versions of large scale software packages that architects and designers use every day, to blank canvases to scratch ideas down onto, you might just find an app that could improve the way you work.
PlanGrid, touted as "the fastest blueprint viewer" available, is one of the most mature apps for viewing, amending and discussing construction drawings on a collaborative cloud-based platform. This week they launched PlanGrid for Education, allowing students full and uninhibited access to every feature of the app free of charge. According to the company, they currently have "40,000 blueprints being uploaded to PlanGrid daily and over 9 million blueprints stored digitally", making the platform one of the fastest growing in its market.
The Morpholio Project's latest iPhone application, Morpholio Frame, "is like having a DJ booth for your photos." The application allows users to merge, crop, and filter photographs before posting them to social media outlets like Instagram, Facebook, and Twitter. Sounds typical, right? Not so fast.
The application gives users more control than most thanks to an interactive matrix approach. Users can select up to three filters and three related masks, creating an image with one of 64 million unique filter combinations. One of the most interesting filters for architecture fans is "sketch" – as seen in the image after the break.
Last June, we published our first list of must-see Instagram feeds to follow, but we knew it was only the tip of the iceberg. Once again we've scoured the web (and followed your excellent suggestions) to track down the 25 Instagrammers who will be sure to inspire – including dare-devil adventurer raskalov, up-and-coming architecture photographer nicanorgarcia, and our very own editor-in-chief.
See the 25 awesome architecture instagrammers, after the break…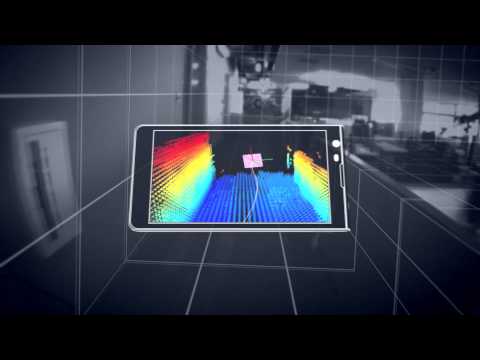 Johnny Lee, a project leader in the Advanced Technology and Projects group at Google, wants our phones to experience the world more like we do: "we are physical beings that live in a 3D world, yet mobile devices today assume that the physical world ends at the boundaries of the screen", he says – which is why his team has been working on Project Tango, a mobile phone which uses movement and depth sensors to build a 3D model of the space around it.
Project Tango brings a whole new dimension (the third one) to what we could potentially do with our phones: imagine creating a 30 second model to take away from a site visit, for example, or using augmented reality to show a design or an installation in situ, navigable in real time. Currently, Google is in the process of distributing 200 prototypes to app developers, who will hopefully help it realize this tremendous potential.
The social life of cities is complex. Where once the networks which operated within cities could be understood – to an extent – through their physical infrastructure, in the internet age much of the network that supports city life is hidden, existing only through intangible data.
Invisible Cities is an app which makes this network tangible, using geocoded data from Twitter and Instagram to morph the landscape, displaying where the most activity is occurring. These hills of activity can then be linked by lines representing keywords, showing underlying affinities between different geographical areas.
Following our readers poll last year, here's an updated list of what we think are the best ten apps for architects. From condensed versions of large scale programmes architects and designers use every day, to blank canvases to scratch ideas down onto, you might just find an app that could improve the way you work.
GRAPHISOFT's latest iPhone and iPad App, a companion to ArchiCAD, has just been released. The heart of the technology, designed for easy BIM project viewing, is the "Hyper-model," which enables the full integration of 2D and 3D plans. This makes navigation not only more intuitive, but a magnitude smoother and faster than most other construction-related model or documentation viewer mobile apps.
Get a more detailed look at the technology in action, after the break…
ArchiSnapper is a new, powerful tool for architects which takes away the time and effort required for producing construction site reports. Consisting of both an online portion and an app for iOS or Android devices, ArchiSnapper allows you to collect information while on site and quickly and easily assemble it once you're back at the office.
In collaboration with ArchiSnapper, ArchDaily will be offering 5 Business licenses (worth $119 a month) to our readers. To participate, all you need to do is become a registered ArchDaily user and answer a simple question in the comments section of this article.
To find out how ArchiSnapper works, and for your chance to win one of 5 free licenses, read on after the break…
Last year, we published a post (one of our most popular of all time) on the 4 Apps that every architect should have — 4 Apps that make your architectural life all the easier.But when it comes to everyday inspiration, perhaps there's no greater App than Instagram — the perfect way to instantly capture and share the architectural forms and details that surround us.
We've scoured the web and tracked down the 25 Instagrammers who will be sure to inspire – from international architecture photographers like Iwan Baan to famous architects like Michel Rojkind to our very own ArchDaily editors. If you're new to Instagram — or just want to bulk up the architectural inspiration on your feed – these are the 25 feeds to follow now!
See the 25 best architecture instagrammers, after the break…
UPDATE: Thank you all for sharing your favorite Apps! We took the 10 Apps that received the most votes and polled them on our Facebook page. We'll be publishing the results later on, but, for now, a big Congratulations to the 5 recipients of our Prize: Kalyan Basetty, Mica Nickson, Azra Kapic, Matt Iden, and Nick Gentile!
We'll be contacting you later today with your codes for  [steel] (iPhone), [steel HD] (iPad), and The META Calculator - brought to us by our friends at The Mobile Engineer. Congrats!
Last week, we asked our Facebook Fans to suggest the best Apps for architects so we could put together a list of the 10 Best Apps For Architects. But while a few great Apps got featured, tons of other great Apps got skipped. ArchDaily reader ArchNYC, for example, commented "how is morpholio, Paper, or i-Rhino 3D not on this list? they are incredible apps." Reader Anna responded: "Agree 100%[...] ArchDaily should consider a second list."
Well, you spoke, and we listened. We're going for Round II. But, this time around, we want to know: What Great Architecture Apps Did We Miss?
And we haven't even gotten to the best part. The folks at The Mobile Engineer, creators of our #9 App [steel], will give 5 lucky commenters a Promo Code – either for  [steel] (for iPhone) or [steel HD] (for iPad) – for FREE. Not bad, eh?
So, just register to let us know your favorite Apps (iPhone or Android) in the comments below!
UPDATE: We have updated this list to be a more complete guide. You can find the updated list here.
In the frenzy leading up to the iphone 5′s anticipated release last week, we asked our Facebook Fans the best thing about their smartphone (when it comes to their professional lives at least).
The answer was overwhelmingly in favor of one key feature: the camera. From snapping shots on-site to taking photos for inspiration (or just to remember later), the ease of having a camera in your phone has made your lives that much easier (and Apple fans rejoice, as the new iPhone 5′s stand-out new feature is its souped-up camera, now with low-light and panorama modes). Many also mentioned the handiness of having email, maps, and a compass always at hand.
But apart from these standard features, we also got tipped to some really useful Apps that are changing the way you work. We've (not very scientifically, we'll admit) compiled them into a top 10 list…check after the break to see which Apps made the cut!
"If I were a drafter, I'd drop everything and buy it."
So said Rob Maguire, the product manager for Autodesk's AutoCAD, describing the new 3D-rendering drafting applications that will run on Apple's latest MacBook Pro.
The new MacBook's distinguishing feature is its souped-up Retina display  - which boasts 4 times as many pixels as its predecessor, 75% less reflection, and 29% higher contrast.
The implications for architects will be practically life-changing. But there is a catch…
Get the scoop on the new AutoCAD App for Macbook, after the break.