According to Bloomberg Newsweek, US Architects should be seeing signs of improvement as the Architecture Billings Index has increased for the third straight month, up from 46.1 in March to 48.5.  Measured by the AIA, the Architecture Billings Index (ABI) serves as an indicator of future building for offices, warehouses and retail properties.  The indexes are developed each month by asking AIA firm participants whether their billings increased, decreased, or stayed the same in the month that just ended.  The score is generated based on the proportion of respondents choosing each option.  Breaking the index down regionally, the Northeast fared the best with 51, followed by the Midwest at 49.2, the South at 46.5, and finally, the West at 44.7.
However, we know that statistics often times don't clue us in on the real happenings, so we'd like to hear from you.  What has been your experience?  Do you feel that the economy is finally turning around and the worst is over?  Or, are you worried, due to the latest economical problems with Greece and crisis of the Euro, that another crash is due to affect our profession?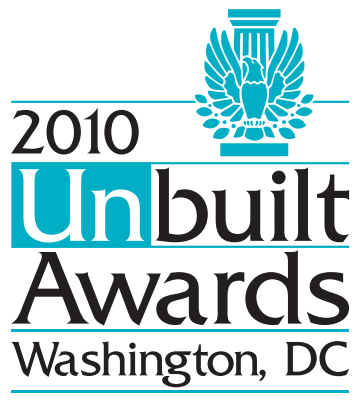 The 2010 Washington UNBUILT Awards Program recognizes excellence in projects that to date remain unbuilt – theoretical, academic, and other unbuilt projects. Projects entered will be displayed and judged as part of the DesignDC conference in August 2010. This competition is conducted by the Washington Chapter/AIA and is conducted independently of other awards programs sponsored by the National American Institute of Architects and other AIA components.
Digital submissions must be registered online at www.aiadc.com and received at the offices of the Washington Chapter/AIA between April 15 and June 30, 2010. Seen at Death by Architecture.
DesCours is a free, public, week-long architecture and art event now in its fourth year, held the second week of December in New Orleans. This event invites internationally renowned architects and artists to create 14 architecture installations within 'hidden' locations in the heart of New Orleans, including private courtyards, rooftops, abandoned buildings and walkways, all locations normally unseen, inaccessible or unused by the public.
AIA New Orleans is presenting the event in partnership with the Downtown Development District (DDD), the City of New Orleans, the Louisiana Architecture Foundation and numerous private businesses, organizations, and individuals. AIA New Orleans is proud to present this event free of charge and open to the public.
You can find more information and download the request for proposals details in the official website.
Earth Day today, just in time to annunce the top ten examples of sustainable architecture and green design by the AIA and its Committee on the Environment (COTE). Check them all after the break.
The AIA Young Architects Forum (YAF) and the AIA Committee on Design (COD) invite architects, students, and allied design professionals to submit sketches to the international 2010 YAF/COD Ideas Competition: Temporary/Permanent Relief Housing. In this year's unique sketch competition, submitters are asked to explore the issue of temporary relief housing that could have a permanent function, through a concept design problem.
Entries will be submitted electronically through an online submission site. Submissions will consist of drawings and renderings presented in PDF format. All materials must be uploaded through the submission site before by 5pm ET on May 10, 2010. **The link for beginning a submission will be found as of April 1, 2010 when the site goes live for submissions. For more information, please click here.
Last week the AIA announced the 28 projects that will receive the Honor Awards this year, an award which recognizes excellence in architecture, interior architecture, and regional and urban design.
The winners will be recognized during the AIA 2010 convention in Miami.
Complete list of awarded buildings, including links to features on ArchDaily, after the break:
The AIA is hosting its first ever design competition on Facebook—the AIA Facebook Young Designers Challenge. The competition is targeting emerging professionals, and is open to all AIAS members, all Assoc. AIA members, and all AIA young architect members. (The AIA defines young architects as being licensed 10 years or less.)
The AIA is asking designers to submit new, unbuilt building projects that address America's most pressing design needs for the 21st century. This can include, but is not limited to: sustainability, public infrastructure, affordable housing, retrofitting suburbs and other resource-intensive built environments, urban farming, and rehabilitating dilapidated urban cores. This requirement is intentionally flexible. The most important factor is that each design offers an innovative solution to a concrete and unsolved problem. The winning designer will be announced in AIArchitect with a feature article on their design in January.
For more information, go to the competition's website in Facebook.
Rebuilding national infrastructure will drive U.S. economic recovery, and architects are critical to the effort to build and modernize our most basic source of future intellectual capital: our schools. "Designing Learning Environments to Rebuild Urban America" will explore the best opportunity in generations to strengthen educational facilities—with architects at the forefront.
New York City schools will be our living laboratory to examine history, trends, and innovations—both in construction and in educational theory and practice. Design professionals and educators will explore common ground and emerge with strategies to create learning environments that are both practical and inspiring. School tours will further inform our findings and help to foster a continuing dialogue.
Seen at Bustler. For more information, click here.
During the AIA Convention 2009 we had the opportunity to interview the AIA President (2008-2009), Marvin Malecha.
Marvin is also the dean for the North Carolina State University College of Design, and has received the Topaz Medallion for Excellence in Architectural Education in 2003. His position as a highly recognized educator, and the voice of the industry as the AIA President was the reason we choose Marvin for this interview, specially during a time when the profession was heavily affected by the financial crisis.
The sound has a few glitches due to Bluetooth interference, not a big issue anyway.
The AIA Convention 2009 starts this Thursday (Apr 30th)! It´s going to be 3 days of workshops, seminars, tours… and a good opportunity to meet and connect with other architects. And ArchDaily will be there, covering the highlights of the event. So if you are attending, please let us know in the comments!
This years theme "The Power of Diversity: Practice in a Complex World" addresses new forms of practicing the profession we are facing now in the global crisis/world.
There are several continuing education seminars aimed to keep you up to date with the latest green standards, how to start and grow your own practice, how to manage your team, and several more topics covering economy and emerging practices. Check full list here. If you can´t attend, you can follow the Virtual Convention.
There´s also a big expo area, with 5 pavilions showcasing the latest architectural products.
The list of speakers include:
The American Institute of Architects have just granted ten houses a Housing Awards. The recognition is handed out every year to outstanding residential designs. For this year, many houses incorporate eco-fiendly ideas, like solar panels, radiant heating and "daylighting". Seen at The Wall Street Journal. All the winners, after the break.
The success of green roofs has driven Landscape Architects and Architects to explore alternative exterior and interior applications of green planting technology, such as green walls, and green screens. Vertical planting presents challenges to proper irrigation and climate control, requiring innovative solutions. This panel of experts will discuss the relevance of green walls and how can we improve their applications.
Moderator: Susannah Drake, dlandstudio, 2009 President of the New York Chapter ASLA
Panelists: Denise Hoffman Brandt, City College; Marni Horwitz, Alive Structures; Clare Miflin, Kiss + Cathcart, Architects
The Helfand Spotlight Series highlights competitions, work in progress, and recently completed projects that will have a far-reaching impact on New York City's built environment. Projects are exhibited as a means of generating public interest as well as presenting in-depth information to the Center's professional audience.
Tuesday, March 24, 5:30-8:00PM. This spotlight will be on view until April 11, 2009.
Organized by: AIA New York Chapter in partnership with the New York Chapter ASLA
Location: Center for Architecture, 536 LaGuardia Place (Directions)
The American Institute of Architects, San Francisco chapter (AIA San Francisco) announces the winners of the 2009 AIA San Francisco Design Awards program.
At the gala, winners were recognized for their outstanding contributions to the built environment in the categories of Architecture and Interior Architecture, Energy + Sustainability, Integrated Practice, Young Architects and Associates, Unbuilt Design, and Urban Design in the Bay Area. Each of these award categories was divided into three subcategories-Honor, Merit, and Citation. In addition, awards for Special Achievement were also presented.
Each of the winning projects is featured in the March/April issue of California Home + Design magazine. All the winners, after the break.
The AIA Committee on Design (COD) invites architects, students, and allied design professionals to submit sketches to the international 2009 COD Ideas Competition, entitled "Listening to the Past, Looking to the Future: A House for Today." In this unique sketch competition, submitters are asked to explore the legacy of modernist design, through a concept design problem.
Winners will receive funding to attend the COD Spring Design Conference in Boston and have their work exhibited at the 2009 AIA National Convention in San Francisco. Selected entries will be displayed on the AIA Web site.
For complete instructions on requirements and submission, go to the official website of the competition.