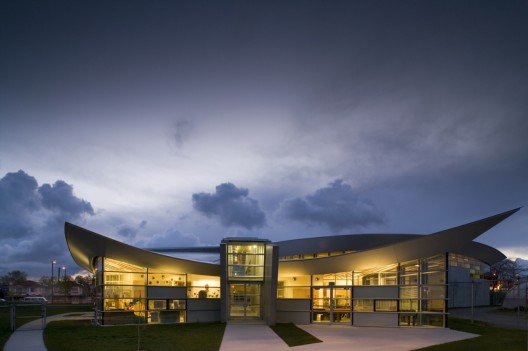 The Sunset Community Centre was conceived as a link between nature and the vibrant multi-cultural communities that surround it. Unique yet not foreign to its surroundings, Sunset Community Centre is an elegant and transparent building, carefully sited on a major thoroughfare to give the building visibility and accessibility to the community. The back and sides of the building serve as a background for outdoor activities with its spectacular southern views and setting among the fields, greenhouses and planting beds of the adjacent Vancouver Park Board site.
Architect: Bing Thom Architects
Location: 6810 Main Street, Vancouver, British Columbia, Canada
Project Team: Michael Heeney, John Camfield Venelin Kokalov, Francis Yan, Arno Matis, Eric Boelling, Shinobu Homma, Marcos Hui
Structure Engineer: Gerry Epp & John Miller, Fast + Epp / StructureCraft
Mechanical/Electrical Engineer: Jason Weir, Roger Sum, Stantec
Landscape Architect: Blair Guppy, Phillips Farevaag Smallenberg
Builder: Peter Bazilewich & Alex Strega, Haebler Construction
Code Equivalency: Ken Chow & Susana Chui, Pioneer Consultants
Cost: George Evans, LEC Quantity Surveyors
Parking: David Tam, Bunt & Associates
Acoustics: Bob Strachan, Brown Strachan Associates
Commissioning: Kevin May, Airmec Systems
Geotechnical/Civil Engineer: Steven Fofonoff, GeoPacific Consultants
Project Area: 30,000 sqf
Project Year: 2007
Photographs: Nic Lehoux, Ergi Bozyigit
The Sunset Community Centre houses a preschool, gymnasium, exercise rooms and a host of other community activities. These program areas each achieve a distinct formal identity through the undulating roof forms, which derive from the regarding of the site where excavated material was used to form a series of large scale rolling grassy berms. These curves are repeated on the interior where wood ceilings rise and fall to give shape to the gymnasium and other major rooms, creating a strong connection to the exterior landscape.
The three primary elements of the building are the tilt-up concrete walls, the curvilinear roof and the curtain wall. The primary structure is composed of tilt-up concrete walls. The intent was to take a technology typically used for cheap big-box construction and push it into something more meaningful. The walls are comprised of 46 panels in total, each uniquely shaped. To keep the architecture elemental, electrical conduit and some mechanical chases were cast in the walls to hide the services. The roof is constructed with open-web steel joists. The joists themselves are straight and each one sequentially rotated in section, with the steel deck tying the system together to create the curves. The joists bear on the tilt up walls and on elliptical columns at the curtain wall. The glazed curtain wall unifies the exterior with its strong horizontal pattern relieved by the distribution of three types of glass lights: clear, fritted in a striped pattern, and opaque white. As well as controlling solar heat gain, the distribution of these different panels varies to suit the function of the spaces enclosed and serves to control views to and from the building. Interior glazing completes this effect by opening up rooms to the circulation spines.
The Sunset Community Centre is a LEED Gold certified building and the project integrates a number of sophisticated sustainable design strategies including:
Passive day-lighting control through the curtain wall's high-efficiency glazing system that varies from clear, fritted, and opaque to allow generous views and daylight or privacy and shading where programmatically required.
Control of building systems through an array of daylight, occupant, and CO2 sensors, ensuring control of energy use as well as occupant comfort.
Low albedo roofing.
Control of non-permeable site surfaces including soft surface parking and other extensive soft landscape.
Extensive use of durable materials such as tilt-up concrete minimizing the need for maintenance and repair and increasing building life.
Dual-flush low-flow toilets.
Use of local materials such as BC Hemlock.
Use of low emitting materials.
The building has been tremendously popular and the Sunset Community Centre membership increased by 40% in the first three months since opening.
* Location to be used only as a reference. It could indicate city/country but not exact address.