EFFISUS provides building envelope solutions to protect from water, air, heat, light and noise which helps maximize performance and lifetime of buildings. Supported by an extensive team of consultants, Effisus offers a wide range of solutions and systems for roofs, facades, interiors and foundations.
The following solutions are used for building envelope and façade protection:
Effisus A1 Fire Rated Breather FR membrane: Designed for global protection of facades against moisture, driving rain, wind, corrosion, insulation deterioration, and mould growth on facade elements. It has an exceptional UV resistance and is suitable for facades with open or closed joints.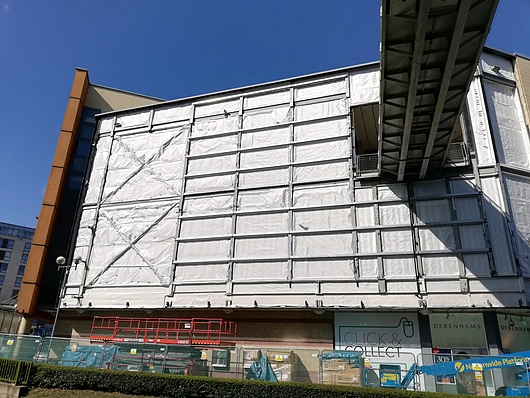 A2 fire rated breathable system application, with Effisus A1 breather FR membrane, in the Riverside Shopping Hemel, UK
Effisus A2 Fire Rated Breather FR system: It should be installed on top of the external insulation (cold side) to protect the entire façade composition. Depending on the complexity of the cladding brackets (size/shape) it is acceptable that breather membrane systems be fixed on the top of the sheathing board.
Effisus Breather FR-B membrane/system: A fire retardant waterproofing breathable membrane, made of polyester nonwoven with a special waterproof coating. Designed for open or closed rainscreen cladding systems, cavity and masonry, lead weatherboarding panels, tile/slate, and timber frame cladding.
Effisus Breather + membrane: Façade curtain walls or rainscreen cladding systems are sometimes part of a complex facade design that implies difficult sealing with potential leaking spots. This solution was developed to seal difficult 3D facade details, increasing the quality and predictability with less human error.
Effisus Breather B: Made of a special polypropylene microfiber for moisture management, promoting thermal efficiency and protection against condensation. The existence of a large range of accessories allows for installation on the most demanding project requirements.
Effisus Breather Non-Close: Offers exceptional ageing resistance and thermal stability properties, protecting the façade against wind and condensation even in the most aggressive climates. With superior resistance to UV light, it is suitable for protection of facades with open joints up to 35mm.


About EFFISUS
EFFISUS provides state of the art building envelope weatherproofing solutions, including the outstanding A1 and A2 Fire Rated weatherproofing membranes. Supported extensive consulting services, Effisus offers a wide range of solutions and systems for roofs, facades, interiors and foundations.
To ask for a sample, assistance with a project specification, technical articles or, to be connected with a UK or UAE Commercial team, contact EFFISUS.