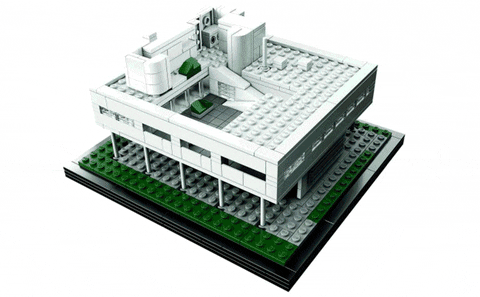 It's hard to find an architecture enthusiast who wasn't obsessed with LEGO as a kid. Many of us would spend hours carefully placing the small, colorful blocks to make our crazy, imaginary environments in our heads a reality—well, somewhat. Whether it was building a dream home for your dolls or simply trying to construct the tallest tower, LEGO was certainly responsible for the first flirtations with the profession. It is no question this tool unleashes our creativity, and this can be demonstrated in a variety of ways.
For this reason, we searched our archive for some architects which highlight the creative and innovative ways LEGO is being used in adult-life. From a few pieces of the LEGO® Architecture Series to the appropriation of some important offices such as Zaha Hadid Architects and MVRDV, urban interventions are being inspired by toys and even serving as a furniture mold.
New architecture LEGO kits make you feel like a master model-maker while letting you embrace your inner child. Build your own mini Neoclassical dome or Prairie House by Frank Lloyd Wright!
Admit it: you have a secret LEGO® stash somewhere. Before you had even considered becoming an architect, you had already built cities, developed housing, and mastered the art of using every last brick, no matter the size.
Have you ever wanted to feel what it is like living inside a LEGO creation? Airbnb teamed up with LEGO to offer fanatics a once-in-a-lifetime opportunity to spend the night in no other than BIG's LEGO House in Billund, Denmark.
Airbnb has teamed up with LEGO to offer fanatics the once-in-a-lifetime opportunity to spend the night in the newly-opened LEGO House in Billund, Denmark. Contest winners will be able to enjoy the BIG-designed building all for themselves for one night, where they will be treated to a special program of events before retiring to the bedroom located beneath a 6-metre-tall LEGO waterfall and surrounded by a pool of bricks.
LEGO doesn't have to be limited to the imaginary world—it can be used for real-world problems too! Artist Jan Vormann uses the colorful blocks to mend crumbling walls and masonry around the world. 
After 10 years of exploring the world and making LEGO interventions to city walls and masonry in disrepair, artist Jan Vormann invites you to contribute to the ongoing project Dispatchwork. Vormann began making these toy-block repairs in Bocchignano, Italy, and since has made colorful additions to Tel Aviv and Berlin.
When it comes to LEGO architecture, there is nothing worse than having a smooth, slippery base. This new LEGO-compatible tape can transform any surface into the perfect LEGO construction zone.
As any architect who has played with LEGO can tell you (which, let's face it, is nearly all of us), one of the most exciting yet struggling steps is just starting off on that tabula rasa of the standard, flat LEGO base.
Need some new coffee tables in your living room? Embrace your inner brutalist and try casting your own using LEGOs as your mold. 
Since its creation in the first half of the 20 th century, the LEGO brick has come to be used for much more than its original purpose as a children's toy. We've seen LEGOs used to create replicas of classic architecture, urban interventions, virtual games and even an entire house.
Herzog and De Mueron's Elbphilharmonie in Hamburg took over nine years to build,—with 20,000 pieces, the LEGO replica by Brickmonkey may have taken just as long.
One of last year's most long-awaited buildings may have just met its match in terms of complexity - and it comes in the form of its own LEGO replica.
We all know LEGOs can trigger a person's inner architect, but what about one's inner urbanist? "The Collectivity Project," an interactive exhibition at the High Line, used LEGOs to facilitate interest and discussion on urbanization issues. 
As part of their series of " Panorama" exhibits being presented this year, Friends Of The High Line have announced that they will host Olafur Eliasson's installation, "The Collectivity Project" from May 29th until September 30th this year on the High Line at West 30th Street.
Forget the Building of the Year Award—which Stirling Prize Winning Architecture Firm won the Pritzker Prize of LEGO building?
As part of the 2014 London Festival of Architecture, teams of architects from the four of the most recent Stirling Prize winning British practices were challenged with creating the most imaginative piece of a city - out of LEGO.
Imagine having the New York, Berlin, or Venice skyline right at your own desk. Make it a reality with LEGO's new Architecture Skyline Collection.
Venice, Berlin and New York City are the first to be featured in LEGO®'s new Architecture Skyline Collection. Unlike its single-building series, these new kits will allow you to recreate famous skylines by constructing up to 5 of each city's most iconic buildings.
Archi-LEGO lovers rejoice! Over the past few years, LEGO has developed their Architecture Landmark Series with additions such as the Eiffel Tower and U.S. Capitol Building. Here are some of our favorites.
LEGO has announced the release of one of their largest-ever builds, a 5,923-piece Creator Export kit of the Taj Mahal. The kit is an update of what was once the largest set ever produced by LEGO, launched in 2008 but discontinued in 2010.
LEGO has revealed the latest kit in their Architecture series, and it's a bit meta: a 774-piece model of the nearly complete LEGO experience center in Billund, Denmark, designed by BIG to resemble a stack of LEGO blocks.
As the 150th Anniversary of Frank Lloyd Wright's birth approaches, LEGO has released the latest kit in their architecture series: Wright's New York masterpiece, the Solomon R. Guggenheim Museum. The 744-piece set features a new rendition of the building made from the classic plastic blocks, following a 208-piece interpretation released in 2009.
LEGO® has unveiled the newest kit in their Architecture series: The U.S. Capitol Building in Washington, D.C. Originally designed by architect William Thornton in 1793, the building has gone through several iterations, including the addition of its iconic white, cast-iron, neoclassical dome in 1866.
LEGO® has officially announced the next addition to their architecture-inspired products: The United Nations Headquarters. Standing alongside New...
LEGO® has announced the architecture series' newest addition: The Eiffel Tower (La tour Eiffel). Named after its engi...
The LEGO® Group has unveiled a new rendition of Jørn Utzon's beloved Sydney Opera House. Following last year's unveiling of a slightly smaller edition, LEGO® will challenge the skills of its faithful builders with a new, highly detailed, 3,000 brick model of Australia's most famous landmark.
LEGO® has released their newest, limited-edition architecture set: BIG's unbuilt LEGO® House . Planned for completion in 2016, the creatively stacked "experience center," which will commemorate the toy company's history and future, is the first unbuilt project offered as part of the series.