The informal city is a problem that could not be solved by the twentieth-century urbanism. It is necessary to produce a set of tools that will allow us to perform with solvency and responsibility in this area. Some of the tools of traditional architecture and urbanism can be successfully applied; others are yet to be elaborated. With this in mind, Drucker Arquitetura designed the winning proposal for the Sáo Paulo competition to rebuild the city's slum-areas.
Architects: Drucker Arquitetura Location: São Paulo, Brazil Rendering: Courtesy of Drucker Arquitetura
On our continent the housing problem is not quantitative. It is essentially qualitative: an architecture problem. It is not just about being an agent for the adequate infrastructure and materials to construct the dwellings for the less favored sectors of society: it is about offering citizenship, that is, to provide them with qualified urban spaces capable of promoting effective identity and social integration, access to education and information.
Cabuçu de Baixo 12 is located in the North Zone of São Paulo, at the bottom Serra da Cantareira, an environmental preservation area, which defines one of the borders of the city.
This perimeter, where 2100 dwellings are located, is an extremely vulnerable area from the environmental point of view: many houses are implemented in flooding areas on steep downhill land that compromise stability.
The surveys conducted by the Housing Secretariat show that nearly 800 dwellings should be removed because they are in the risk areas, either by collapse, or by the summer floods of Guaraú stream that crosses the area in its entire extension.
Our thinking is conducted by the search for articulation between urban form and Geography so as to potencialize the specificity of the area, having as parameter of performance the recuperationand environmental valorization, the effective integration of the area in the region and the desirable generation of its own urban identity, and the creation of new housing typologies that cater to the needs of contemporary living.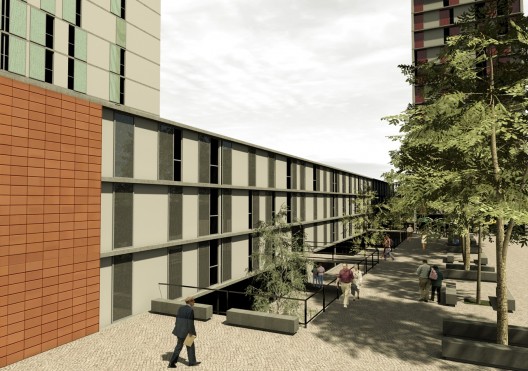 Opening of crossing roads and consolidation of perimeter roads of the slum
Opening of pedestrian lanes to support infrastructure
Integration with the public transport system by changing bus routes
Installation of qualified public spaces and facilities
Definition and preservation of the border of Serra da Cantareira
Use the infrastructure to support programs
Use water as landscape and leisure resource
Adapt the architecture to the topography and the existing urban arrangement
Creation of a public park along the stream
Qualification of the stream banks with new housings, commerce and services
Creation of squares in the core of the blocks with new housings