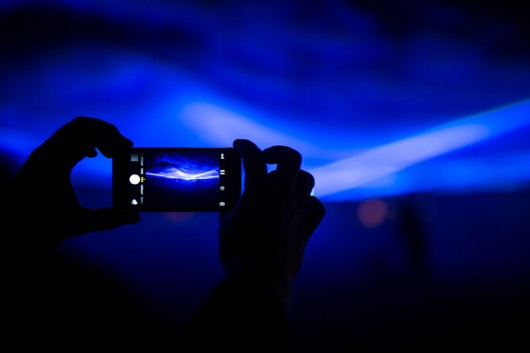 Waterlicht (or 'water light') is a new light installation which has temporarily transformed Amsterdam's Museumplein into a "dream landscape" expressing both the power, and the poetry, of water. The shifting shapes and liquid movement of the artwork also have a very real purpose: like a virtual flood, the level of the lights show how high the water could submerge Holland and parts of The Netherlands without constant human intervention. The installation highlights how innovation in engineering, something which is embedded "within the DNA of the Dutch landscape" of polders and dikes, has been "almost forgotten." The nation's vulnerability against the power of the oceans is pertinently expressed in this experiential urban intervention.
Imagine driving down a road at night without street lights with the light-emitting road guiding your way. As the temperature outside drops the road starts to reveal images of ice crystals, signaling to you, the driver, that conditions are now icy and slippery. This futuristic concept may soon be a reality as Dutch design firm Studio Roosegaarde and the engineers at Heijmans Infrastructure team up to develop "Smart Highways" – a design agenda for interactive, sustainable and safe roads. The concept won the two firms Best Future Concept at the Dutch Design Awards 2012. Join us after the break for more.
The interactive artwork 'Lotus Dome', by artist and architect Daan Roosegaarde of Studio Roosegaarde, was opened in Sainte Marie Madeleine Church in Lille, France. The project, which will be on view until January 13, 2013, is a living dome made out of hundreds of ultra-light aluminium flowers that fold open in response to human behavior. When approached, the big silver dome lights up and opens its flowers. Its behavior moves from soft breathing to a more dynamic mood when more people interact. The light slowly follows people, creating an interactive play of light and shadow. More images and architect's description after the break.