The Middle East has historically been known for many things — sustainability not being one of them. The clash of Western values with the harshness of the local climate can often wedge sustainability between a lot of sand and a hard place. Though there is a broad critique of the unsustainable attributes of the region's development path, for years there has been a shining exception: Masdar City in the United Arab Emirates, seventeen kilometers east-south-east from the city of Abu Dhabi.
Masdar City exists as an urban development project run by the renewable energy company Masdar, who has committed $15 billion to making Masdar City the planet's most sustainable new city. Unlike Abu Dhabi, a city which unthinkingly follows antiquated models and Western building principles, Masdar City has a wealth of potential to offer the world of green urban planning – something the world sorely needs.
But Masdar City is certainly not without its share of critics. On first approach, the concentrated development, located in the center of six square kilometers of empty space, does little to awe, especially in comparison to the sprawling wave that is Abu Dhabi. Thanks largely to the global financial recession, buildings currently comprise less than 10% of the area committed to the urban experiment. Even today there is a group of onlookers that suggest Masdar City may just be a mirage after all.
However, this broader view is not necessarily synonymous with the bigger picture.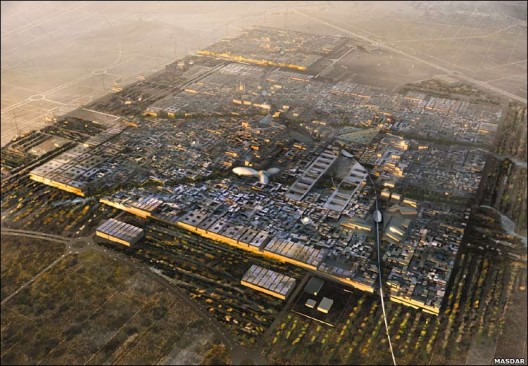 Recently reported in El Economista, Apple has chosen to team up with Norman Foster for its new Apple Campus in Cupertino, California.  Steve Jobs and Norman Foster have been working together for months developing the design for the new campus. The future headquarters will seek to utilize Foster's innovative vision for sustainability, ability to perfect a building for its users down to the finest detail, and ideas to maximize efficiency in the workplace.
Sustainability, is reported to be a large focus of the new campus.   A network of submerged transportation tunnels is in the works and the campus will incorporate some of the Foster's innovations already implemented in Masdar City, designed by Foster + Partners.  Masdar City is considered the first city in the world without cars or carbon emissions (capacity 50,000).  The R & D buildings will be multifunctional and will incorporate cutting-edge technology in materials and equipment as well as renewable energy resources.
Apple and architects Bohlin Cywinski Jackson had previously teamed up to design Apple Stores worldwide.  In August we featured the London Apple Store and in July we featured the Apple Store in Shanghai, China both designed Bohlin Cywinski Jackson.
In true Apple fashion, everything is hush hush, and it is all about the reveal.  We will look forward to seeing the result of the collaboration between Jobs and Foster.  Stay tuned to ArchDaily for the latest developments.
Today marks the offical opening of the first solar powered building at Masdar City.  The Masdar Institute (MI) campus is entirely powered by renewable solar energy, with a 10 megawatt solar field providing the Institues energy.  This solar field by the way is also producing 60% more energy than what MI consumes and its left overs will be fed back into the Abu Dhabi grid.  The post graduate students will be the city's first residents, and the data from the sustainable technologies at MI will be surveyed assisting in the implementation of these practices in future Masdar City buildings.
Foster said:
"Many have dreamed of a utopian project that would be solar powered. Today's official opening of the initial stage of the Masdar Institute campus at Masdar City is a first realisation of that quest. Its student community is already active, living and working in their quarters. This community, independent of any power grid, develops a surplus of 60 percent of its own energy needs, processes its waste water on-site which is recycled and pioneers many energy saving concepts. It is a bold experiment which will change and evolve over time – already it houses twelve separate research projects with potential world-wide applications."
Norman Foster participated in the inauguration and was joined by His Highness Sheikh Mohammed bin Zayed Al Nahyan, Crown Prince of Abu Dhabi and Deputy Supreme Commander of the UAE Armed Forces, His Highness Sheikh Mansour bin Zayed Al Nahyan, Deputy Prime Minister and Minister of Presidential Affairs.
More about the Masdar Institute campus following the break.
Architects: Foster + Partners
Location: Masdar City, United Arab Emerits
Consultants: Adams Kara Taylor, PHA Consult, Gillespies, Claude Engle Lighting Design, Acentech, Arup, decarbon8, Lerch Bates, Mott MacDonald, RFD, RW Armstrong, RWDI, Sandy Brown, Systematica, WS Atkins
Client: Mubadala Development Company
Project Year: 2010
Photographs: Courtesy of Foster + Partners