Colgate University has agreed to fund Adjaye Associates' proposed $21 million Center for Art and Culture planned for its campus in Hamilton, New York. The project, initially unveiled last March, will be comprised of three interlocking volumes of flexible art galleries alongside a parcel-long sculpture courtyard that cuts through the site.
Architects: Superkül inc
Location: Dundas, Hamilton, ON, Canada
Architects In Charge: Andre D'Elia, Meg Graham
Area: 1000.0 ft2
Year: 2012
Photographs: Shai Gil
Architects: Thier+Curran Architects
Location: 95 King Street East, Hamilton, ON L8N 1A9, Canada
Area: 21048.0 ft2
Year: 2013
Photographs: Doublespace Photography, Kevin Patrick Robbins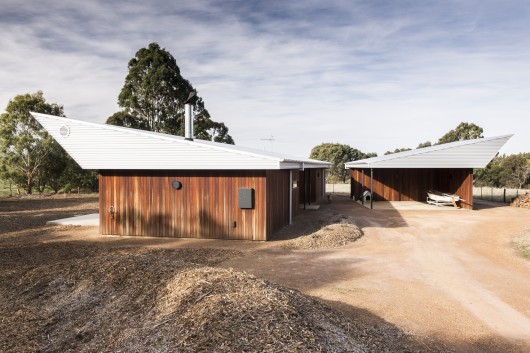 Architects: Cooper Scaife Architects
Location: Hamilton, Victoria, Australia
Structural Engineer: Structural Engineer
Builder: RD & KE Huf
Photographs: John Wilson
Architects: Diamond Schmitt Architects
Location: Hamilton, Ontario, Canada
Structural Engineer: RJC Consulting Engineers
Mechanical Consultant: Cobalt Engineers
General Contractor: Ellis Don
Project Area: 165,000 square-feet
Project Year: 2011
Photos: Peter A. Sellar
The Picker Art Gallery at Colgate University will host a reception on Tuesday, September 13, 5-7 p.m. to celebrate the new exhibition, An Architect's Vision: Paul Rudolph and Colgate's Creative Arts Center and the concurrent exhibition, After You Left, They Took It Apart, photographs by Chris Mottalini. Both open on August 30th and remain on view through October 7th
In 2007 Mottalini photographed three homes by the late Modernist architect Paul Rudolph (1918-1997), just days prior to their demolitions. The resulting images capture a state of Modernist architecture few people have witnessed, revealing the grace of these homes as they stood in defiance of severe neglect and 'progress'. Mottalini's photographs are the final portraits of these destroyed homes. More information and images on the exhibition after the break.
The Hamilton Farmers' Market and Public Library project is a major renovation and addition to an existing facility located in the city of Hamilton. The existing building is located on the south side of york boulevard at a key entry point to downtown Hamilton. York Boulevard is a major one way, east / west artery which traverses the downtown core and the city.
Architect: RDH Architects Inc. with David Premi Architects
Location: 55 York Boulevard, Hamilton, Ontario, Canada
Project Team: RDH Team: Bob Goyeche, Partner; Tyler Sharp, Associate, project designer; Scott Waugh, Bunty Sambhi, Cara McGibbon; David Premi Architects Team: David Premi, Partner; Sam Garagello, Magdalena Kieslowski
Structural Engineer: Group Eight Engineering Ltd.
Mechanical / Electrical Engineering: Group Eight Engineering Ltd.
Contractor: Kemp Construction
Project Year: 2010
Photographs: Courtesy of RDH Architects