Do you get excited when you discover a game-changing command on AutoCAD? Don't worry, us too – which is why we're recommending five AutoCAD YouTube tutorials selected by Line//Shape//Space. To learn something new (like importing point cloud data or searching for text within your drawings), or just to brush up on your skills, click here.
In recent years the use of CAD and simulation programs has resulted in a new understanding of light in architecture. The drawing board and its lamp have given way to the self-illuminating monitor. The result is that concepts in architecture are now made of light from the very first mouse click.  In the visualisation process, luminous space now predominates.
However, this begs the question: has the luminous impression (part and parcel of the perfect, rendered setting) become more important than the engineering or architectural concept itself? With the improved interplay of shades, contrast, and brilliance, can lighting actually obscure the point of a realistic simulation?
More Light Matters, after the break…
This article, by Shaun Bryant, CAD consultant, comes to us via our friends at Line//Shape//Space.
In my previous article, I mentioned that I had been a CAD manager in a past life and that there were many hats I used to wear. One of these hats was training manager for the CAD department. I was the guy who liaised with HR, organizing and budgeting for the training my CAD employees needed. The big question was, what sort of CAD training did they need? Did I send both permanent and agency (freelance) CAD employees to take the courses, or did I let the agency folks fend for themselves? No matter what, they are your CAD team and everyone should get the same training, but the agency guys should be careful of their tax position when accepting training from a client under contract. All of this has to be taken into account when you have a finite training budget to spend.
But training on CAD software is imperative. Your CAD employees need to be the best on the software they use and not develop bad habits. They need the core training, plus the experience, plus supplemental training on new versions as they are released. (Each year in the case of Autodesk, right?)
Get the 4 Tips to Getting the Best CAD Team you can, after the break…
Our friends at Arup Connect spoke with Matt Williams, a leader of the façade engineering group in Arup's Americas region and one serious sketcher, about the role of sketching in the digital age. The following interview, originally titled "To Sketch or Not to Sketch," discusses how sketching enables communication and how our over-reliance on technology isn't really as efficient as we may think. 
One of the things we've been trying to develop in the façades group is people who can relate to the architect, developing and responding to the key architectural requirements. Having come from an architectural background myself, historically there seems to be a bit of a conflict, if that's the right word, between architects and engineers. There shouldn't be, though. Everyone wants the same thing at the end of the day: a successful project.
Read the rest of the interview, after the break…
From the prevalence of unpaid internships to the power of the C-suite, architecture is, according to writer Ann Lui, an "unlevel playing field." Of the many obstacles facing young designers, one (that you may not have considered) is the prohibitive costs of design software for architects trying to start their own firms.
As Lui points out in her article for Archinect, the times have changed since Maya Lin won the Vietnam Veteran's Memorial competition "with a blurry, hand-rendered sketch of a thick black line in the haze." Today, "the winning entries of recent widely-published architectural competitions, like eVolo, are thick with unearthly renderings. Recently issued RFPs and many contract docs, even for small projects, include BIM deliverables. LEED certification — or other more holistic methods of "sustainable design" — require energy modeling; and new advances in thermal calculations and daylighting rely on digital building data. Whether or not we continue analog methods for design and how they are integrated in an architectural process is besides the point: to be competitive, cutting-edge digital design programs are integrally necessary. [...]
Yet when it comes to purchasing software, the costs of programs like Autocad and Rhino could be resulting in a self-selecting pool of designers who are able to compete, at least initially, at a higher level."
Do you think Software is a significant barrier to entry in architecture? Should software be more accessible to all? How could we alter the profession to be more inclusive? Let us know in the comments below.
Read Lui's article in full at Archinect
Apple has released the latest version of their operating system: Mac OS X 10.8 Mountain Lion. Over 200 new features have been integrated into Lion with the intent to streamline your work and life. Some of the highlighted features include the built in iCloud that keeps all your content updated and in-sync with your Apple products, a unified notification center to help you stay updated on everything, and ready-to-go dictation that makes typing optional.
Although this all sounds great, what about software we architects use on a daily basis?
A word of advice before you upgrade:
As if it weren't enough that The New York Times just wrote a story on computer programs making architects obsolete, now it seems that computers are actually on the Architect-attack.
A new computer worm, known as "ACAD/Medre.A," has surfaced, and it has a very specific goal: find AutoCAD drawings, send them to China.
Find out how the worm works, and if you could be affected, after the break…
Today Autodesk announced AutoCAD 2012 for Mac OSX, offering native support for Mac OSX Lion, and AutoCAD WS for Mac (the cloud/mobile solution for CAD drawings).
Autodesk also announced AutoCAD LT 2012 for Mac, available for immediate download at the App Store (US$899.99).
The new portfolio of AutoCAD products for Mac expands options for millions of users of the popular design, documentation and collaboration software. AutoCAD 2012 for Mac was built specifically for OS X Lion and helps users create stunning designs on their platform of choice. AutoCAD LT for Mac enables users to document designs, optimize workflow and collaborate with colleagues and clients. AutoCAD WS for Mac enables users to view and collaborate on DWG files through the Mac interface. In addition, AutoCAD WS users can plot DWG files to PDF or DWF formats and sync with their cloud-based AutoCAD WS account, making files accessible from their AutoCAD WS mobile app. AutoCAD LT 2012 for Mac and AutoCAD WS for Mac are available exclusively in the Mac App Store.
More images after the break: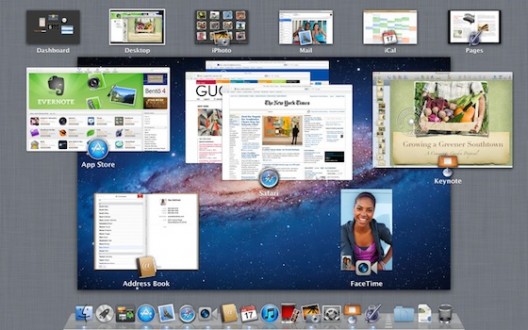 Yesterday Apple released the latest version of their operative system: Mac OS X Lion. I started using it yesterday and it works like a charm on my Macbook. At a first glance, there's a lot of focus on handling all  your applications thanks to features like Mission Control (an improved view of everything running on your computer) and Launchpad (a new way to organize your apps). Other interesting feature is Airdrop, which will allow you to easily share files with your co-workers. There is also a lot of focus on security, back up, system recovery and versions of files, that I know will be very useful for architects.
But what about the software we architects use on a daily basis? A word of advice before you upgrade:
Disclaimer: Graphisoft is the sponsor of our Software section.
As we told you a few weeks ago, Autodesk has launched an iOS based mobile app for iPad/iPhone/iPod Touch. AutoCAD WS will be available soon for free, and you will be able to view, edit, and share DWG files on your mobile devices. More about it after the break.
A few days ago we showed you a series of screenshoots of the first Autodesk Autocad for Mac Beta (codename Sledgehammer), a preview of the UI improvements that we are going to see for this platform.
This video by ItaliaMac shows more details about the User Interface and mouse (touchpad) gestures.
Many of our readers are very excited about this new version, and we hope it sees the light before the fall semester.
Almost a year ago we told you of a survey Autodesk was conducting regarding the UI and printing capabilities of Autocad with Mac users, the first confirmation of Autodesk finally working on a version for this platform.
Federico Viticci from Macstories posted several screen shoots of Sledgehammer, the first Beta of Autocad for Mac OSX, running on a 64-bit machine. The UI presents several changes from what we were used to on the Windows version, and I´m happy to see mouse gestures (supported by Macbook's touchpad and the Magic Mouse).
Not much details out there, but we do have a meeting with an Autodesk rep in the following weeks, when we will try to get you more details.
In the meanwhile, take a look at the following screen shoots and tell us what you think: Is Autodesk going in a good direction with this new version (more than an adaptation) of Autocad for Mac? Does the UI seem usable for you? What would you add?
Update: Autodesk AutoCAD for Mac OSX has been confirmed and will be shipped in October. More info here.
When I switched to Mac, I had to figure out how to run Windows on it, as the CAD (CAM) software I use the most wasn´t available for that platform: Autocad. It has been years since that and Autodesk never show any indications of an upcoming Mac OSX version, so i gave up on waiting  and tried other solutions: Vectorworks, Sketchup, even Illustrator!… but I always missed Autocad.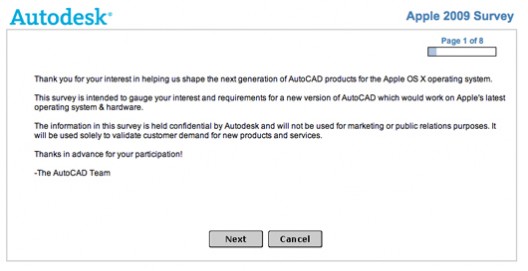 But today a friend told me Autodesk sent him an email asking to complete a survey for their next generation of Autocad products for Mac OSX.
Some interesting questions appear on the survey, such as the importance of the command line, how do you plot (from model/layout), 3d capabilities and the relevance of an Autocad LT version.
Well, it seems Autocad for OSX will be available on the future… we just don´t know when.
You can take the survey here and help Autodesk shape this version.