The Olympics are in full swing and, although the "Coastal Cluster" of stadiums has attracted a considerable amount of attention, there is one installation demanding interaction from every spectator.  Built at the entrance of Sochi's Olympic Park is Asif Khan Studio's "MegaFaces," a pavilion that "contorts itself to recreate 3D images of the faces of visitors relayed via digital face scans made in photo booths installed within the building." 
Comprised of 11,000 actuators sitting underneath the cube's stretchy fabric membrane, the installation allows for three, eight meter tall faces to emerge from the wall at a time (the faces that emerge from the side of the pavilion are enlarged by 3500%). According to the designers, this feature of the building "has been likened to a giant pin screen and a digital, architectural Mount Rushmore."
For Asif Khan, the enduring prominence of the face and facial iconography in digital communication was a clear and very literal starting point. "The ability for any person to be reflected back to the world via the building lends this project a democratic and very human sensibility, with the potential for any passerby and even visitors at photo booths to be installed in MegaFon stores across Russia, to achieve the ultimate Olympic accolade: to become a hero."
"For thousands of years people have used portraiture to record their history on landscape, buildings and through public art. While the Internet is the place we record our history now, remarkably faces remain at the centre of this narrative. Whether we are taking a self-portrait and posting it for our friends to see, or texting an emoticon to show how we feel, we've translated a fundamental means of self-expression into a new medium. That is why I think of this pavilion as a synergy between architecture and digital platform. At the same time it's a monument to all of us. The concept is to make people the face of the Olympics."
MegaFaces is essentially the world's first "three dimensionally actuated large-scale LED screen." Each of the 11,000 actuators carries at its tip a translucent sphere that contains an RGB-LED light. The actuators are connected in a bidirectional system which makes it possible to control each one individually, and at the same time also report back its exact position to the system.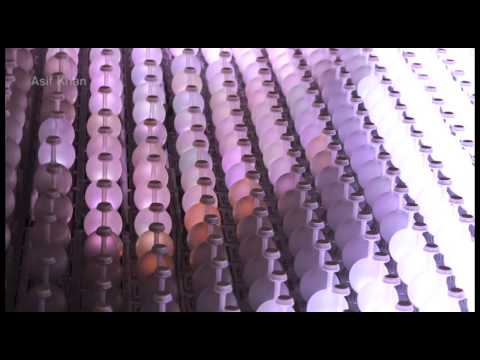 Asif Khan's architecture has "from the beginning employed an investigative language that explores transformative structures." The studio's first ever project, the West Beach Café in the British seaside town of Littlehampton, is also a cube which, via the manipulation of one of its façades, transforms entirely from a closed to an open space.
Find out more about iart, the project's interactive engineers.
Architects: Asif Khan Studio
Location: Sochi, Krasnodar Krai, Russia
Designer In Charge: Asif Khan
Interactive Engineer: iart
Structural Engineer: AKTII
Services Engineer: Atelier 10
Project Management Uk: Davis Langdon
Local Architect: Progress
Client: Megafon
Agency: Axis
Area: 2000.0 sqm
Year: 2014
Photographs: Courtesy of Asif Khan Studio