Graphisoft is a company that specializes in the development of BIM software for the construction industry. This guide describes how to create contemporary interiors with the improved Archicad Object Library.
Designers require an ever-growing range of elements to provide realistic and customizable design options for their clients. With Archicad 25, it is easy to explore multiple possibilities and increase creativity. Now, making attractive interior renders is faster and more effective, without the need to replace objects or spend time on post-production. Archicad's growing library of 3D objects follows the latest trends in residential and commercial design.
Realistic Interior Renders
As part of the ongoing library development, Archicad has enhanced its residential interior decor items. The new highly customizable decoration objects are available to achieve more realistic and functional interiors. These enhancements allow you to achieve much greater design freedom with more flexible objects.
The improved user interface makes it easier to select and place new modern-style library objects in your scene, bringing 2D and 3D views to life in a more contemporary way. Additional customizable decoration items are as follows:
A sofa bed
Two decorations (coat rack and curtain)
A wardrobe
Two tables (bistro and coffee)
Eight chairs
A mattress
A built-in outdoor barbecue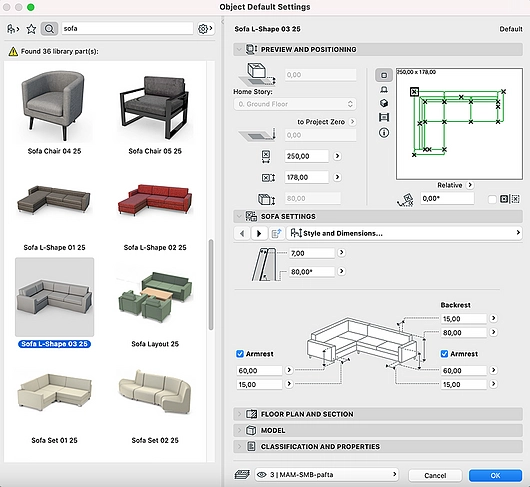 More than 40 new residential objects have been added including sofas, beds, tables/stands, armchairs, cabinets, unique accessories, and decorative elements, all created to complement 2D drawings and modern representation aesthetics.
Object Definitions
With Object Definitions, the previews of elevation and 3D views can now rotate independently of the plan views configuration or rotation.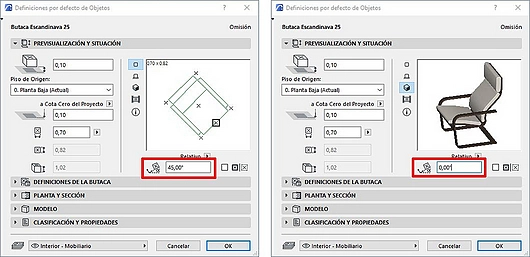 Modular Kitchen Cabinets
Archicad's kitchen elements are now grouped based on their spatial arrangement: Base Cabinet, Tall Cabinet, and Wall Cabinet. Following the same logic, the cabinets are grouped into three main categories and seven different subcategories, based on their geometries. In total, there are 21 new kitchen items available. This classification encompasses the new modular design approach that allows you to easily create compositions and adaptations.
Each element contains a wide range of customizable components, making it easy to mix and match to get the perfect design.