Located in Sydney, Australia, and designed by Hassell, Aluminum Facade Blades and Aluminium Click-on Battens from Sculptform have been used to create an iconic feature around a tunnel entrance and the ventilation systems of the WestConnex M8 Junction. The project is comprised of two main elements, the veil, and the ventilation facility.
Anodised aluminum was chosen for the Click-on Battens and Facade Blades to attain the striking metallic finish fundamental to the design. Both are made from 100% Australian aluminum that is an excellent low maintenance option for areas with difficult maintenance access like the veil. Indigenous artists were engaged to collaborate on the finish of the buildings which seek to provide character and a unique identity to the motorway junction.
To realize the architect's design vision for the curved veil, Sculptform specially designed and engineered multi-axis brackets to support the required twist and bend of the structure. The patented connection of the bracket offers a systemized solution allowing for installation efficiency and precise realization of the design.
The Veil
The veil is a curved golden form that announces the tunnel entrance. The veil was installed upon a customized rail with multi-axis brackets and outreach arms, to achieve the unique curved form. At night, lights installed on the outreach arm shine onto the veil, creating a dramatic effect.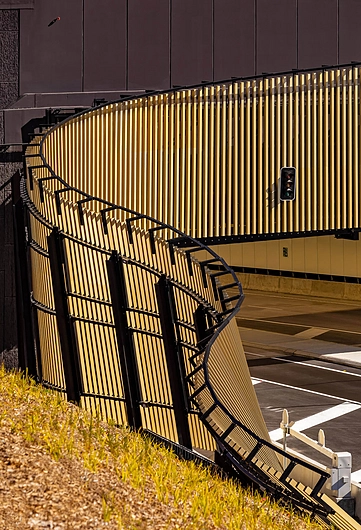 Specification Details - The Veil
| | |
| --- | --- |
| Product | Sculptform Facade Blades |
| Blade Size/s | 100x150mm |
| Finish | Soverign Gold |
| Gap | 150mm |
| Rail Type | 50x100mm Custom Rail |
| Bracket Type | Multi-Axis Brackets |
The Ventilation Facility
The ventilation facility is located above the tunnel and needs to balance functionality while complementing the design of the veil below. The use of Aluminium Click-on Battens integrates with the design of the veil and allows optimal airflow.
The ventilation facility creates an eye-catching contrast to the veil with 50 x 200mm battens in a Sovereign Gold finish dispersed between 32 x 60mm battens in Jamaican Chocolate. These are fixed to the exterior on a custom rail system that combines Sculptform's patented bracket and clip connections on one rail to minimize visual impact and ensure fast installation.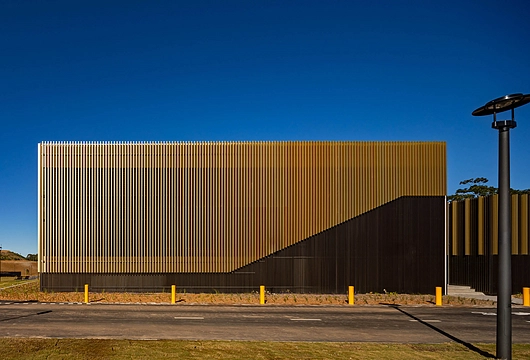 Specification Details - Ventilation Facility
| | |
| --- | --- |
| Product | Sculptform Aluminium Click-on Battens and Facade Blades |
| Batten / Blade Sizes | 32x60mm Click-on Battens, 50x200mm Facade Blades |
| Material | Aluminum |
| Finish | Anodised - Soverign Gold and Jamaican Chocolate |
| Gap | 48,80,150mm |
| Mounting TRack / Rail TYpe | Custom 50x50 Rail Solution |
| Acoustic Backing | No |
Sculptform supplied and installed the ventilation facility façade and supplied the veil installation. The track on the ventilation facility was prepared prior to delivery to the site with the railing pre-fixed with brackets to allow for swift installation. By engaging Sculptform in a supply and install contract for the ventilation facility, the main contractor CPB Dragados Samsung Joint Venture (CDSJV), ensured a fast and accurate installation from the expert installation teams who work closely with the product team to develop installation methods to minimize site time.
Project Summary
| | |
| --- | --- |
| Architect | Hassell |
| Builder | CPB Dragados Samsung Joint Venture (CDSJV) |
| Location | Sydney, NSW |
| Completion Date | 2020 |
| Photographer | Guy Wilkinson |
| Sector | Transport |